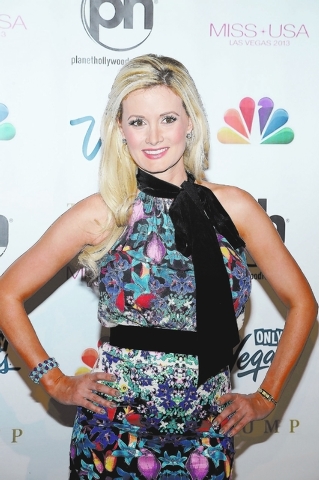 If talks pan out, it won't be long before Hugh Hefner and the signature "Bunny Dip" return to a new Playboy Club in Las Vegas.
Teri Thomerson, public relations director for Playboy Enterprises Inc., said late Thursday, "Conversations continue but there are no immediate plans to announce."
The Los Angeles PR community has been buzzing with the rumor, with one reliable source saying: "They want to get back in Las Vegas."
Hefner saw a dream come true in October 2006 when the first Playboy Club opened in Las Vegas at the Palms Fantasy Tower.
It was the first Playboy Club opening in two decades, but it wasn't the best timing. An economic storm hit Las Vegas and Hefner hard two years later, and the Bunnies were scattered by June 2012.
Hefner, who founded the magazine 60 years ago, agreed to take Playboy Enterprises private in January 2011 for $6.15 a share after his empire waned.
The Palms is planning a new look for the club, along with a revamp of N9ne Steakhouse.
THE SCENE AND HEARD
Aaron Turner, son of Las Vegas entertainer Earl Turner, is in next week's final four of "So You Think You Can Dance." He's been solid and characterized as one of the showmen of the season. He had a near-miss last year. …
The KriStef Brothers, an equilibrium act from Las Vegas, wowed in the semifinals of "America's Got Talent" on Wednesday and reached the finals. …
Reality show star Holly Madison and Pasquale Rotella will be married at Disneyland next weekend, according to E! News.
SIGHTINGS
A UK couple that came to Las Vegas to get married got an unexpected wedding gift Thursday at the Eiffel Tower at Paris Las Vegas. Martin Layton was awarded a seven-day trip for two to Paris, France, for being selected the 10 millionth visitor to the Las Vegas version of the tower. Paris headliners Taylor Hicks and members of "Jersey Boys" caught Layton and bride-to-be Sarah Connell by surprise. Layton and Connell are getting married today at the Chapel of the Flowers. They plan to make the trip to Paris their second honeymoon. … Lena Walther, Las Vegas' honorary consul of Sweden, and documentary film director Robert Bilheimer, co-hosting a party with Vera Goulet at her home Wednesday. Bilheimer's film, "Not My Life," about human trafficking was shown Thursday at Las Vegas City Hall.
THE PUNCH LINE
"John McCain was caught playing video poker on his iPhone during the Senate hearings the other day. Everybody is criticizing McCain, but compared to what other politicians are doing on their iPhones, that's not so bad, OK?" — Jay Leno
Norm Clarke's column appears Sunday, Wednesday and Friday. He can be reached at 702-383-0244 or email him at norm@reviewjournal.com. Find more online at www.normclarke.com. Follow Norm on Twitter @Norm_Clarke. "Norm Clarke's Vegas," airs Thursdays on the "Morning Blend" on KTNV-TV, Channel 13.