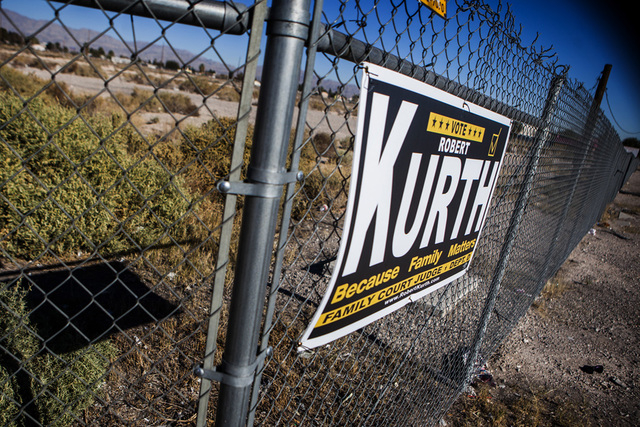 Posting political signs just got pricier in North Las Vegas.
In fact, the city that used to be the cheapest when it came to permitting political signs is now the most expensive.
North Las Vegas hiked its political sign fee last week from $25 to $125.
In Henderson, candidates pay $61 to post signs. In Las Vegas, $73.
Looking at North Las Vegas' statistics, one would think fewer people were running for office, City Clerk Barbara Andolina said.
But that's not true.
It just looks that way because people aren't paying the fee required to post signs, Andolina said.
It's a flat fee per candidate, issue or ballot question, regardless of how many signs the campaign posts.
The change comes as part of an overall effort to bring North Las Vegas more in line with neighboring cities.
Henderson and Las Vegas are expected to raise their fee soon, Andolina said.
Looking at the past nine years, North Las Vegas' sign fee brought in on average $700 a year.
Compare that with $14,096 — what the city estimates it shells out yearly in political sign enforcement and cleanup.
How does that happen?
For some perspective, removing abandoned signs post-election costs roughly $2,880, according to city estimates. That's a breakdown of $1,344 for two employees to spend two days picking up signs, $672 for two employees to spend a day pulling the large metal sign holders out of the ground, plus $220 in fees to dispose of the signs and $648 spent on trucks to haul everything.
Not to mention an average of 60 hours a year goes into inspecting and impounding unapproved signs. That's another $7,800, according to the city.
The fee bump is expected to bring in about $3,555 yearly.
Andolina said the increase, something that hasn't happened since the fee was implemented in 2003, isn't meant to generate revenue.
"Our city is a service provider and we take pride in that, and we wish to continue in that direction," Andolina said, "but at the same time we need to bring the fees in line with the current-day cost."
North Las Vegas will get to test-drive the new fee soon enough. Two City Council spots and a Municipal Court judgeship are up for election in 2015. The primary election will be in April, the general in June.
Contact Bethany Barnes at bbarnes@reviewjournal.com or 702-477-3861. Find her on Twitter: @betsbarnes.
NORTH LAS VEGAS POLITICAL SIGN FACTS
– Political signs in North Las Vegas can be placed only on private property.
– Signs in commercial or industrial zones can't exceed 128 square feet. In residential areas, the signs can't be bigger than 32 square feet.
– Candidates who post signs in the city must pay the fee and fill out a form with the city listing the candidate or organization's name, the election, a contact person and telephone number and address where that person can be reached.
– North Las Vegas doesn't require candidates show the signs to code enforcement in advance.
– Concerned about a political sign in North Las Vegas. The city's code enforcement division can be reached at 702-633-1676.