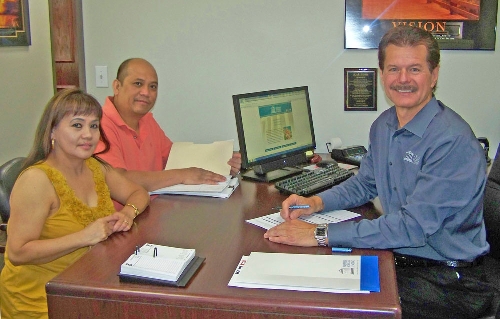 Premier Mortgage Lending's Another Chance Home Loan Program has gained steam since its launch last year as the lender has cultivated partnerships with many of the Las Vegas Valley's major homebuilders.
Currently, the Las Vegas-based lender works with nine valley builders, offering individuals who have experienced a recent short sale or foreclosure the opportunity to purchase a brand-new or resale home through private financing.
"There is a gaping hole and need among Southern Nevadans who want to purchase a home but are unable to because they have less-than-stellar credit or because their past includes a short sale or foreclosure. There are a lot of homes for sale and a lot of Nevadans who would love to buy them at today's low prices, but they can't for whatever reason. Premier Mortgage Lending offers these borrowers this opportunity through our privately funded Another Chance Home Loan Program," Rick Piette of Premier Mortgage Lending said.
Through the Another Chance program, private and institutional portfolio lenders offer home loans following full-documentation underwriting guidelines.
These 15- or 30-year, fixed-rate loans carry interest rates that are typically higher than traditional mortgage rates, and require at least a 20 percent down payment.
Borrowers may close within 30 days from the time of loan approval. Borrowers may refinance the loan at any time without penalty.
The lender is currently working with Beazer Homes, D.R. Horton, Dunhill Homes, Harmony Homes, KB Home, Pardee Homes, Pulte Homes and Del Webb, Ryland Homes and William Lyon Homes.
"William Lyon Homes has referred some of our buyers to Premier Mortgage Lending for the second-chance type of loans. I was pleased to engage in business with Rick (Piette) because I have known him professionally for over 20 years as a successful industry professional," Linda Kemper of William Lyon Homes said.
"At this point in our economy and the Las Vegas market, there is a real need for alternative financing and Rick has put together investment sources to find a way to help people in special circumstances in a well-thought-out and a well-balanced second-chance financing program.
"Traffic is higher than we've seen it in a while and the demeanor of our traffic has changed. There is more traffic and they are more serious," said Geoff Gorman, vice president of sales for Harmony Homes.
"The prices are really low and the new homes are a phenomenal deal. A lot of people are excited when they learn that they can buy a brand-new home instead of someone else's used home or in the case of a foreclosure or short sale someone's broken dream.
"Many believe that the Las Vegas housing market has already reached the bottom and that the prices for new homes may go up. Now is a great time to buy a new home, and for those who have experienced a foreclosure or short sale some are willing to pay a little higher interest rate for a few years through a program like Another Chance and then refinance to a traditional mortgage when they are able," Gorman said.
An often recommended first step in buying a home is mortgage prequalification, a complimentary service provided by Premier Mortgage Lending, which also connects borrowers who qualify to traditional mortgages.
"Some people don't think that they can qualify for a mortgage after they've had a short sale or foreclosure, but oftentimes they can, with either a conforming mortgage or through the Another Chance program.
"If someone is interested in buying a home, they should empower themselves by participating in the mortgage prequalification process," John McLaury, vice president of sales and marketing for KB Homes, said.
For details about Another Chance Loan Program, mortgage prequalification or appointments, call 485-6600 or visit www.premiermortgagelending.com or AnotherChanceNevada.com.
Premier Mortgage Lending is at 8689 W. Sahara Ave., Suite 100.
Premier Mortgage Lending is a member of the Better Business Bureau and Southern Nevada Home Builders Association, as well as an affiliate member of the Greater Las Vegas Association of Realtors.