Prescott, Ariz., embraces its wild and woolly history
September 26, 2015 - 6:45 pm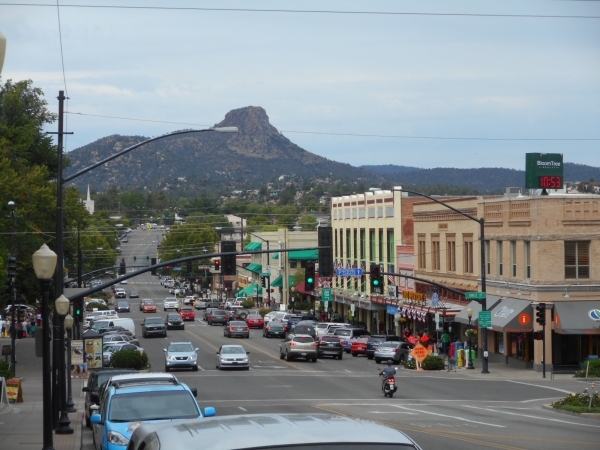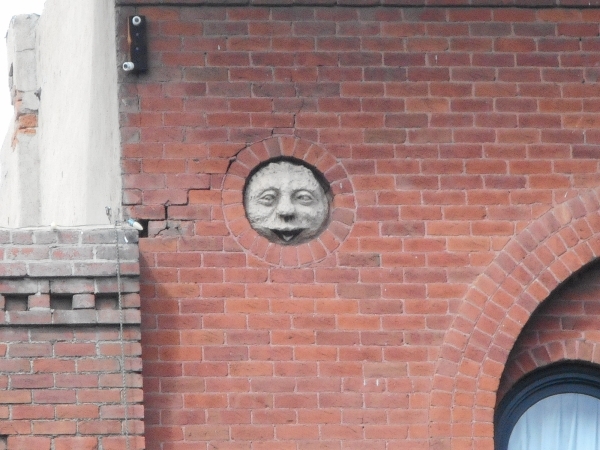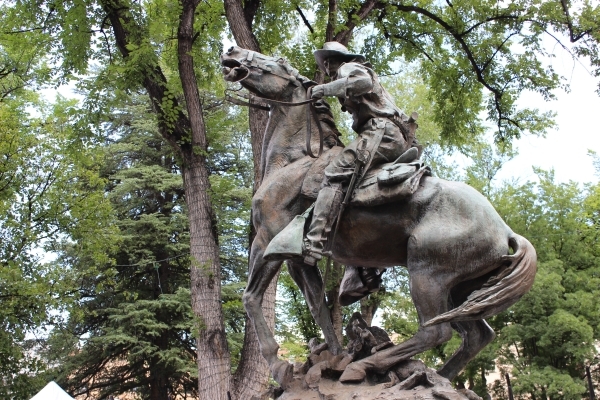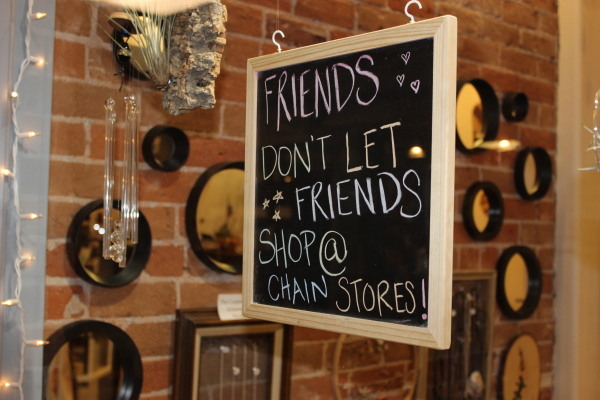 PRESCOTT, Ariz. — It seems a little too cute that the booths in The Palace Restaurant and Saloon are named for Wyatt Earp and his brothers, until you know that members of the famous clan and their family dentist/gunman, Doc Holliday, once lived in the central Arizona city and knew the historic saloon quite well.
It's like that around Prescott, where brass plaques declaring a spot on the National Register of Historic Places appear to be ordered by the gross. Other towns might claim a footnote in the myth and reality of the American West, but the story of the frontier was writ large in the first capital of the Arizona Territory.
Just a four-hour drive southeast of Las Vegas, Prescott — pronounced Prezcut because namesake author William Hickling Prescott said it that way — offers a place to relax and chill out in more ways than one. At about 5,400 feet, the city is usually about 10 degrees cooler than Las Vegas and maybe 20 degrees less than Phoenix in the heat of the summer, making it a popular destination for sun birds.
The high season in Prescott runs May through October, with a big blip at Christmas when Yavapai County goes all-in, stringing lights on 100 of the tall trees that shade Courthouse Plaza for an awe-inspiring display. But there's no shortage of things to see and do in any season: World-class rock climbing in the city's Granite Dells and in nearby Sullivan's Canyon; antiquing, mountain biking and hiking on miles of trails in city parks; the Prescott National Forest; camping; kyaking on Watson Lake and Willow Creek Reservoir; and the World's Oldest Rodeo, staged the week of July 4 every year since 1880. The city of 40,000 or so is also a good base for day trips to Sedona, Flagstaff and Phoenix, all of which are less than a two-hour drive through stunning mountain scenery.
You can also stay up late, drink way too much and maybe hurl on the shoes of a total stranger — all traditional pastimes on Whiskey Row, a solid block of Prescott's downtown heavily promoted as a link to the town's wild-and-woolly past. Back when Doc, his paramour Big Nose Kate, and the Earps were in town, Whiskey Row sported 26 saloons. Some, such as The Palace, are still in business, though the many brothels out behind the saloons are long gone.
Called one of America's 10 best historic saloons by USA Today, The Palace first poured rotgut in 1877 and still features rye whiskey on a menu that also lists a pretty fair buffalo burger with salad or fries for $13. The joint tends to play up its Western ambiance, which includes honest-to-god swinging doors at the front, wait staff in period dresses and a stray cowpuncher in a 10-gallon hat who perches on a beer keg as he rattles a tinny piano. Hard to believe, but it doesn't feel like you're getting sloppy in an amusement park. Like so much of Prescott's attention to its past, it comes across as sincere and seems appropriate.
The Palace is a centerpiece of one of the many Old West tales that make Prescott what it is. The saloon's big, ornate bar and back-bar were actually saved by patrons from a fire in 1900 that leveled several blocks of the wood-built city. As the blaze leaped along the row, stockpiles of booze and the whole bar were carted across the street to the wide and then-treeless plaza, beyond the range of the flames. Patrons spent the day toasting the disaster. They vowed to rebuild. With brick.
Today, Whiskey Row still provides a number of deep, dark watering holes that open early — beer, ever the breakfast of champions — and offer live music late into the night. Mixed in are trinket and clothing shops, both high-brow and low-end, and historic hotels such as the St. Michael, where Teddy Roosevelt once slept.
Accommodations are plentiful and varied. Choose a bed-and-breakfast in a Victorian manse, a sleepy cottage on a quiet tree-lined lane, a modern chain hotel or any number of historic lodgings clustered around Courthouse Plaza. But choose wisely. Those rowdy watering holes on Whiskey Row create a late-night battle-of-the-bands sure to wake the historic dead. You should also book well in advance of your visit. During the high season, most rooms sell out on Saturday nights and often on Fridays, as well.
I chose the Hotel Vendome, built in 1917 and extensively remodeled in the 1980s to add spacious private baths. Comfortable, if a little worn around the edges, the Vendome is owned by a friendly family that lives on-site, and the $155 one-night rate included both tax and continental breakfast on the sunny and inviting front porch. The hotel is haunted, of course. The resident ghost, Abby, was a tuberculosis patient who came to Prescott for dry air, only to die after she was abandoned by her feckless husband.
The Vendome also was a favorite of famed actor Tom Mix, who often filmed oaters in Prescott back when people didn't talk at all in the movies. So often was he a guest that a closet was enlarged to accommodate his apparently extensive selection of cowboy hats.
Also popular is the Hassayampa Inn, a vintage 1927 hotel just uphill from the plaza and also haunted — aren't they all?— by a spectral miner and a phantom cat.
For those looking for an outdoor adventure or maybe to save a few bucks, camping in the Prescott National Forest is free, with many spots available at the base of Thumb Butte, just five miles from downtown. I took the advice of a local and pitched my tent in the late afternoon for a Saturday night stay, then went back into town to enjoy the urban life. While plentiful, campsites are not unlimited and it's first come, first camped. During the high season, the forest fills up for the weekends, too.
The campsites are rustic, offering only a fire pit. For those looking for a more refined night under the stars, the City of Prescott offers campsites at Watson Lake, about four miles from town. Operated only on weekends in the fall and closed for the winter in mid-October, the well-maintained campground offers restrooms, showers, picnic tables, grills, ramadas, fish cleaning stations and a playground for the kids.
The lake itself wets 380 acres in and around a spectacular jumble of giant boulders called the Granite Dells, which attract climbers, hikers, mountain bikers and birders as well as campers. Tandem kayaks or canoes rent for $20 for the first hour, and $15 per additional hour. Solo kayaks rent for $15 for the first hour, $10 after that. There are also day rates for all watercraft.
Dining options are unlimited, and in some cases disgustingly creative. The Devil's Pantry, on Whiskey Row, stays open until 2:30 a.m. and slings crispy bacon-wrapped corn dogs and deep-fried jalapeno peppers along with more traditional fare, such as deep-fried Twinkies.
Around the corner, the Pangaea Bakery serves a reputedly killer $7.95 panini breakfast made with "three eggs locally produced by free-range and happy chickens." I say 'reputedly' because while locals pointed me toward the Pangaea as the best breakfast in town, they neglected to mention that it isn't open Sundays. I had to settle for coffee, ham and eggs at the Lone Spur Cafe, which proved undersized and overpriced at $13.
For families or anyone with even a passing interest in history, the Sharlot Hall Museum is a must-see and a bargain at $7 most days. A multi-building campus, the museum's permanent displays include the first territorial governor's mansion (mansions, in those days, had dirt floors) surrounded by pioneer cabins, a general store, a print shop and a school. All are staffed by re-enactors in period dress.
While Sharlot Hall has some displays of pre-territorial settlement, the focus is early Euro-American settlement. Across town, the Smoki Museum of American Indian Art and Culture balances the scales, also charging $7 admission. Built in 1935 to resemble an Indian pueblo, the Smoki is "dedicated to the perpetuation of American Indian ceremonies and dances" and its collections include clothing, ornaments and ceremonial paraphernalia from the Sioux, Apache and Woodland Indians, as well as baskets from the Yavapai, Apache, Pima, Tohono O'odham and Seri tribes, among others.
The local Chamber of Commerce offers a wide range of information about local attractions, shopping and hotels and also dispenses hiking trail maps from an office just off the Courthouse Plaza. At 10 a.m. on Fridays, Saturdays and Sundays from May through Oct. 30 the chamber sponsors a free, 90-minute walking tour of historic downtown.
If you miss the tour, a self-guided walk with pauses to read the many historical signs and markers will help fill you in. One worthwhile stroll off the beaten path is the residential neighborhood east of downtown, where Mount Vernon Avenue in particular offers well-kept Queen Anne, Neo-Classical, Classical Revival and Victorian-influence private homes on a tree-lined street mindful of Norman Rockwell's long-gone America.