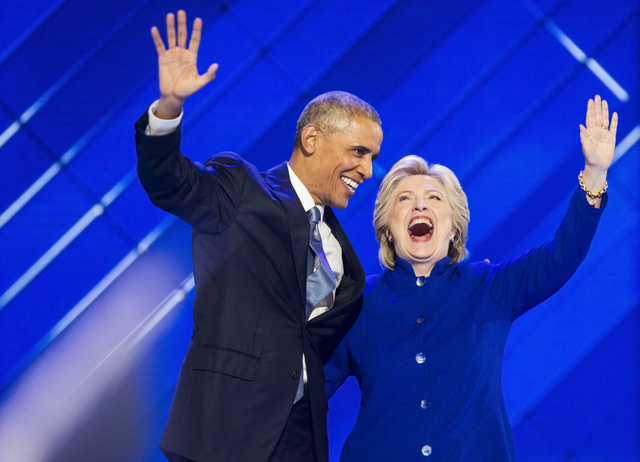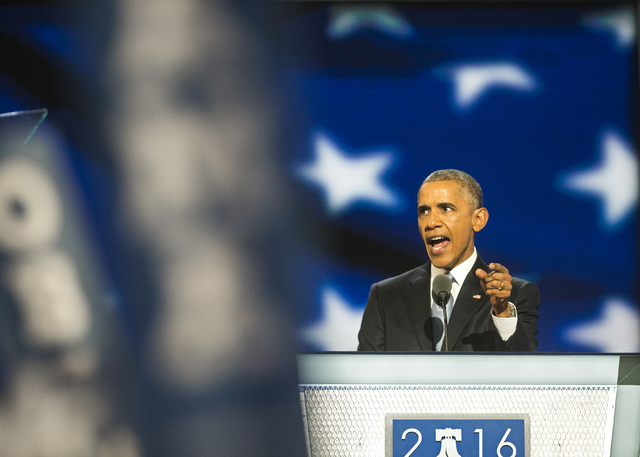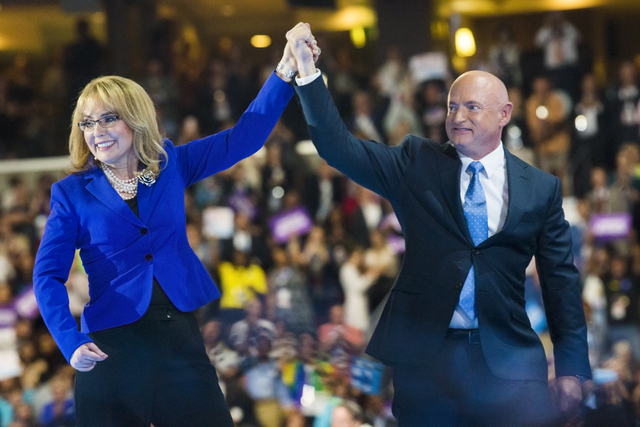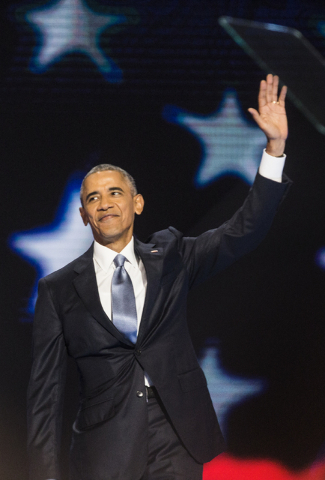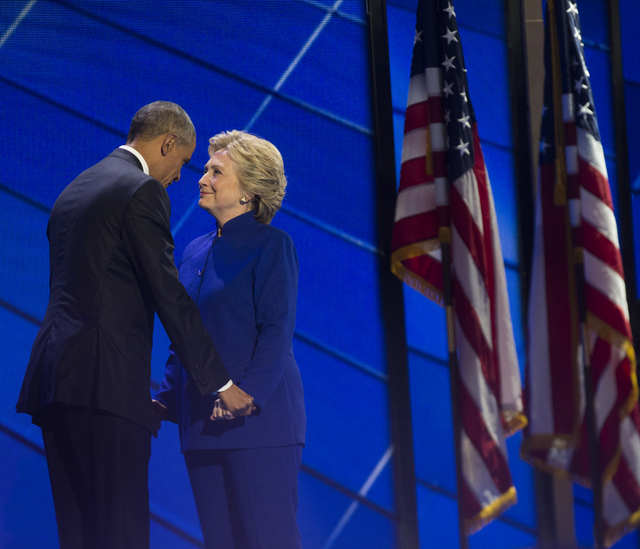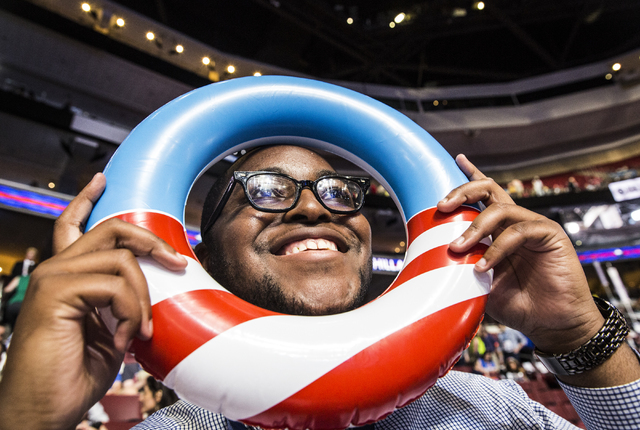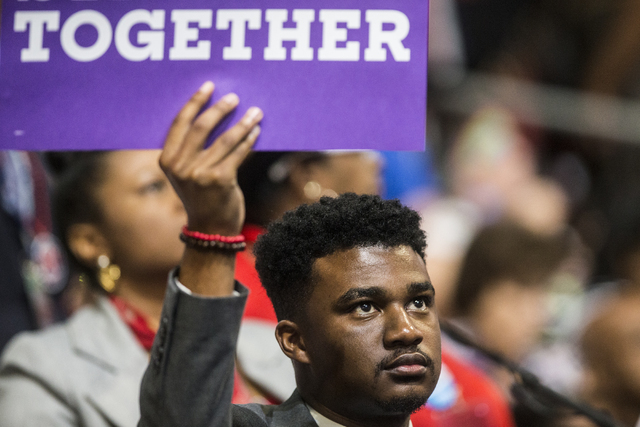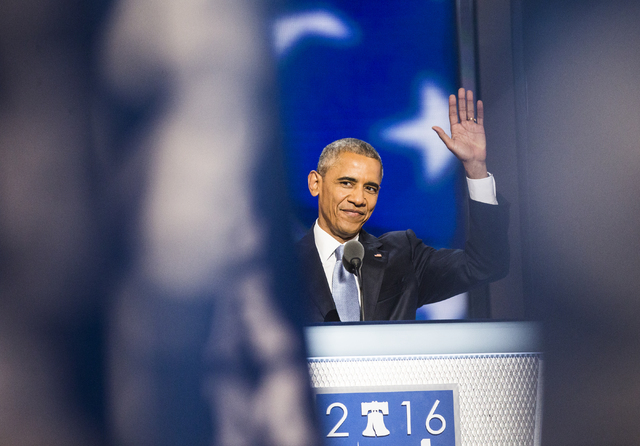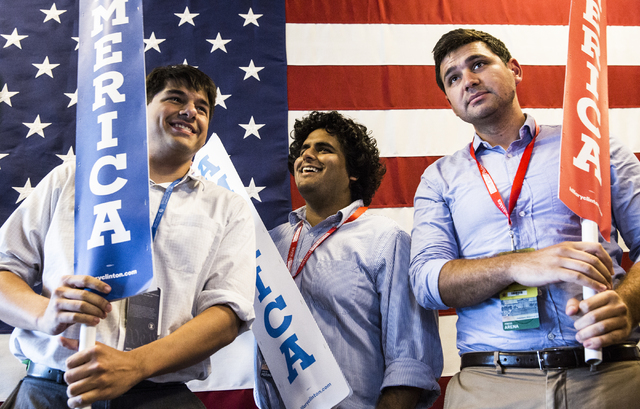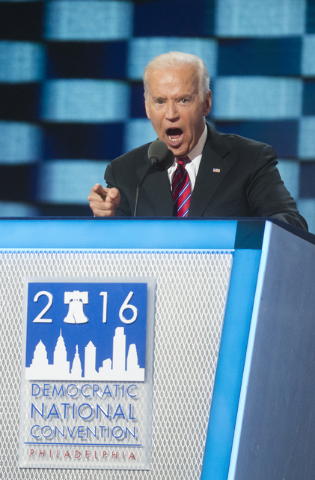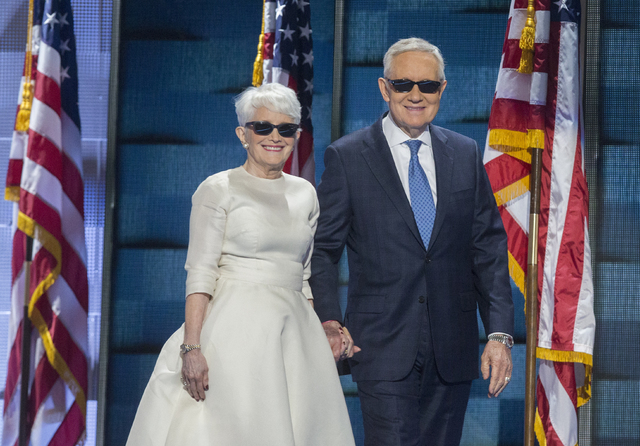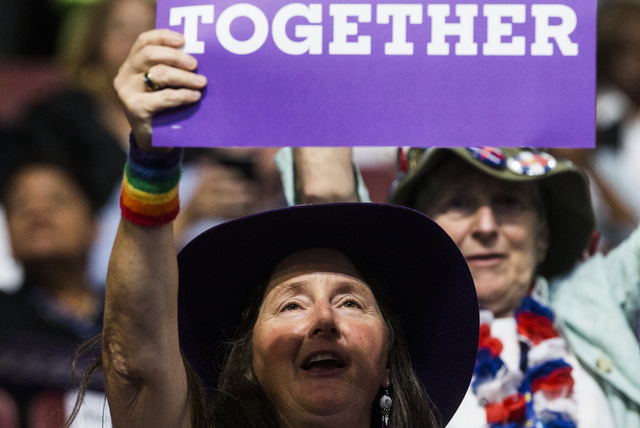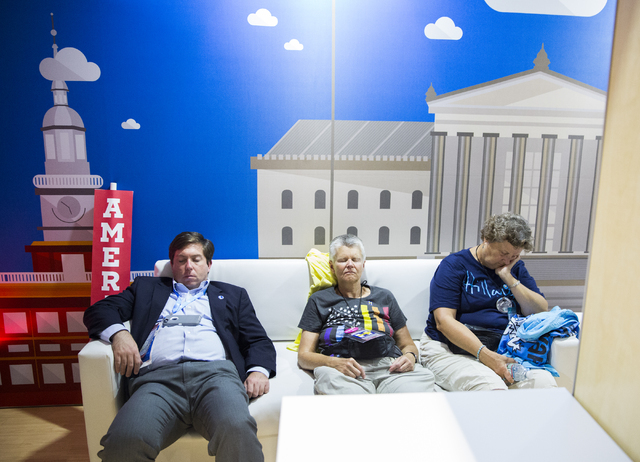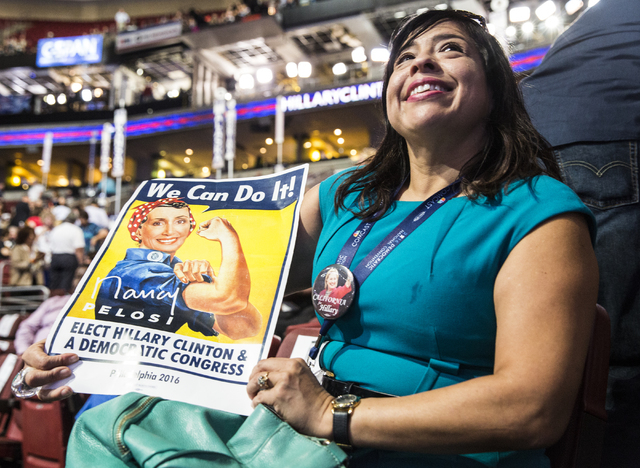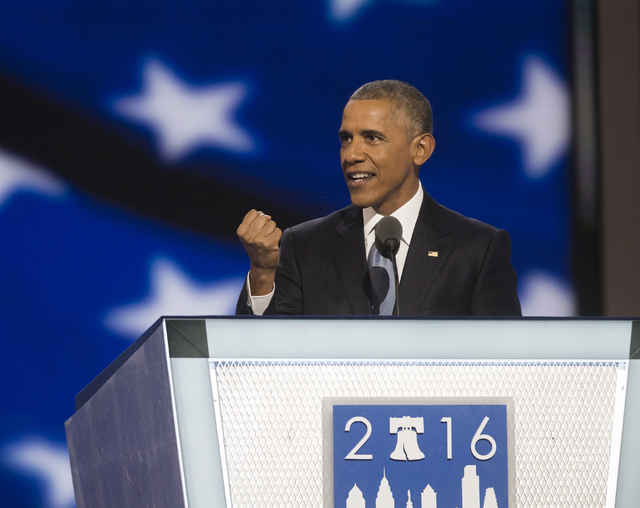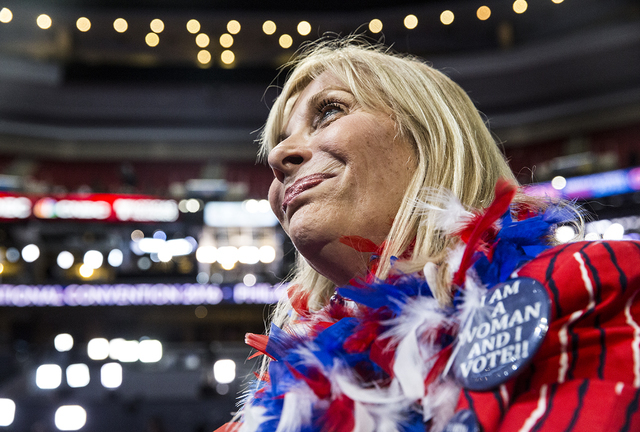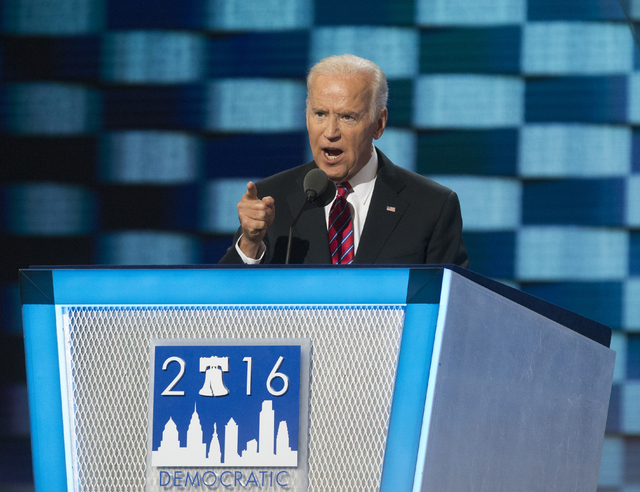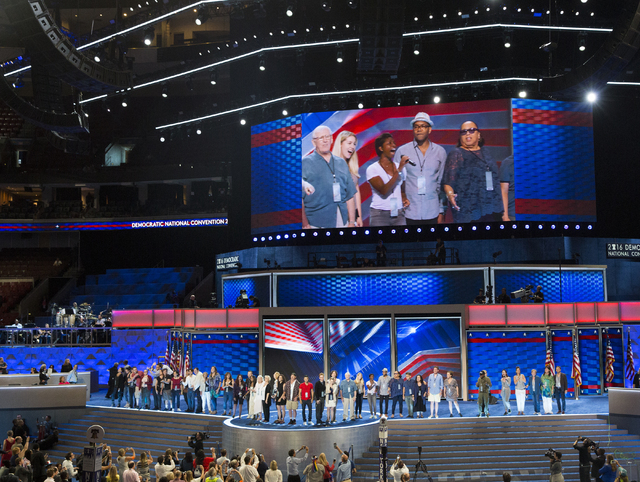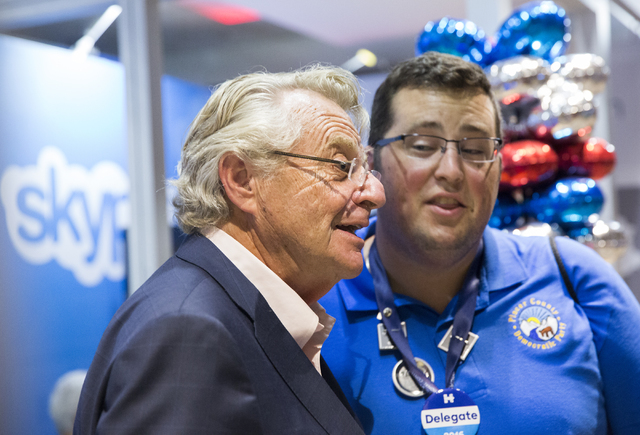 PHILADELPHIA — President Barack Obama urged the nation to support Hillary Clinton one day before she gives her acceptance speech as the Democratic Party's nominee for president.
After his speech ended, Clinton walked out and embraced him in a surprise entrance at the Democratic National Convention, waving to an audience that gave her a thundering welcome.
Obama's keynote speech Wednesday at the end of the third night of the convention in Philadelphia made it clear what the nation already knows: He believes Clinton, who served his administration as secretary of state, is more qualified than Republican nominee Donald Trump to succeed him in the Oval Office.
Obama is in the final months of his two-term presidency. His speech was the final one he will give at a Democratic National Convention while he is president. His first speech came at the convention in 2004, when he was a candidate for a U.S. Senate seat in Illinois. He won that election and two more.
"While this nation has been tested by war and it's been tested by recession and all manner of challenges, I stand before you again tonight after almost two terms to tell you I am more optimistic about the future of America than ever before," Obama said.
Obama and Clinton were rivals for the Democratic nomination in 2008. As he prepares to exit the White House in January, he praised Clinton as a dogged competitor.
"We battled for a year and a half," Obama said. "Let me tell you, it was tough because Hillary was tough."
Obama said Clinton, also a former U.S. senator who represented New York during 9/11, has the experience to deal with crises and make difficult decisions.
OBAMA THUMPS TRUMP
"And then there's Donald Trump," Obama said.
The crowd thundered with boos.
"Don't boo," Obama said. "Vote."
Obama didn't hold back in questioning Trump's qualifications to be president.
"The Donald is not really a plans guy," Obama said. "He is not really a facts guy either."
For voters concerned about pocketbook issues and looking for a better future, Obama said, "The choice is not even close."
"She is fit and she is ready to be the next commander in chief," Obama said, referring to Clinton.
He took aim at Trump's campaign slogan: "Make America great again."
"America is already great," Obama said.
"Our strength, our greatness does not depend on Donald Trump," Obama said. "In fact it doesn't depend on any one person."
"He's betting that if he scares enough people, he might score just enough votes to win this election," Obama said, a potential outcome that drew boos. "And that's another bet that Donald Trump will lose, and the reason he will lose it is because he's selling the American people short."
KAINE, BIDEN JOIN ATTACK
Obama spoke after a speech by Clinton's vice presidential running mate, Tim Kaine, a U.S. senator and former governor of Virginia, who accepted the nomination.
In his acceptance speech, Kaine mentioned Karla Ortiz of Las Vegas, 11.
Ortiz, who spoke Monday at the convention with her mother, Francisca Ortiz, is a U.S. citizen who told Clinton at a campaign event that she was worried about her undocumented parents being deported. At the time, Clinton comforted her, telling her she would do everything she could.
"Hey, do you all remember Karla, the little girl we heard from on Monday night who was worried that her parents would be deported?" Kaine said. "Karla said she trusts Hillary to keep them together."
Kaine also demonstrated he has the chops to go on the attack against Trump. He said Clinton's passion is public service, children and families, contrasting her to Trump.
"Donald Trump has a passion too: It's himself," Kaine said.
Vice President Joe Biden took aim at Trump earlier Wednesday night.
His speech cast Clinton as a smart candidate and a choice Americans need to make to keep the nation safe. He and Clinton had weekly breakfasts together in Biden's home while she served as secretary of state.
"Everybody knows she's smart," Biden said. "Everybody knows she's tough, but I know what she's passionate about. I know Hillary."
Biden blasted Trump's claims of caring about the middle class, pointing that Trump was known for using the phrase "You're fired" on his reality television show "The Apprentice."
"Give me a break," Biden said. "That's a bunch of malarkey."
Biden added: "He has no clue about what makes America great. Actually, he has no clue, period."
PANETTA: SHE'S SMART
Clinton's national security skills were praised by Leon Panetta, who was director of the CIA when Obama and his team focused on pursuing terrorist Osama bin Laden.
Panetta spoke about the deliberations that resulted in the 2011 mission that killed the mastermind of the Sept. 11, 2001, terrorist attacks on New York and the Pentagon. Panetta said that when he presented the intelligence to Obama and others, opinions varied as they weighed the risks.
"But Hillary was clear — we have to go after bin Laden," he said.
"This is no time to gamble with our future," said Panetta, also a former secretary of defense. "America faces flash points and threats from around the globe. We need a president who's smart and strong and courageous."
The convention concludes Thursday when Clinton accepts the Democratic nomination for president.
Contact Ben Botkin at bbotkin@reviewjournal.com or 702-387-2904. Find @BenBotkin on Twitter.