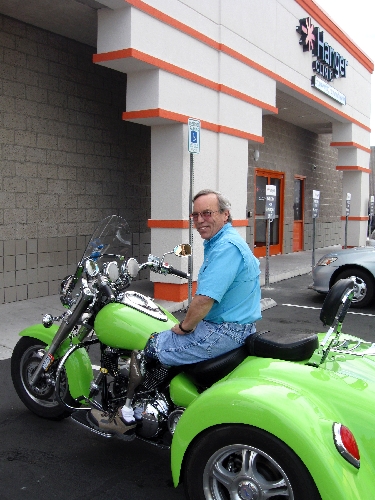 Harrowing tales of debilitating accidents, amputation and new leases on life unite a North Las Vegas resident and a Florida dolphin.
Otherwise strangers, Ken Muller and Winter the dolphin share seemingly boundless energy and genteel demeanors that were restored by Hanger, a Texas-based provider of orthotic and prosthetic services and products.
Hanger guru Kevin Carroll assisted Winter, whose true story received some silver screen notoriety in the 2011 family film "Dolphin Tale." The dolphin was injured in a crab trap, and Hanger created her namesake WintersGel, a gel-like sock now making waves in human technology.
Back in Las Vegas, local Hanger clinician, Sekhar Mohanty, was hero to Muller, a 57-year-old U.S. Air Force veteran injured in a 1974 motorcycle accident.
Doctors reattached and repaired his left leg, and Muller rehabilitated himself as a construction worker and mechanic.
"I just learned to do the best I could," he said. "Many people couldn't tell I had any handicap. I just kept on going."
His gait was slowed in 2010 when a knee replacement grew infected, and doctors drew the bottom line that the lack of blood flow was serious, Muller said. A specialist was blunt with Muller and said there would be a chance that sensation would be forever lost to the limb.
"I'm a very basic person, and I look at things logically," Muller said. "He said, 'There's not even a chance you'll get feeling back.' "
Muller decided to go with amputation, and he consulted with a double-amputee friend about his quality of life with prosthetics. The friend had two custom Hanger pieces, and he recommended the company.
"I decided to go for it," Muller said. "I said, 'Remove it I want to get on with my life.' "
Veterans Affairs provided financial backing for the surgery and Muller's first prosthetic, a hydraulic device by Otto Bock. Within four days of receiving the artificial limb, Muller was walking with his wife through their North Las Vegas neighborhood, planning hunting trips with friends and playing normally with his three dogs.
"You can't feel sorry for yourself," he said. "This life is far too short."
This year marks the 150th anniversary of the company, which was founded in 1861 by James Edward Hanger, the first amputee of the Civil War. The namesake locked himself away for months while he created a prosthetic from a whittled barrel stave he dubbed the "Hanger Limb."
The company refreshed itself this year with new business initiatives.
Hanger, formerly known as Hanger Orthopedic Group Inc., and Hanger Clinic, its patient care business formerly known as Hanger Prosthetics & Orthotics, were rebranded in February. The logo, business practices and research methods were revamped along with the name change.
The southwest Las Vegas office, 4615 W. Flamingo Road, is the company's newest and most state-of-the-art medical center in its national system. There are four Hanger offices in Las Vegas, but the southwest location is the only one outfitted with the new branding initiatives.
The changes were introduced at Hanger's Annual Education Fair and National Meeting in February at the Rio, 3700 W. Flamingo Road. Muller served as local ambassador for the event.
Muller can expect a "lifelong relationship" with Hanger, Mohanty said, as Muller's body and abilities change. He visits every few weeks, and Mohanty watches Muller's gait and how he maneuvers stairs and inclines.
Earlier this month, Mohanty helped outfit Muller with the latest in prosthetic technology, the Grenium Bionic Prosthetic System. The water-resistant leg has a microprocessor-controlled knee that anticipates Muller's movements and adapts instantaneously.
"You couldn't move it with a hammer," Muller said of its lock mechanism.
The system combines an accelerometer and gyroscope, roughly similar to technology found in Nintendo's Wii game console, said Mohanty, a device expert.
Muller is the second person in Nevada to receive the highly advanced prosthetic. It took about six months for the VA and Hanger to approve the new prosthetic.
"It was worth the wait," Muller said.
Clients have access to the national network of Hanger locations, engineers and experts near home and abroad. Hanger assists medical facilities and has on-call experts and American Board of Medical Specialties certified staff available daily. The Las Vegas office utilizes digital technology to make custom pieces for patients ranging from amputees to mastectomy survivors and children with misshapen skulls.
"We try to improve the quality of life for our clients as best we can," Mohanty said. "We're here 24/7, 365 (days) for them."
For more information, visit hanger.com or call 366-9681.
Contact Centennial and North Las Vegas View reporter Maggie Lillis at mlillis@viewnews.com or 477-3839.