Q&A with Elizabeth Trosper, owner of Trosper Communications
October 6, 2013 - 3:14 pm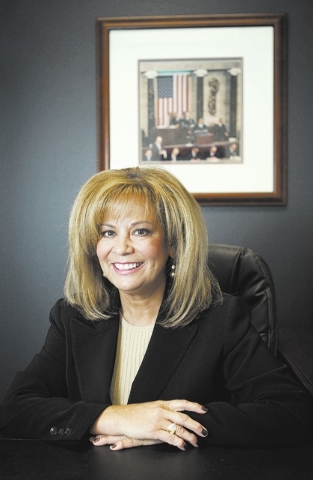 Liz Trosper moved to Las Vegas from Burbank, Calif., in 1995 and never looked back.
Her sister and her sister's husband's family blazed the trail, and soon her mother and brother followed.
Determined to make her way in Las Vegas, she immediately got involved at Basic High School, which her son attended. She did press for the football booster club and ended up being the president. She started new programs and raised money for camp. She joined a church.
"I thought, if I'm going to move here, I'm going to embrace the community," said Trosper, CEO of Trosper Communications, a boutique public relations firm that specializes in public safety. "I worked to make this my home."
Eighteen years later, Trosper is still heavily involved in the community. She volunteers her time with several organizations and completes pro bono work to causes small and large.
For Trosper, it's about giving, and giving back. Even her clients fit this bill.
Among her statewide accounts are Professional Firefighters of Nevada, Reno Town Mall, Gordon Silver, Tronox and Holly Energy Partners.
"Our clients are really thoughtful, kind, caring people," Trosper said. "And appreciative. It makes you want to do more."
What did you do in Los Angeles?
I worked in consumer and products. I worked on a Mattel toy account, worked on Sega of America. My son was, at the time, elementary school age. He was our tester for the Sega games. He had every Sega game there was. He absolutely loved it that his mom worked on that account.
When did you move to Las Vegas and why?
1995. There were a series of events that changed my life. My dad passed away. The Northridge earthquake. I was ready for a change in my life. My sister had moved here five years before and I remember when she first moved here, I said, "I will never move to the desert! Never, never, never!" Then five years later I did. I've been here for 18 years. I'm pretty much a native now.
What organizations are you involved in?
Through the years, I've been involved in the Henderson Boys and Girls Club, Nevada Association of the Handicapped, Salvation Army, which I'm still involved in. I'm working with a group now called Honor Flight Southern Nevada. It's working to get all the World War II veterans that are still alive today to see the memorial in D.C. We have a flight scheduled the second week of October. Most are aged 85 to 102. We're losing 800 World War II vets a day nationally. It's a great cause and a great nonprofit. We're involved in the Henderson Historical Society. We do a lot of pro bono work for them. We also do campaigns with Nevada Society for the Protection of Cruelty to Animals and Three Square. We love animals and seniors. Kids, too.
You've grown your company a lot. Is that right?
Yes. I was a partner at another firm for 10 years, from 1999 to 2009. In 2010, I went out and decided I wanted to do something a little different, still in PR and advertising. A lot of clients came with me. I started working in an executive suite three years ago, and we expanded to five suites. It made sense to have our own place. We moved into our office in November. We also have a member up in Reno.
What are your greatest accomplishments in your work and personal life?
That's easy. My greatest accomplishment was going out starting Trosper Communications. We were at the low point of the recession here in Nevada. So I'm really proud of myself for doing that and not being afraid. My personal greatest accomplishments are my children, Brooke and Jeremy. My son is the new vice president of East West Bank here in Las Vegas.
What are your hobbies?
This company has been my hobby. I'm four minutes from my house, and that was purposeful. I enjoy talking about mission and vision and building cornerstones. Where do we want to be five years from now? I love to read. I love to travel. I like going to places that inspire me and give me the ability to learn more.
What do you like to do in Vegas?
I love to go out to Red Rock and hike. It's getting perfect weather right now. I like to see movies. And there's nothing better than a great dinner. I started yoga about two years ago. It's changed the way my body looks, feels. It's all about the philosophy, too.
What are your favorite books?
I just started "Profiles In Courage" by John F. Kennedy. I can't believe I haven't read it because I've been such a fan of JFK through the years. I love books by Jack Welsh. I also like the book "From Good to Great."
What traits do you look for in employees?
Energy and enthusiasm. I think those are really important, and just being at the top of your game. I don't look for someone who is at a certain level, but someone who has the ability and wants to be good at what they do.
What are traits you look for in clients?
Our clients are really thoughtful, kind, caring people. It makes you want to do more.