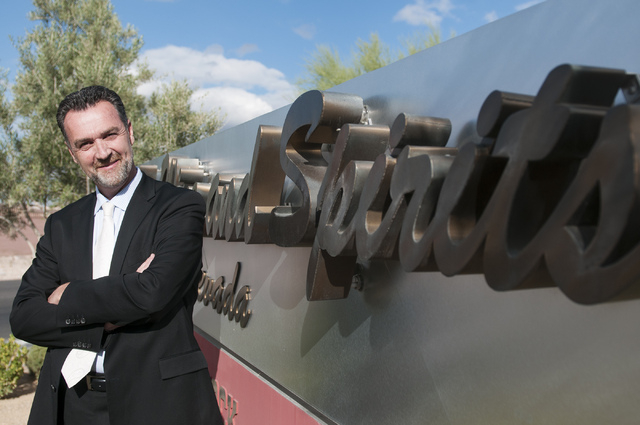 Longtime Las Vegans probably remember the classic local TV commercials featuring Fletcher Jones hawking Chevrolets while holding up a cuddly dog or cat.
A lesser-known fact is that it was young Steve Beecher who had the job of picking up the pets at the animal shelter and returning them after their television debut.
"When they got back to the shelter, they were put in special cages labeled 'movie star,'" Beecher recalls. "Every one of those animals got adopted right away."
Besides wrangling pets, the Las Vegas native also washed cars at Fletcher Jones' Chevy dealership, which he joined as a porter in 1981, shortly after graduating from Bishop Gorman High School.
After nearly 33 years with the company, Beecher is now the general manager of Fletcher Jones Toyota Scion, one of three dealerships owned by Fletcher Jones in Southern Nevada. Beecher has been in management with the company since 1986, becoming GM of the Toyota dealership in 2005. The 15-acre location on East Sahara Avenue includes a service center, body shop, car rental facility, guest lounge and "Turbo Café."
Why do you think your dealership has stayed in business since 1984 when others have come and gone?
The main reason is our customer service. Our employees are authorized to do whatever it takes to make our customers happy, which means very few problems get escalated to me. Customers are loyal if you treat them right. We have some older folks who come all the way from Sun City to have us service their cars. Another reason for our success is our product line, because Toyotas and Scions continue to be very popular.
What's the major part of your business: new sales, used cars or service?
Service is a big part of what we do, but we also sell between 300 and 350 cars each month. On average, for every 200 new cars we sell, we sell 150 used cars. Our goal is to have a 1-to-1 ratio. Used cars move pretty quickly and stay only 17 days on the lot before they're sold.
Have changing demographics affected your business?
The Scion brand, which Toyota introduced in 2004, is aimed at Generation Y. We want to bring young people into the Toyota family with the Scion, hoping that as they get older, they will move up to the other Toyota products. Advertising for the Corolla is also aimed at younger people, but it appeals to all age groups, and we've been very successful with it. We're one of the top dealers in our region, selling between 50 and 70 new Corollas a month.
How did the recession affect your business?
Our ratios of service to sales and new to used cars stayed about the same, but all the monthly numbers went down. By mid-2011 things started improving, and we've added 25 employees since then.
How has your marketing changed over the past few years?
Because our neighborhood is becoming increasingly Hispanic, we focus a great deal on Spanish-language media like Univision and Telemundo. About 75 percent of our salespeople and two of our sales managers are Hispanic. Community involvement is another marketing tool. We were a founding partner of Wet 'n' Wild and a major sponsor of the Lied Discovery Children's Museum, where a Fletcher Jones Toyota Scion Car Care Center teaches kids how cars work.