Radio-controlled airplane club plans fundraiser event
November 15, 2013 - 3:23 pm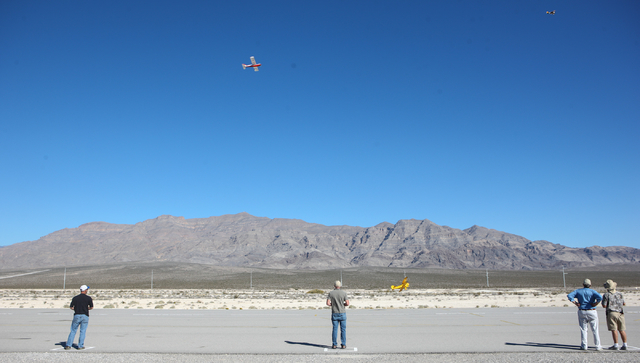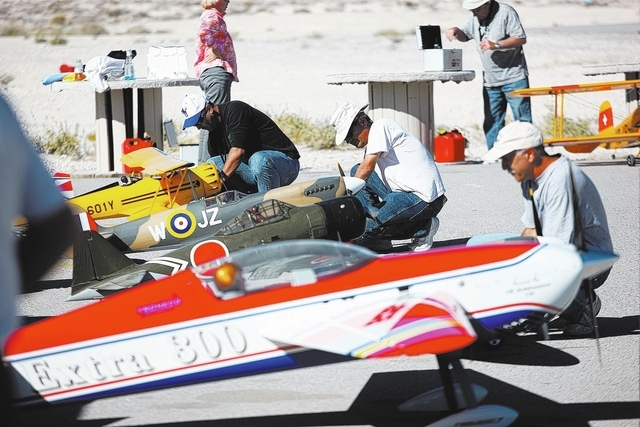 Greg Minden, like a lot of Prop Nuts Radio Control Airplane Club members, grew up building regular store-bought, plastic and Krazy Glue model airplanes.
They were never really big, fast or historically accurate enough for Minden's taste.
What they needed was a personal touch: an electric, gas or jet turbine-powered propeller, maybe carbon composite wings stretching nearly 8 feet across the fuselage.
These are the custom flourishes Minden, Prop Nuts' club president, now builds in his Centennial Hills workshop, a short jaunt from the group's home base at North Las Vegas' Willie McCool Regional Park & Fly Field, 4400 Horse Drive.
"Most of us have several airplanes. Some can be assembled in a couple hours; others might take up to a year," Minden said. "I built and flew my first one about 20 years ago.
"We try not to crash them at all, though we like to say they have an expiration date; you just don't know when it is. … a lot like humans."
Minden, a retired commercial airline pilot, didn't care to guess how much money he's spent tinkering with dozens of workshop models over his decades with the club.
He said some of the tonier planes soaring above the airfield on a given weekend will cost owners thousands to build, fuel and maintain but was careful to point out that a layman could expect to build his own model for around $300 and join the club for less than $60.
After years of sparring with the airfield's neighbors over noise and safety complaints, accessibility has become a big part of the gospel he and around 40 other Prop Nuts members are trying to spread. It's a significant part of the group's Toys for Tots fundraiser on Dec. 14.
The third annual event, a free fly day co-hosted by the Las Vegas Radio Control Airplane Club, will see Prop Nuts and LVRCC members teach newcomers how to pilot some of the group's beginner Cessna mockups in exchange for an unwrapped gift donated to the Marine Corps-sponsored Toys for Tots program.
Keith Hedge, one of the "buddy pilots" set to guide some of next month's first time flights, said he's never had much trouble keeping amateurs' airplanes up in the air.
Hedge, a recently retired Public Works staffer with the city of Las Vegas, has been flying for 15 years, one of the few club pilots who also flies with the LVRCC at William Bennett Radio Controlled Airfield near Sam Boyd Stadium.
He, like Minden, started small, with rubber band-propelled models he used to assemble as a boy growing up in England.
Through events like next month's fundraiser, he hopes to get potential future club members off to a more auspicious start.
"People get into (model) airplanes when they're growing up, then they discover girls," Hedge said. "That's what I did. But the nice thing is that you get to come back when you're older, and if you stick with it, you get to help with the next generation."
Prop Nuts organizers hold training days for new pilots on the last Saturday of every month. For more information on the group, visit propnuts.org. For more information on the LVRCC, visit lvrcc.org.
Contact Centennial and North Las Vegas View reporter James DeHaven at jdehaven@viewnews.com or 702-477-3839.