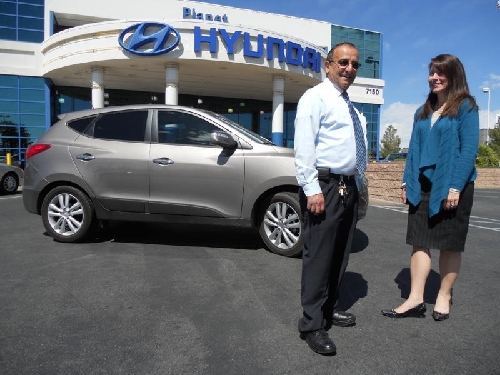 Real estate salesperson Kara Walker of Grubb & Ellis/Las Vegas Commercial Real Estate was used to driving a truck for several years before trading in her diesel pickup for a 2011 Hyundai Tucson.
"I saw the gas price increases coming," Walker said. "The Tucson gives me 26 miles to the gallon in town, which is twice what I was getting before, and I'm spending half as much in gas."
Specializing in industrial sales and leasing, Walker goes from one end of the Las Vegas Valley to the other frequently.
"The other day I was all the way out in the Blue Diamond area in the far southwest and had to be in North Las Vegas that very same day," she explained. "I put more than 100 miles on my car just in that day."
Walker lauded the two-wheel drive Tucson saying that the vehicle provides enough space for clients, while driving comfortably in various traffic conditions.
"The Tucson handles very well," Walker said. "It's quick enough to get in and out of traffic. I can step on it, and it really gets up and goes."
Walker purchased her vehicle from sales consultant Mazen Mobassaleh.
"He treated me great," Walker said. "It was all up to me and he let me make up my own mind. He was very patient with me, and I came into the dealership four times. Every time I came in, I looked for Mazen because he bent over backwards for me. We must have pulled out about three or four Tucsons, all in different colors. I have recommended the car, the dealership and Mazen to my mom, along with some of my friends at work. Mazen and I appreciate one another because we're both in commission sales."
"Some customers are interested in improved fuel efficiency," Mobassaleh said. "Others are looking for a better warranty or a vehicle with better resale options with a stronger retention of value, and then there are those who are more focused on the safety ratings on what they are buying. No matter what the customer's priority is, Hyundai leads the field in each of those criteria."
Planet Hyundai has two locations are at 7150 W. Sahara Ave. and 6200 Centennial Center Blvd. For more information, go to www.planetlv.com.