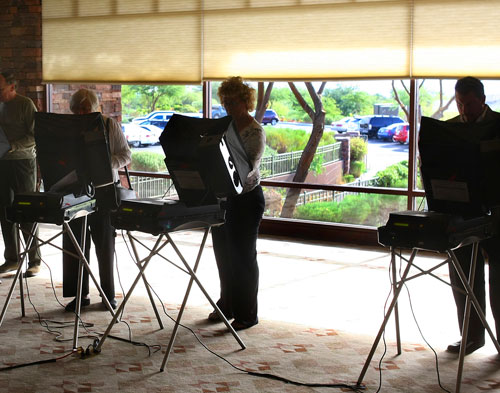 The U.S. Senate race in Nevada remains a cliffhanger.
That's the sum-up from the latest Rasmussen poll in the race between U.S. Sen. Harry Reid and his GOP challenger, Sharron Angle.
Rasmussen's telephone survey of likely voters, with leaners included, showed Reid and Angle tied at 48 percent each.
Another 2 percent prefered some other candidate in the race, and 3 percent were undecided.
Two other surveys out Tuesday from Fox News and Reuters/Ipsos also showed the contest locked in a dead heat.
Fox News had Angle at 45 and Reid at 44.
Reuters/Ipsos showed Reid at 46 and Angle at 44.
Last week, a Mason-Dixon poll for the Las Vegas Review-Journal also showed the race at 46-44, giving Reid the edge in what's statistically a tie with a 4 percentage point margin of error.
Bottom line: Despite the millions of dollars in ads both Reid and Angle have spent, voters are sharply divided on who to pick come Nov. 2.
Also, both the Democratic incumbent and his Tea Party favorite foe are highly unpopular thanks to all the negativity in the high-stakes race that also could decide the fate of President Barack Obama's agenda as well as whether Republicans win enough seats to retake control of the Senate.
Two weeks ago, Reid led Angle 50 percent to 47 percent in the Rasmussen poll when leaners were included.
Leaners are people who at first don't indicate a preference for either candidate, but if asked who they're leaning toward pick Reid or Angle or some other contender.
Leaners count more as Election Day approaches.
Here are some other interesting findings from the Rasmussen survey:
• 91 percent of Reid's voters said they're already certain how they will vote in November.
• 87 percent of Angle's supporters said they're already certain how they'll vote as well.
• 84 percent of Republicans supported Angle, while 87 percent of Democrats favored Reid. Angle led Reid by nine points among non-partisan voters.
• 45 percent of voters had a favorable opinion of Reid and 51 percent viewed him unfavorably.
• 41 percent of voters had a favorable view of Angle and 55 percent had an unfavorable opinion of her.
On economic issues, the findings generally favored the Republicans and Angle, although more voters favored President Barack Obama's latest stimulus-like jobs program.
• 44 percent favored the $50 billion federal jobs program Obama proposed to rebuild bridges, roads and other transportation infrastructure with 39 percent opposed.
• 46 percent said the jobs program is likely to help the economy, while 26 percent believed it would hurt economically.
• But 62 percent of Nevada voters said cutting taxes is a better way to create jobs than increasing government spending — which is the basic Angle and GOP argument — while only 16 percent said increased spending as a better job creator.
• 47 percent of Nevada voters said they now trust the Republicans more on the economy, while 39 percent put more faith in the Democrats.
• 46 approved of the job Obama is doing, but 51 percent disapproved.
The Rasmussen survey of 750 likely voters in Nevada was taken on Monday. It had a margin of error of plus or minus 4 percentage points.