Reid faces election complaint over donation request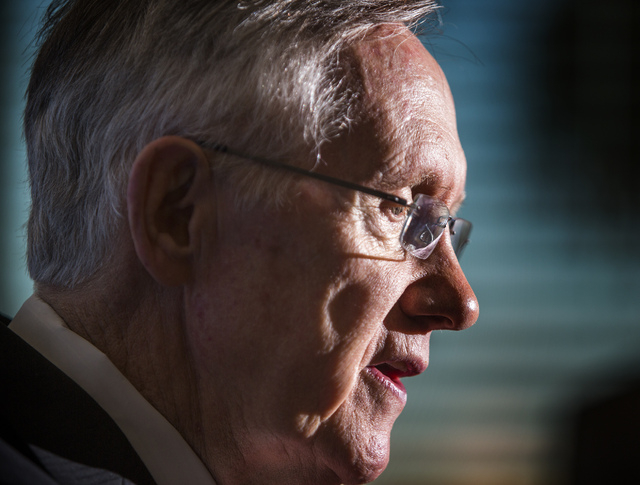 The Clark County Republican Party on Friday filed a complaint with federal election officials against U.S. Sen. Harry Reid, D-Nev., for asking corporations to donate money to Assemblywoman Lucy Flores, a Democrat running for lieutenant governor.
As a state candidate, Flores, D-Las Vegas, is allowed to accept limited corporate contributions. But Reid, as a federal politician who cannot accept corporate money, isn't even allowed to ask for such funding for another candidate, according to federal law.
Reid should have added a disclaimer to his email request to donate to Flores, saying he wasn't specifically soliciting corporate money for her, according to the complaint filed with the Federal Election Commission.
"Harry Reid clearly violated Federal Election Law in an email fund-raising solicitation which deliberately left out a proper disclaimer which would have expressly mentioned the strict law against federal office holders requesting money from corporate contributors," said the letter to the FEC's general counsel office.
The letter was signed by Dave McKeon, chairman of the Clark County GOP.
"It's disappointing but not surprising that United States Senate Majority Leader Harry Reid would blatantly disregard federal law in an effort to help his hand-picked crony, Lucy Flores," McKeon said in a statement. "It is the height of hypocrisy that the same week that Reid testifies to suppress our First Amendment rights as individuals to support a candidate of our choosing, he solicits funds from major corporations and labor unions. Harry Reid either believes he is above the law, completely oblivious to the law, or has a blatant disregard for the law. Either way, we look forward to retiring him in 2016."
Earlier this week, Reid testified before the Senate Judiciary Committee to support a proposed constitutional amendment that would regulate and limit political contributions. Reid complained that conservative billionaires are donating massive amounts of money to candidates to press their own agendas. Reid has been targeting the Koch brothers, Charles and David, for months, but Democrats also have wealthy donors who have contributed millions of dollars to politicians.
Reid's spokeswoman, Kristen Orthman, said, "We are looking into it and taking steps to correct it.
"But this shows that Republicans are afraid of Lucy Flores no matter who comes out of the Republican primary," she added.
In the lieutenant governor's race, Flores faces token opposition in Tuesday's Democratic primary. In the Nov. 4 general election, she'll face the winner of a highly competitive GOP primary race between state Sen. Mark Hutchison, R-Las Vegas, and Sue Lowden, a former state senator.
On Thursday, Reid sent out an email asking supporters to contribute to Flores and slamming her GOP foes.
"No matter who Lucy faces, their agenda will be awful for Nevada," Reid wrote. "And while they are busy tripping over themselves to stay on Tea Party island, we can help Lucy gather the resources she needs to fight that agenda."
Contact Laura Myers at lmyers@reviewjournal.com or 702-387-2919. Find her on Twitter: @lmyerslvrj.