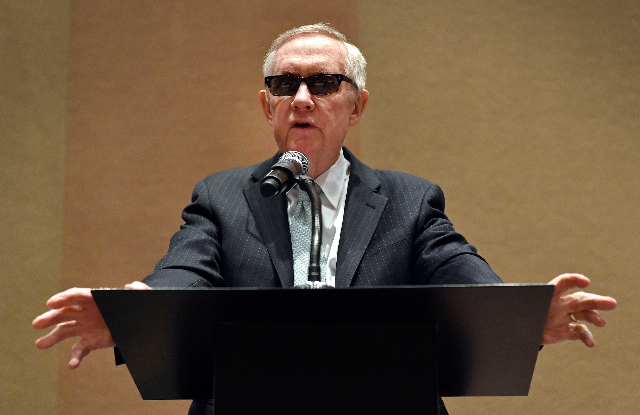 WASHINGTON — Sen. Harry Reid announced Sunday he plans to vote for the nuclear agreement President Obama reached with Iran, declaring it "the best path to stop Iran from obtaining a nuclear weapon."
"I strongly support this historic agreement and will do everything in my power to ensure that it stands," Reid said in a statement. His backing increases the chances that Congress won't block it in votes scheduled to take place when lawmakers return to work in September.
The senior senator from Nevada and the leader of the Senate Democrats said the agreement represents the best chance to halt Iran's pursuit of nuclear weapons, a goal critical to U.S. security and that of Israel, which he said has long guided his approach to Middle East issues.
"Ensuring Israel's security is of the utmost importance to me," he said. "From the Bonds for Israel dinners I attended 50 years ago to the history of my wife's family, my relationship with the State of Israel and the Jewish people has always been personal."
Reid's wife Landra was raised Jewish — both converted to Mormonism shortly after they were married.
"A nuclear-armed Iran would pose the gravest imaginable threat to Israel," Reid said. " If America walks away from this agreement and loses the support of our allies in the sanctions regime, Iran could have enough fissile material to make a nuclear bomb in a matter of months."
Reid said he spoke with a range of experts as well as Nevadans "of all walks of life who have shared their personal stories and fears about Iran's intentions." Prominent Nevadans who have opposed the agreement include billionaire casino owner Sheldon Adelson and former Rep. Shelley Berkley, a longtime Reid friend and ally.
"During my entire career in public life, I have never been involved with a debate where there was more expertise, passion and good faith on both sides," Reid said.
"Throughout all of these deliberations, critics of the agreement failed to articulate a viable alternative," Reid said. "I see that as one more piece of evidence suggesting that this agreement is the best path forward."
The agreement would put in place curbs on Iran's nuclear program and an inspection system to keep it in check. In return for Iran's compliance, the deal would remove sanctions against the nation that had hurt its economy and forced progress in negotiations.
"First, this is a good agreement on the merits, imposing the toughest inspections and verification regime in history, and a diplomatic solution is certainly less costly in American blood and treasure than any possible military option," Reid said.
"It is fantasy to say that if Congress rejects the agreement, the administration can simply go back and get a better agreement," Reid said. "That is not a real option and we should not pretend that it is."
"I have not heard any thoughtful individual argue that this deal is perfect. I don't trust Iran, but this agreement is not based on trust – it is based on strict enforcement and rigorous verification monitoring and inspections."
Reid became the 27th Senate Democrat to come out in favor of the agreement. Seventeen have not indicated a position. Assuming all Republicans will vote against the agreement, Obama needs only seven Democrats to garner the 34 votes needed to sustain a veto if necessary.
Eyes had turned to Reid after Sen. Charles Schumer of New York, the third-ranking Democratic leader, came out against the agreement.
In an interview with the Washington Post, Reid said he had been supportive for weeks and had held conversations behind the scenes with White House Chief of Staff Denis McDonough. He said he has held off on making his position public until he could discuss it with supporters in Nevada over the summer recess.
Reid's announcement comes a day before he is set to host President Obama, who is keynote speaker at the Nevadan's annual Clean Energy Summit in Las Vegas. Obama also is scheduled to appear at a fundraiser for Democratic Senate candidate Catherine Cortez Masto, Reid's personal choice to succeed him after he retires next year.
Nevada's four Republican members of Congress '€" Sen. Dean Heller and Reps. Joe Heck, Cresent Hardy and Mark Amodei —€" have challenged the deal and were expected to vote against it. None have yet laid out their positions in detail.
Rep. Dina Titus, D-Nev., has yet to announce how she will vote.
Contact Review-Journal Washington Bureau Chief Steve Tetreault at stetreault@reviewjournal.com or 202-783-1760. Find him on Twitter: @STetreaultDC
MORE INFORMATION