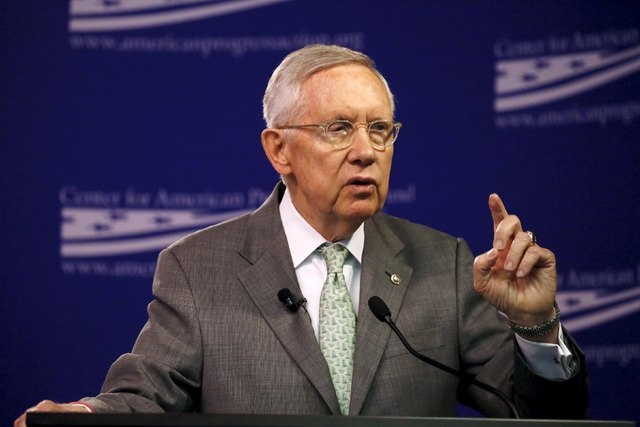 WASHINGTON – Senate Democratic leader Harry Reid said Thursday progressives should respond to Republican presidential front-runner Donald Trump's "racist and xenophobic demagoguery" by doubling down on bold ideas such as requiring paid sick leave for workers, making college more affordable, raising the minimum wage to $15 per hour, ensuring equal pay for women, and fixing the nation's roads and bridges to create jobs.
"The power of ideas will trump Trump," the Nevada Democrat said in what was billed as a major address to the Center for American Progress Action Fund.
Much of Reid's speech included comments he has made repeatedly in recent weeks.
He accused top congressional Republicans, House Speaker Paul Ryan of Wisconsin and Senate Majority Leader Mitch McConnell of Kentucky, of "moral cowardice" for giving Trump a slap on the wrist for making detestable statements but committing to support him if he becomes their party's nominee.
"Trump has made disgusting, sexist statements. He has insulted veterans, immigrants and people with disabilities," Reid said, adding a reference to the assaults and racial slurs reported at recent Trump rallies.
"There is no gray area here. It is time for Sen. McConnell and Speaker Ryan to find the backbone to say 'enough.'"
He also blamed Trump's rise in the presidential race on Republicans' years-old strategy of replacing thoughtful engagement on public policies with resentment and hatred as they questioned the legitimacy of Barack Obama's presidency and vowed to block his initiatives.
"Republican leaders' rejection of President Obama manifested itself in one big lie," Reid said.
Obama's proposals to address the economic hardships Americans faced, he said, were rejected by Republicans' dishonest claims they would not work.
Reid said Republicans took that approach solely because those proposals came from the president.
"It's no wonder Americans feel powerless," the senator said.
He said Republicans are using the same tactics in their promise to block the Supreme Court nomination of Judge Merrick Garland until after the election to allow the current vacancy to be filled by the next president.
Reid echoed comments from the White House in rejecting the option that Garland's nomination could be confirmed in a lame-duck session after the election if Obama's successor turns out to be another Democrat.
"It should not be surprising that the senior senator from Nevada would make such a partisan speech to an over-the-top partisan organization," said Hope Hicks, a spokeswoman for the Trump campaign.
"This is exactly the kind of rhetoric we have come to expect from those who see their hold on the reins of power slipping away. Senator Reid is attacking Mr. Trump because he knows millions of suffering Democrat voters will defect from the party to support Mr. Trump and beat Hillary Clinton. It is a desperate display from yet another all-talk, no-action senator."
McConnell and Ryan offices declined to respond specifically to Reid's remarks on Thursday.
"But the speech is the type of thing that keeps fact checkers in business. And in fact much of this speech has already been debunked," McConnell spokesman Don Stewart said.
Stewart provided several examples of such past claims by Democrats that have drawn negative critiques in the press, including comments from Reid about the lack of productivity in the current Republican-led Congress.
Ryan's office provided a comment from his Thursday press conference.
"If anybody, not just Donald Trump, if anybody is out there representing the Republican Party in ways that we believe disfigure conservatism or do not portray what our views and principles are, I, as a party leader, and others, I assume, as well, have an obligation to defend our principles from being distorted, and we are going to continue doing that," he said.
Ryan's office also said he has spoken out in the past on such issues as a Muslim ban, the Ku Klux Klan and violence at rallies.
Contact Jim Myers at jmyers@reviewjournal.com or 202-783-1760. Find @myers_dc on Twitter.