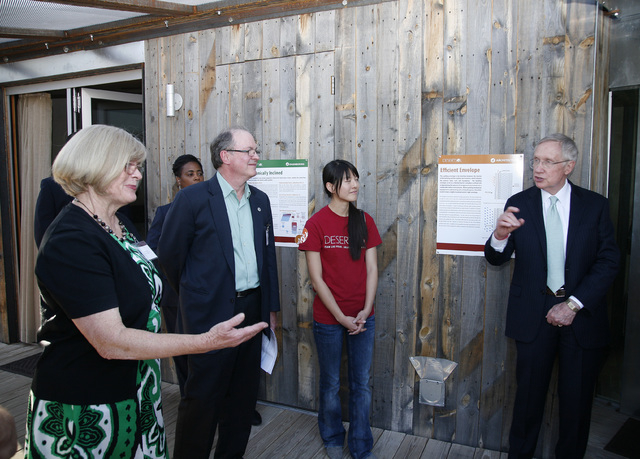 DesertSol, UNLV's multiple award-winning entry in the U.S. Department of Energy's Solar Decathlon, welcomed U.S. Sen. Harry Reid and other guests recently for a special tour conducted by the team that designed and built the house.
"The home-building industry salutes UNLV's Team Las Vegas not only for designing and building an exceptional home, but also for spreading the message of sustainability in home building on an international stage," said Pardee Homes Vice President of Marketing Joyce Mason, who has been a judge in three U.S. Solar Decathlons as well as China's first Solar Decathlon in 2013.
Sen. Reid praised UNLV's solar decathletes for "bringing home a big victory to Nevada." Described as one of the finest examples of sustainable living on the planet, DesertSol was the top-ranked entry in the United States and took second place in the global competition. Team Las Vegas was the only U.S. team to place in the top three at the prestigious Solar Decathlon competition last year in Irvine, Calif.
He also noted that Pardee Homes, a pioneer homebuilder in California and Southern Nevada, is a "pioneer in energy-efficient homebuilding."
Mason, who is internationally recognized as an expert in green building, congratulated the UNLV students for their top scores in "livability, buildability and marketability."
Richard King, creator and director of the Department of Energy's Solar Decathlon, took part in the tour with Sen. Reid.
Since 2000, his program has challenged university students worldwide to design, build and operate highly efficient solar-powered houses. He also works closely with professional builders to design and build cost-effective energy-efficient homes.
"It is fitting that this world-class home built by UNLV students finds its permanent home as an educational exhibit in the Springs Preserve, the birthplace of Las Vegas," said Julie Wilcox, deputy general manager for the Southern Nevada Water Authority and the Las Vegas Valley Water District.
DesertSol was placed in its permanent home in the Springs Preserve Botanical Gardens by a coalition of local builders.
Pardee Homes and Slater Hanifan Group led a team of volunteers that includes Inspirada Builders LLC (KB Home, Toll Brothers, Beazer Homes and Pardee), NV Energy, Las Vegas and 40 subcontractors.
It took two years and a team of more than 60 students to meet the challenge to design, build, maintain and market the 754-square-foot sustainable solar-powered home.
The team earned top honors for market appeal and also tied for first place in the hot-water contest. In addition to its second overall ranking, DesertSol scored second in communications, tied for third place in engineering, was fourth in comfort zone, tied for fifth in architecture and was seventh in home entertainment.