Reid welcomes high court decision to enter presidential powers case
January 19, 2016 - 1:16 pm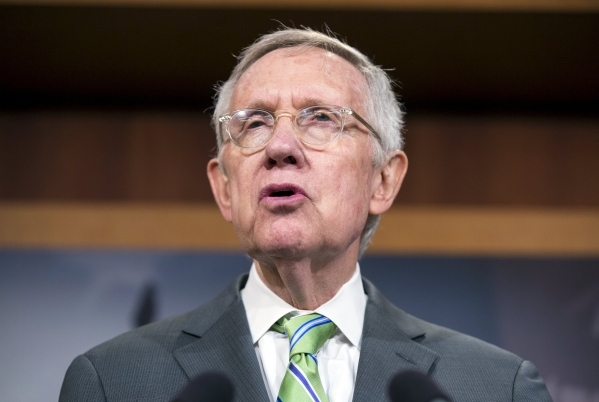 WASHINGTON — U.S. Senate Democratic leader Harry Reid of Nevada welcomed the Supreme Court's decision Tuesday to review a challenge to President Barack Obama's presidential powers.
The high court agreed to decide the legality of Obama's unilateral action to shield more than 4 million illegal immigrants from deportation.
"I recently met with undocumented parents of U.S citizens and lawful permanent residents when I was home in Las Vegas," Reid said.
"Instead of having the peace of mind that comes with deferred action, these law-abiding men and women continue to live in constant fear of being separated from their children. These families must be allowed to step out of the shadows and fully contribute to the country that they love and call home."
He said the president took action only after House Republicans refused to take up immigration reform legislation.
The court agreed to hear Obama's bid to resurrect his plan, undertaken in 2014 through executive action bypassing the Republican-led Congress, that was blocked last year by lower courts after Texas and 25 other Republican-governed states sued to stop it. A ruling is due by the end of June.
The case is not the first time Obama has asked the Supreme Court to rescue a major initiative. The court in 2012 and 2015 rejected conservative challenges to his signature healthcare law.
The White House expressed confidence the court would now deem as lawful Obama's immigration action, which was crafted to let millions of illegal immigrants whose children are American citizens or lawful permanent residents to get into a program that protects them from deportation and supplies work permits.
Texas and the other states contend Obama exceeded his presidential powers and usurped the authority of Congress. Texas Attorney General Ken Paxton, a Republican, said courts have long recognized the limits to presidential authority.
Contact Jim Myers at jmyers@reviewjournal.com or 202-783-1760. Find him on Twitter: @myers_dc