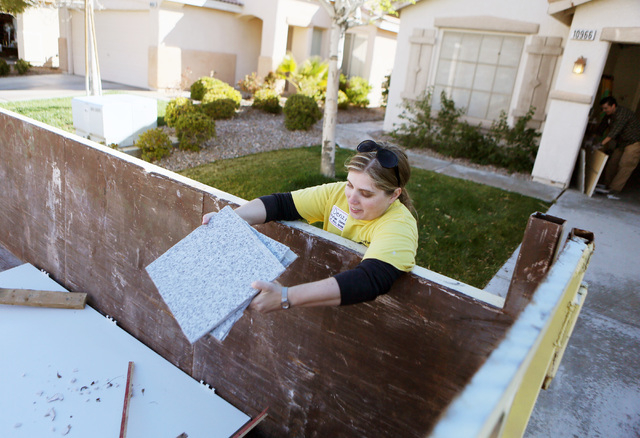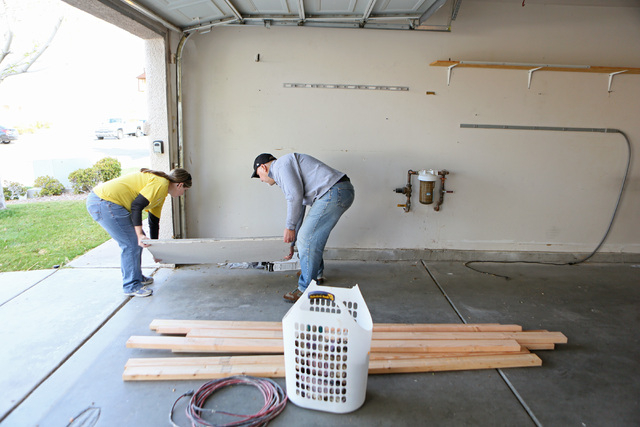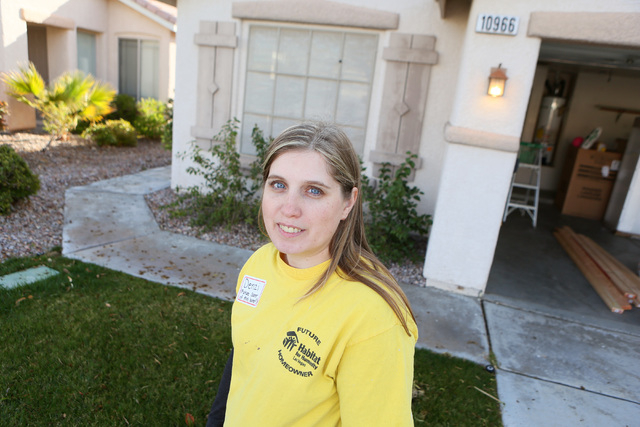 A lot of sweat and hard work has gone into renovating the future Southwest home of Denzila Watts within the last few weeks. Then again, it's called "sweat equity" for a reason.
Habitat for Humanity Las Vegas partnered with Bank of America to help Watts provide a sense of stability for her family. The nonprofit builds and remodels single-family homes in Clark County for families making less than 80 percent of the median area income, which was about $54,000 from 2008 to 2012, according to the U.S. Census Bureau.
"Our involvement is threefold," said Dan Giraldo, assistant vice president of Bank of America. "We donated the house, we gave $20,000 to help with the renovations and we helped supply the volunteers."
Once completed, the 1,400-square-foot house will have four bedrooms, a fresh paint job and new floors and appliances, according to Meg Delor, executive director for Habitat for Humanity Las Vegas.
Born and raised in Las Vegas, Watts, 33, graduated from Chaparral High School, 3850 Annie Oakley Drive. She said she's lived all over the valley but has yet to experience the Southwest.
"I've been divorced for about eight years, and I haven't owned my own home since," Watts said. "It's going to be fantastic. We'll have a stable place to live instead of shopping around for different apartments. It's something we can enjoy for a very long time."
As a single mother, Watts works full time to support her daughters, ages 8, 10 and 13. She stumbled upon Habitat for Humanity when looking for first-time homebuyer programs.
"We have a commitment to partner with people who have a desire to make a difference in their lives and their family's lives," Delor said. "(Watts) was selected because she has a tremendous amount of drive. She's committed to providing a stable lifestyle for her daughters."
Potential candidates cannot have any outstanding liens or judgments, must earn a minimum gross income of $23,000 per year, have no bankruptcies for two years and be a Clark County resident for at least 12 months.
"We give a hand up, not a handout," Delor said. "The families we help are still responsible for the mortgage, but it's a 0 percent interest mortgage to help establish their financial security."
In addition to the qualifications, candidates must also volunteer for 25 hours with Habitat for Humanity before applying.
"They want to see how dedicated you are and give you a little taste of what to expect," Watts said. "It's fun, though, because it's always something different every time you go."
Once candidates are selected, they must agree to 300 hours of "sweat equity" through the organization: 150 hours on the construction site of the home, 100 additional hours through the organization and 50 hours in a homeowners class.
Despite her busy schedule, Watts said she has spent about 25 consecutive Saturdays volunteering through the organization.
"My daughters don't get into trouble while I'm gone, and they're usually still in their PJs by the time I get home," Watts said. "They understand that I'm doing this all for them."
Though the house was in good condition, Watts isn't expected to move in until May, Delor said.
"I feel like I accomplished one of the biggest goals in my life," Watts said. "To do it without having any spousal support and to do it just for me and my kids; it's an amazing feeling."
For more information about Habitat for Humanity Las Vegas, visit habitatlasvegas.org.
Contact Southwest/Spring Valley View reporter Caitlyn Belcher at cbelcher@viewnews.com 702-383-0403.
Habitat for Humanity
For more information about Habitat for Humanity Las Vegas, visit habitatlasvegas.org.