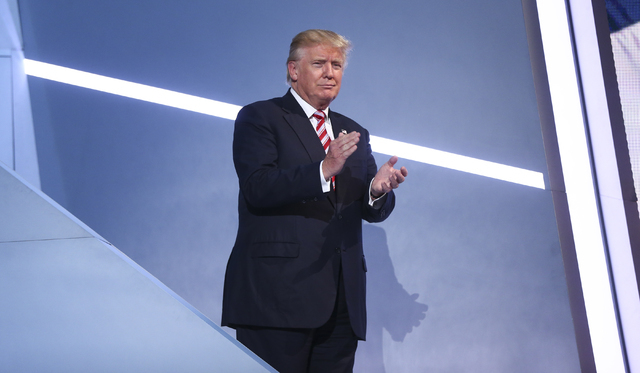 Donald Trump's campaign has tapped U.S. Rep. Mark Amodei, R-Nev., to be the campaign's Nevada state chairman.
The Republican presidential nominee's campaign announced on Wednesday the appointment of Amodei, who represents the 2nd Congressional District in Northern Nevada.
In a statement, Trump, who faces Democratic nominee Hillary Clinton, said Amodei has "resisted the pull of special interests in Washington to fight for change and for the people of Nevada" and will help the campaign's momentum keep going.
Amodei said President Barack Obama's policies have damaged areas such as health care, national security and foreign relations.
"Quite frankly, given a choice between continuing these policies on for the next four years, or trying something else — I pick change," he said.
Amodei was elected to his seat in 2011 in a special election and re-elected to subsequent terms in 2012 and 2014. He faces Democratic challenger Chip Evans in the Nov. 8 election.
In a statement, Evans said Amodei "owes Nevadans answers," pointing to prior statements the real estate mogul has made.
"Does he agree with Trump that our military is 'a disaster' and our military leaders are 'rubbish?'" Evans said.
Contact Ben Botkin at bbotkin@reviewjournal.com or 702-387-2904. Follow @BenBotkin1 on Twitter.
RELATED
Amodei, Hardy want BLM approval for off-road race through national monument
Democrat candidates say Amodei out of touch with many of his constituents