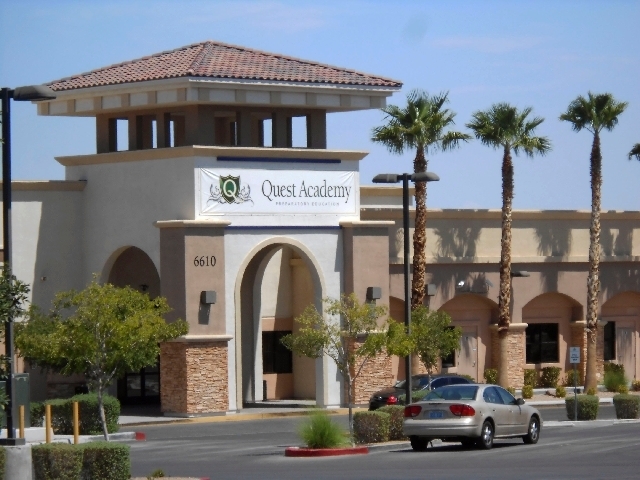 Nevada charter school students test worse and spend less time learning than the vast majority of their peers, according to a study released last month by Stanford's Center for Research on Education Outcomes.
The survey , which looked at charter elementary, middle and high schools in 25 states, Washington D.C. and New York City , found that Nevada students lost out on around a half-year's worth of reading and math instruction compared to charter schoolers elsewhere, dropping 137 days of math and 115 days of reading education over a five-school-year period ending in 2011.
The report ranks the state last in terms of overall student achievement, citing math test scores that lag behind more than half of the 5,000 charter schools examined by researchers.
Centennial Hills, home to four of 31 Nevada charter schools, has seen the best and worst of what state- and school district-sponsored facilities have to offer.
Take The Delta Academy, a Clark County School District-backed charter for at-risk youths with "behavioral, emotional and social challenges ." It was recently handed a two-star rating by state educators thanks in part to a 51 percent graduation rate and well-below-average scores on statewide reading, writing and math proficiency exams.
Students at three-star-rated Quest Academy-Las Vegas fared better on statewide tests despite well-publicized allegations of board member collusion, contract tampering and improper bonus collections that threatened Quest's state-sponsored charter and led to the January firing of the school's principal.
Then there's five-star-rated Somerset Academy of Las Vegas, one of the top 10 performing charter schools in the state . The North Las Vegas charter saw more than three-quarters of its students meet state proficiency standards last year and plans to open a Centennial Hills campus this fall on Sky Pointe Drive .
Nevada State Public Charter School Authority director Steve Canavero said schools such as Somerset tend to hold a distinct advantage over others around the state: Education management organization s, or EMO s — private companies that help charter school s — arrange curriculums, look for teaching talent and fund extracurricular activities.
"Somerset's a quality school," Canavero said. "I think if you were to ask administrators the reason, they'd say quality instruction, but they're recruiting well, getting high-capacity instruction and they have an entrenched culture of success around them. These ships don't turn on a dime, but I think you're going to see a lot more schools (performance) moving north in coming years."
State Charter School Association president John Hawk said help for schools looking to improve is on the way. Hawk expects recently adopted Assembly Bill 205 — which creates a $750,000 startup fund for new charter s and allows business-issued bonds to fund school s — will immediately help level the playing field at non-EMO schools.
He'll look to the law's other linchpins, including provisions tethering student performance to the charter review process and triggers to automatically shutter underperforming schools to help bolster test scores and hold charter schools more accountable .
Wherever improved charter school reputations go, Hawk expects better teachers will follow.
"Charter schools set out to be the (research and development) department of education," he said. "We have that ability to do more with less … So if these schools have higher qualifications, that attracts better teachers.
"Does education at Nevada charter schools need to improve? Yes. But the CREDO report takes a 30,000-foot view of the problem. Nowhere will you find school-level data."
Clark County charter schools coordinator Daniel Tafoya agreed the Center for Research on Education Outcomes study doesn't tell Nevada charter schools' whole story.
That is perhaps especially true in Centennial Hills, Tafoya said . That's where Caucasian students without English language learning needs account for 80 percent of Somerset enrollees, while more than two-thirds of Delta Academy students come from low-income and minority households.
He suspects that a school-level look at state- and district-sponsored charters could help acquit student performance at some schools.
Meanwhile, , he, too, is betting on the newly passed law to help cure what ails schools such as Quest and Delta.
"Delta caters to a certain type of student. Wherever you send them, you'd find the rating would follow," Tafoya said. "Getting a great (state test) score isn't a life priority when you're trying to stay off drugs or trying to keep from living under a bridge.
"As sponsors, we now look at national best practices to say, 'Hey, what can we do to make our schools better?' I think one of the things is looking into developing alternate (performance) frameworks for schools like Delta."
Despite or perhaps because of the challenges, Bryon Richardson can't wait to open Centennial Hills' fourth charter school this year.
Las Vegas Leadership Academy will rely on a virtual teaching model — complete with off-site instruction, a Web-based curriculum and moonlighting social studies teachers Skyped in from across the country — to help mold 150 ninth- through 12th-grade minds enrolled at the academy this fall.
Richardson will run the school with help from an education management organization .
Contact Centennial and North Las Vegas View reporter James DeHaven at jdehaven@viewnews.com or 702-477-3839.