Resident aids cause and reaches Mount Kilimanjaro's highest peak
October 10, 2011 - 11:18 pm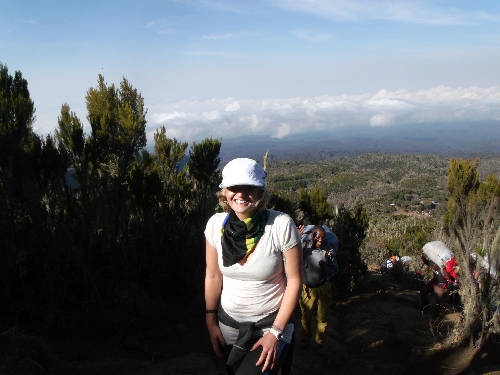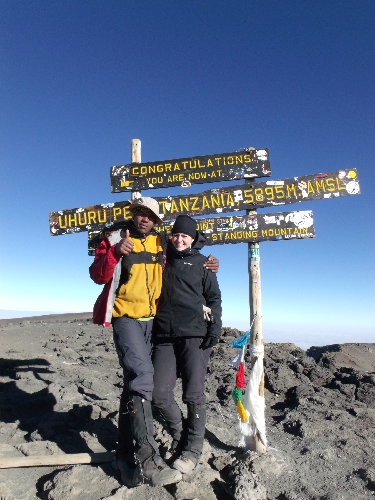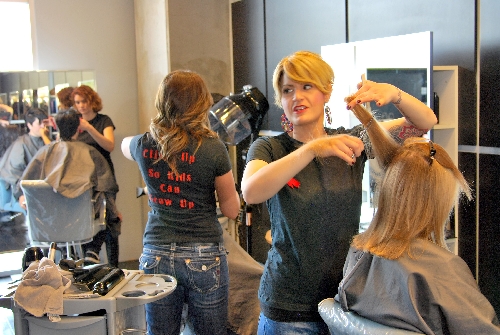 Not everyone can climb to the summit of Mount Kilimanjaro in Tanzania and live to tell the story. But Samantha O'Brien, stylist at Globe Salon downtown , can.
O'Brien, who dreamed of visiting Africa and climbing Mount Kilimanjaro for more than 10 years, made the trek during a 20-day excursion in September, reaching the mountain's highest point, the Uhuru Peak, at 19,341 feet.
"I've always known I wanted to go to Africa," O'Brien said. "Now I can say I completed a goal I had always set out to do."
But O'Brien wasn't set on tackling this adventure just to fulfill a personal goal. She wanted to help others in her pursuit. O'Brien began researching charitable organizations involved with Mount Kilimanjaro climbs and came across Simon Mtuy, an ultra marathon runner who lives at the base of the mountain in his home village of Mbhae. Mtuy is the founder of Summit Expeditions and Nomadic Experience and the world record holder for both the fastest ascent and descent on the mountain at 8 hours, 27 minutes and 2 hours, 20 minutes, respectively.
O'Brien knew she wanted to climb with Mtuy, not only because of his extensive knowledge about the mountain but also for his work with several non profit organizations, one of which is the American Foundation for Children with AIDS. O'Brien chose to participate in AFCA's Climb Up So Kids Can Grow Up, which involves raising at least $8,000 for both climbing expenses and donations to the organization.
"I figured if I wanted to accomplish this goal, I wanted to do it for charity, too," O'Brien said. "Climb Up So Kids Can Grow Up is a great program because it gives medical supplies and prescriptions to these children of Africa, and getting access to that medicine makes such a difference in their lives."
O'Brien knew she couldn't raise the money alone. With the help of her co-workers, family, friends and complete strangers, she was able to come up with the necessary funds for her journey. A bulk of her proceeds — more than $2,500 — came from Globe's Cut-a-Thon on March 13 in which customers donated at least $25 for a haircut toward O'Brien's cause. She raised $2,029 through her FirstGiving web page, and the remainder of the funds came through private donations.
"The overwhelming support from people — especially in the downtown community — was unbelievable," O'Brien said. "I received amazing support from friends and family before I left and amazing support from strangers when I was (in Africa)."
Staci Linklater, owner of Globe Salon, said O'Brien downplays her excursion to Mount Kilimanjaro but knows the importance of her effect on AIDS awareness in Africa.
"She's very humble and acts like (her climb) is not such a big deal," Linklater said. "I have to remind her that she helped so many people with the money she donated."
In addition to fundraising, O'Brien prepared for her trip by training as much as possible. She took overnight, eight- to 10-hour hikes on Mount Charleston for several weekends during the summer, adjusting to sleeping in high altitudes. Participating in exercise boot camps and personal training also were part of her preparation.
O'Brien spent seven days hiking Mount Kilimanjaro and the remainder of her trip in the Mabhae Village and on the beaches of Zanzibar. As much as she enjoyed talking to people in the village and relaxing on the beach, O'Brien hit some rough patches in her trek.
"I spent seven days on the mountain, which I like to describe as six days of wonderful and 10 hours of miserable," O'Brien said. "I got horrible altitude sickness. My heart rate tripled, and I was out of it for about 10 hours."
O'Brien's first instinct when she reached the top of the mountain was a desire to descend as quickly as possible. She said reaching the peak wasn't her favorite moment of the trip for one reason.
"There were so many little victories I accomplished that led to the big one (of reaching the top)," O'Brien said. "I just thought it was important to finish what I started."
O'Brien said since returning from her excursion, she has experienced personal gain and views her life a little differently. Linklater sees the same in her colleague and friend.
"She seems much more appreciative of her surroundings," Linklater said. "She's a very strong-willed woman who has a lot of patience and determination. She's always been self-motivated, but this (trip) gave her a level up."
Contact Paradise/Downtown View reporter Lisa Carter at lcarter@viewnews.com or 383-0492.