Resident recalls living through Nazi occupation of Czechoslovakia
November 13, 2015 - 1:00 pm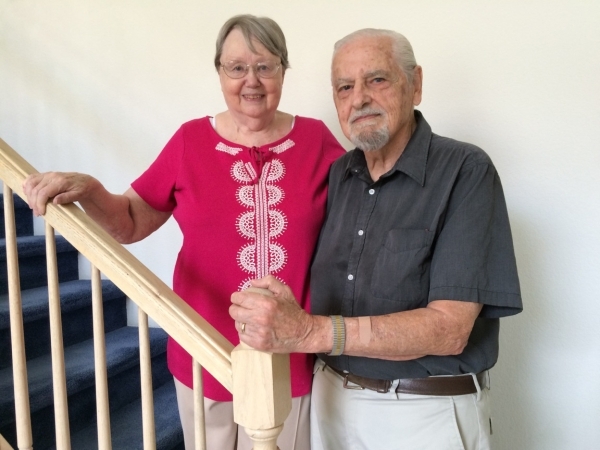 She was only a young child, but she remembers those days as though they were yesterday. Nadia Romeo, 76, grew up in Brno, Czechoslovakia, during World War II.
"I was born … five days before Hitler's troops marched in — good timing, huh?" said Romeo, a Summerlin-area resident.
Her mother, Vera, who was a widow, and her aunt, Lydia — both strikingly beautiful young women — worked with the underground to ferret people away from the Nazis and helped operate a radio program aimed at undermining the Germans.
"There was no TV then, but the (news of the Nazis) was all anyone talked about, so I grew up knowing the names of concentration camps and what went on there," she said.
Romeo's grandmother lived with them and watched her so Vera could work and get a ration card.
By day, her mother worked in a munitions factory. Workers knew they were making items for the Germans, so they did whatever they could — worked slower than was expected or sabotaged equipment — to undermine the war effort.
"My mother was picked up a couple of times and taken into custody," Romeo said. "She said the only reason they didn't (send her to a concentration camp) was because she was a 'little' fish, and they wanted to catch the 'big' fish."
Still, being in custody was no picnic. Her mother was forced to endure "wall standing" — women would have to stand perfectly still for 24 hours while facing a blank wall. They could not lean against it or even touch it. They got no food, no water and no bathroom breaks. Guards ensured no one disobeyed.
"If they saw you move, you'd get hit with a fist or a rifle butt. One woman had her teeth knocked out. She once saw a pregnant woman at the wall and … she fainted. The guards kicked her. It was pretty brutal," Romeo said.
By night, Vera stole away to meet up with her compatriots at the makeshift broadcast station.
"They knew she was affiliated in some way, so they kept an eye on her, hoping she'd lead them to someone higher up in the (underground movement)," Romeo said.
Vera, being trilingual, could learn what was happening in other European countries so they could coordinate plans. The radio operation moved from site to site, always one step ahead of the Nazis who were determined to stop them. The Germans had roving units that could hone in on radio transmissions, so the clandestine operation often had to go silent, pack up and move yet again.
One time, when her Aunt Lydia needed to smuggle people out of the county, Romeo was part of the plot. The Gestapo was on the lookout for her aunt, who was a single woman. She took Romeo along to pose as her child, as she could obviously not be a single woman on a mission if she had a 4-year-old in tow.
"I had to call her 'mother' at all times. We went to a village and rented a room in an attic. It was just for a few days," Romeo recalled.
"She was a little kid who didn't know anything else," said Jordan, Romeo's husband of 59 years. "Growing up, it was all bad stuff. … She didn't knowing any other thing."
Her aunt and mother weren't the only ones involved in the underground movement. So was a German officer Romeo knew only as Karl. Lydia worked closely with him. Karl would bring the family extra food and gave her a gift, a little red sweater with matching mittens.
"I think Karl was a 'good' German," Romeo said. "I know he was in love with Lydia."
His family hailed from Sudetenland, a part of Czechoslovakia that was annexed by Germany. So, Karl identified himself more with Czechoslovakia than with Germany. Romeo said he also helped her family secretly transport people out of the country to safety.
Romeo's grandmother occasionally stole out to farms in the countryside for more personal reasons, taking the family silver to trade for butter or produce so she could better feed the family.
"She was literally taking her life in her hands to do this. … If she had been caught, they would have sent her to a concentration camp or more likely just shot her on the spot," Romeo said.
In the summer, Vera worked on a farm, and the little family benefited from the plentiful fresh produce, eggs, dairy products and an occasional slaughtered chicken.
Romeo recalled the family hiding a man from the underground — a "big fish" — in their home. His name was Vyacheslav, and he was an artist. He repaid the family for their generosity by offering to paint her portrait, but Romeo was 6 and too fidgety to sit still that long, so Vyacheslav turned the canvas over and painted her mother instead. The family still has the painting, now with a niece who lives in Florida. The artist was eventually smuggled out to safety.
Romeo recalled instructions of her family that were drilled into her: If there was a hard pounding on the door in the middle of the night, put on your shoes and coat.
"That was their favorite time, 2 or 3 in the morning because people were disoriented," she said of the Nazis. "They would take you outside (in whatever you had on). It wouldn't matter if it was a blizzard out there."
Her Uncle Beda was rounded up at age 19, and being fit, was put to work in a coal mining area nearby. There, the workers were nearly starved, Romeo said, and some resorted to sucking on the coal for its sweetness. It was a deadly decision, as it was addictive and poisoned their systems.
When men died either from starvation or the coal poisoning, Beda was on burial detail to toss them into ditches and cover them with lime. Every so often, Romeo said, he saw an arm rise up out of the dirt — one of the men was not dead. Under the ever-watchful eyes of the Germans, nothing could be done to help.
In April 1945, the munitions factory where Vera worked was bombed by the Allies. Of the 35 people in the part of the complex that was hit, one survived: Romeo's mother. Romeo recalled rushing to the scene with her grandmother and seeing her mother, her hip hit by shrapnel, being carried to a car. With few medical supplies, the shrapnel was cut out without anesthetic. When her wound became infected, it was splashed with rubbing alcohol each night.
Romeo said no one blamed America or the Allies for such bombings, as people were all just relieved to have the Germans conquered.
The family eventually left Europe and immigrated to America. Vera died in 2006 at age 84.
"I thought they were very brave, but in a way, foolhardy, too," Romeo said of how she viewed her family's activities. "They could have brought down terrible retribution on us, especially the way they casually used me to help my aunt, you know? But Czechoslovakia wasn't really invaded with tanks and stuff; they just sort of took it over. I never saw my mother as she was arrested and dragged away; I only learned about it later."
— To reach Summerlin Area View reporter Jan Hogan, email her at jhogan@viewnews.com or call 702-387-2949.