Resident with 1 million miles under her belt teaches motorcycle classes
February 26, 2013 - 12:00 am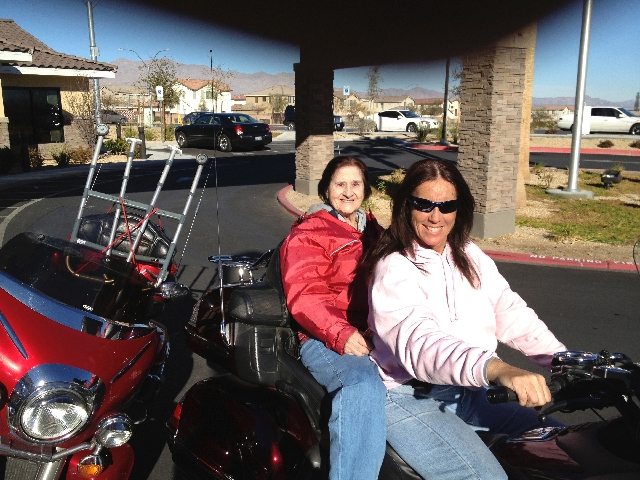 Joanna Needham has spent almost every day of the last 43 years on her motorcycle.
Needham, a North Las Vegas resident, came to the Las Vegas area in 2007 because she was drawn to the gambling and better scenery for her motorcycle day trips. She moved from Los Angeles to Dallas briefly, only to be disappointed by the landscape. She then quickly packed up her bags and moved to Las Vegas.
She has more experience riding a motorcycle than almost anyone she knows. She was the first female Los Angeles Police Department officer to ride a bike, she said. She served as a motorcycle officer for 19 of the 27 years she was in the department and became the lead motorcycle instructor for all training aspects, including new riders, mentoring, tactical training, motorcades and escorts and civil unrest.
Her older brother got her interested in riding a motorcycle when they lived in New Hampshire. She got her first street bike — a 750 Suzuki — in 1981. She started her post as a police officer in 1982, and by January 1987, she was riding her bike for the force. She said she received an 11 percent pay increase and permission to take home the vehicle when she started patrolling on her motorcycle.
"Because I rode so well, no one ever gave me a hard time," she said. "Their jaws just dropped."
She said she always got positive feedback.
Her 89-year-old mother Estelle Needham rides with her. She and her brother took their mother on a ride Feb. 3 with her mother's walker strapped to the back of a bike.
Sue Brophy-Wagner, Needham's close friend since 1982, said Needham is extraordinary not only for her riding but in her dedication to looking after her mother.
"She's very dedicated and loyal," Brophy-Wagner said. "She's extremely responsible, and she's just an amazing woman. Whatever she sets her mind to, she does."
Riding her motorcycle became more than a job — it became a lifestyle. She competed in regional and national competitions, including the Goldwing technical riding challenge event in St. George, Utah, in 2012 and is a former national American Motorcycle Association Desert Motorcycle Racing champion and sponsored by Husqvarna.
She started teaching officers how to ride in 1996. She said she was often told that she made riding look "effortless."
"I'm so competitive," she said. "I like to challenge myself."
She has since retired and now teaches people to ride at Harley-Davidson, the College of Southern Nevada and Cycle School Motorcycle Training, 848 N. Rainbow Blvd.
In college, she said she learned the most from professors with real-world experience in their field, something she capitalizes on in her own classes.
"I tell them everything in that book has happened to me — good and bad," Needham said, referencing the basic motorcycle handbook that students are required to know in her class.
"The two things killing motorcycle riders now is cornering and braking."
Students learn about braking when they ride at 15 mph but not at 70 mph, she said, and it can be dangerous.
"I blame the motorcyclist. You should always anticipate the time to stop," she said.
She said she has seen riders and students killed because they do not follow the guidelines.
"The worst riders can't corner and can't brake; they're all about going fast," she said. "It's horrible.
"You have got to assume the car drivers are going to do the wrong thing."
Howard Aronstein teaches with Needham at CSN, which is where they met. He said that while it is not uncommon now to see a female instructor, he thinks Needham brings additional patience and empathy to the program, and students are more comfortable.
"Honestly, I think female partners add a certain kind of flair of empathy that I don't think a lot of other instructors give off," Aronstein said. He has ridden for 35 years and taught for 10 years and said Needham is unique because she is focused and can move the class along at the pace that is necessary.
Needham would like to open another program that takes students on the road to learn, but she said she has been told by multiple people that the liabilities would be too high. Instead, she warns her nervous graduates to stay off the major roads until they are comfortable.
"I tell them you shouldn't be out there because you'll panic," she said.
The basic program meets for 2½ days and is available to begin seven days a week. Most of the lessons occur in a controlled environment parking lot.
She teaches everyone from 15 years old to 74, she said. She said most people do not anticipate riding a motorcycle to be physically demanding and encourages people who are not in shape to avoid taking lessons in the summer and start in the cooler months.
She has ridden more than 1 million miles. For her next trip, she hopes to head to the Carolinas and ride the Tail of the Dragon route.
Her advice? "Keep consistent power in the rear wheels to stabilize the bike," she said. Less technical, she advises students to stay where they are comfortable.
She said it is important to practice good riding habits and build muscle memory for emergency situations. She said she sees too many people braking with two fingers instead of using their hand.
"Not getting sucked into the vortex of overriding and feel the need to keep up with friends," she said. "Just know where they're going and get there at your own speed."