Residents confront North Las Vegas officials about facility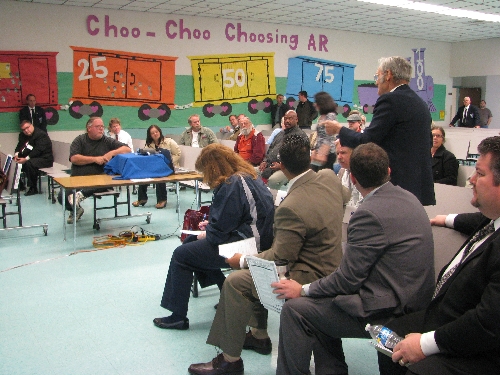 City of North Las Vegas engineers touted the state-of-the-art technology inside the North Las Vegas Water Reclamation Facility.
Residents didn't want to hear about it during a March 19 public meeting across the street at Martin Luther King Elementary School, 2260 Betty Lane.
They didn't care to discuss the wastewater's high quality that meets all state and federal guidelines.
Suddenly, the meeting meant to inform the public about the facility, its technology and where the wastewater is slated to flow became a question-and-answer session between angry residents who asked many questions and city officials who couldn't get through their P owerP oint presentation.
Residents were upset that the meeting came after a contentious Clark County Commission meeting the same week. The commission voted against allowing the city to flush treated sewage from its new $240 million wastewater treatment facility into a county-owned flood control channel.
Commissioners criticized North Las Vegas city officials for not doing enough to educate the public about the plan. The plant is scheduled to open in May; however, the commission's vote might delay the opening.
The city plans to discharge 25 million gallons a day from the new plant into the channel, where 2 to 6 inches will flow into the Las Vegas Wash, then downstream to Lake Mead.
Reclaimed water is treated wastewater that is safe for irrigation, industrial coolant, dust control or water features. It is not intended for drinking. The water is safe for plants and human contact in irrigated areas such as parks, playing fields, golf courses and construction sites.
The city's facility is on 40 acres of land leased from Nellis Air Force Base. It overlooks a neighborhood, the Sloan Channel, a church and a school playground.
Residents expressed concern about how they were notified for the meeting. Acting City Manager Maryann Ustick said about 10,000 notifications were mailed to those who lived in and around the area.
Only about 40 people, mostly county residents and legislative and school district police, showed up. Councilman Robert Eliason, Councilwoman Anita Wood and members of the state assembly, Steven Brooks, Maggie Carlton and James Ohrenschall, also attended.
Star Mistriel, a third-grade teacher at the school who lives close enough to the construction site that dust constantly blows into her home, held up a piece of computer paper — a makeshift invitation someone stuffed in her mailbox. There was no address listed on the notice.
Mistriel, who lives in Clark County, said she did not receive notification from the city about the meeting.
"Nowhere on this notice does it say meet at Martin Luther King Elementary School," Mistriel said. "It was delivered this week in my mailbox, and it was underneath a bunch of junk mail."
She confronted Wood about the notice. Wood told her the city did not send that notice out.
Mistriel added that the meeting didn't accomplish much.
"They are building a wastewater treatment plant for the city of North Las Vegas in the county," Mistriel said. "We get no benefit at all. We get nothing. We get no embellished landscape. I want nice landscape. I want the dust reduced because I want my property value to go up a little."
She added that she wants to see new walking trails and places for horse enthusiasts installed by the city.
Other residents complained about maintenance of the area. Some said teens cut holes in the fences to skateboard in the empty cement channel bed.
Ustick said the commission's vote was for an approval of an interlocal maintenance agreement, not approval for discharge.
One man demanded that county officials have complete control over the facility because they are voted into office by everyone regardless of which city they live in.
Wood told the audience that a follow-up meeting would be scheduled three to six months after the facility opens.
Contact Downtown and North Las Vegas View reporter Kristi Jourdan at kjourdan@viewnews.com or 383-0492.