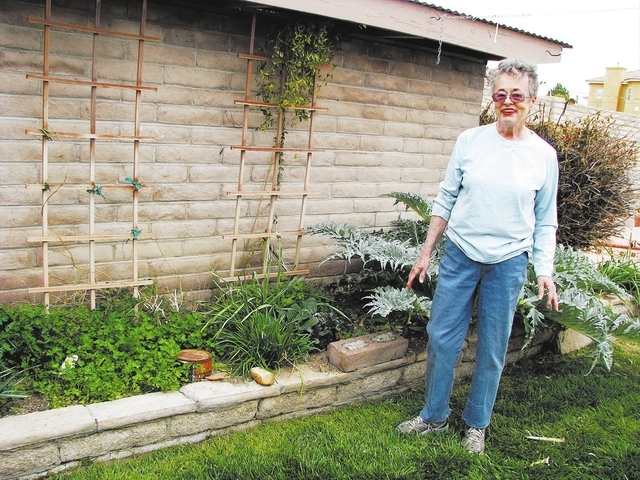 The view from Helen Brown's house is breathtaking. Perched on the foothills of Frenchman Mountain, most of the whole valley is laid out before her.
Her house is one of the last to see the sun each day, which means once the valley heats up, the last place that heats up is her yard and garden. Combine that with the unfettered wind and you have a particularly challenging place to grow crops, but Brown is up to the challenge.
"I've got a few things I do to protect my garden," she said. "On June 1, I put up a shade cloth. That's about 40 percent shade. That stays on until about Labor Day. We get about two months of high winds early in the tomato-growing season up here, and I protect them with walls of water."
The walls of water are translucent, heavy vinyl tubes with smaller vertical tubes running up the sides to be filled with water. The water holds up the device.
"The wind saps the energy of your plants, and these really help," Brown said. "You can't get them here in town. I have to order mine online. I've been using some of the same ones for 30 years."
Brown has been growing things since she joined 4-H in 1948. She's a Master Gardener and took classes at the University of Nevada Cooperative Extension not long after she moved to the valley in 1996. Now she teaches there.
Anyone who has tried to put a shovel in the ground in Southern Nevada knows it's not the moist, soft, richly colored soil in which crops are usually grown. That's why most gardeners in the valley use raised beds. The bed should be narrow enough that a gardener can reach everything in it without stepping into it. Brown's primary garden is 6 feet wide by 22 feet long.
"You have to amend the soil," Brown said. "And once you've got good soil, you need to protect it from the elements. I cover my garden with black plastic in the fall and don't peel it off until January, when I get ready to plant again."
Brown begins each year by hoeing the soil and loosening it up. She then adds 7 to 8 inches of compost across the garden and mixes it into the soil by shoveling. Next come the soil amendments. She uses bone meal and cottonseed meal.
"I water those in," she said. "They go into the soil slowly, because they're not chemicals. You need to prepare all of this in advance of gardening."
Different plants go in at different times, and Brown gets multiple uses out of the same soil during a season by rotating crops according to optimum growing times. Potatoes go in January. She usually plants tomatoes on St. Patrick's Day.
"I watch the weather," she said. "This year, we had a warm February, so I moved up the date of planting."
Brown likes to experiment and see what she can get to grow well here. In addition to several varieties of tomatoes, she regularly grows eggplants, sweet potatoes, herbs, Swiss chard, onions, spinach, kohlrabi and more.
"I eat what I grow," she said. "It's organic, it's healthier and the soil's good, so it's sweeter."
The 73-year-old doesn't find gardening a chore. It's her favorite form of relaxation and exercise.
"It's good to have it," she said. "It's always there. It's something I enjoy doing outdoors. Well, maybe not so much in July. Then I have to do it at 6, before it gets too hot."
The desert demonstration garden at the Winchester Cultural Center, 3130 McLeod Drive, has been a popular attraction for years, but this spring, plans are in the works to add a community garden.
"A guy from the neighborhood named Prince Barron came in and asked about doing it," said Patrick Gaffey, cultural program supervisor for the Clark County Parks and Recreation Department. "We resisted at first, but the idea got some momentum, and a lot of people seemed interested, so we held a meeting, and the response was overwhelming."
Gaffey was impressed not only with the quantity of people who showed up but also with the level of expertise the attendees offered.
"It's going to happen," Gaffey said. "We're going to have another meeting sometime in the morning of March 15 and really get things moving."
Gaffey believes the project will start small this year, in part because by the time the beds are built, it will be late in the season for most plants, but he suspects it will be something that takes root and grows bigger every year.
"We've got a lot of room for expansion," Gaffey said.
For more information about the Winchester Cultural Center garden, call Joseph House at 702-455-7340.
Contact Paradise/Downtown View reporter F. Andrew Taylor at ataylor@viewnews.com or 702-380-4532.
FOR MORE SPRING STORIES
Visit https://www.reviewjournal.com/life/home-and-garden/spring-gardening for spring gardening stories from around the valley.
TO BE A MASTER GARDENER
To become a Master Gardener, people must complete 80 hours of training, which consists of 20 classes of instruction offered by the University of Nevada Cooperative Extension.
Classes are offered from 8:30 a.m. through 12:30 p.m. Mondays, Wednesdays and Fridays during annual spring semesters. Classes include three hours of lectures and one hour of hands-on activities. There is a $200 fee charged to offset program expenses.
Participants must sign an agreement to volunteer 50 hours a year to the program in order to stay certified as a Master Gardener. They answer phone calls, send out informational materials and develop community gardens.
The extension also offers community classes open to gardeners of all skill levels throughout the year.
For more information, visit www.unce.unr.edu/programs/sites/mastergardener/southern or call 702-257-5501.