Residents relive strife of Civil War during re-enactments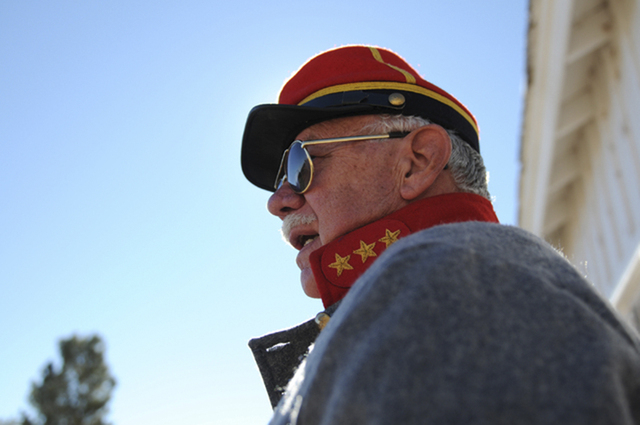 Residents are set to experience firsthand what it means to be battle born.
The Nevada Civil War History Association plans a Civil War re-enactment experience for 10 a.m. June 28 at Spring Mountain Ranch State Park, 6375 state Route 159.
The event is set to give participants a taste of history by teaching them how to train and command troops, according to organizer Jim Edwards.
"It's impossible to truly describe in words what it was like to be in the Civil War and to be a soldier back then," Edwards said. "The best way is to give them a taste of what it was like."
The first portion of the event is designed to inform participants about the Civil War and mold them into soldiers.
"We begin basic training with our infantry instructors," Edwards said. "Those who have leadership potential, who can yell loud and make quick decisions, they act as sergeants and corporals."
After lunch, the troops regroup, form regiments and prepare for battle.
Instead of muskets, rifles and cannons, participants receive water-soaked "sponge bombs" to hurl at the opposing side. A hit constitutes a casualty, causing the participant to sit out until the next round.
Flag markers are placed throughout the field, and the objective is simple: The side with the most flags behind its line wins.
"Re-enactments are fun, but this is a whole different ball game," Edwards said. "It takes place in real time, and it's a test of leadership, teamwork and character. If you can't figure out a way to work together, you'll fall apart."
The Civil War was fought from 1861 to 1865 after seven Southern states declared secession from the United States and formed the Confederate States of America.
"When the Civil War started, there was no army on either side to fight it," he said. "Pretty much the entire army was out West fighting (Native Americans). When Fort Sumter was fired on, each side called for about 7,500 volunteers to fight for 90 days because they didn't think the war would last longer than that."
Although the war was mostly fought east of the Mississippi River, it still remains relevant to Nevada, according to Michael Green, a history professor at the College of Southern Nevada.
"Without the Civil War happening, Nevada almost certainly would have not become a state when it did," Green said. "President Abraham Lincoln was looking for electoral votes and support for the ratification of the 13th Amendment. Nevada could provide all those and did."
With concerns that Confederate troops planned to invade the West, Col. James Carleton claimed he stationed troops at an old Mormon mission, calling it Fort Baker.
"The fort was located near Las Vegas Boulevard and Washington Avenue," Green said. "There were no troops at the fort, but both sides were known to use some gamesmanship."
In addition, Congress and Abraham passed the Morrill Land Grant College Act in 1862, which helped states start colleges and universities.
"It eventually helped create (the University of Nevada, Reno), which was founded shortly after the act passed," Green said. "The oldest building on the campus is named Morrill Hall."
The association hosts the re-enactment experience the last Saturday of each month and provides uniforms and equipment free for up to 600 participants. The experience is designed for those 3 or older.
"People will find out they got a lot more in themselves than they thought they did," Edwards said. "They can lead a group into a very stressful circumstance and come out on top. It's quite an experience and accomplishment."
For more information, call Edwards at 702-451-5403.
Contact Henderson and Green Valley View reporter Caitlyn Belcher at cbelcher@viewnews.com or 702-383-0403.