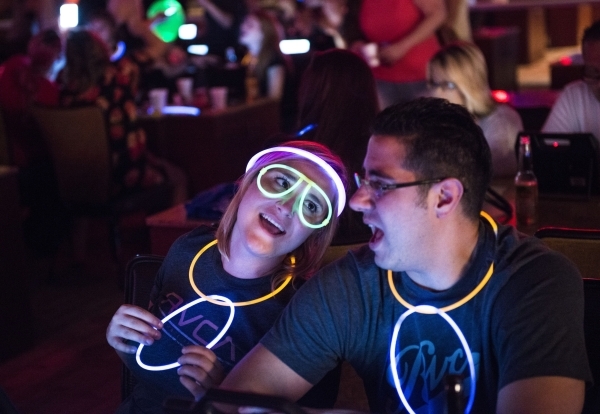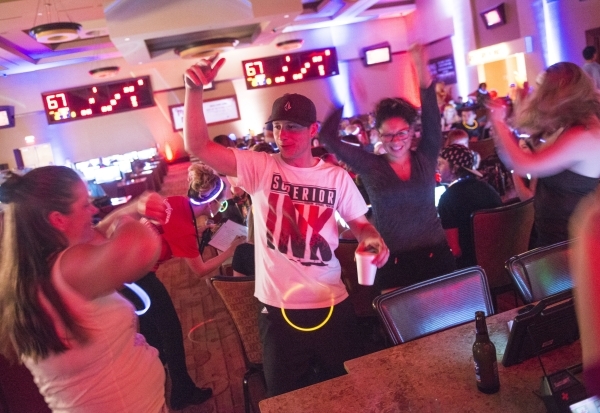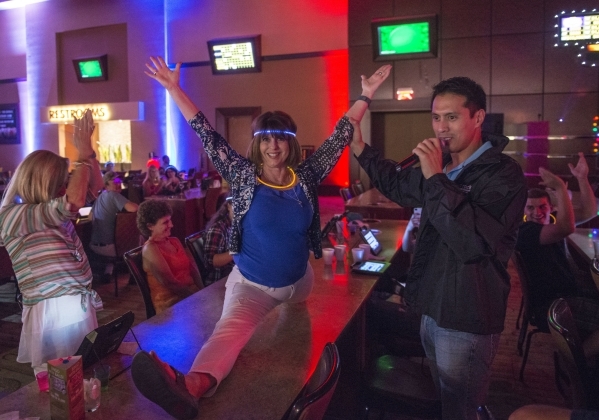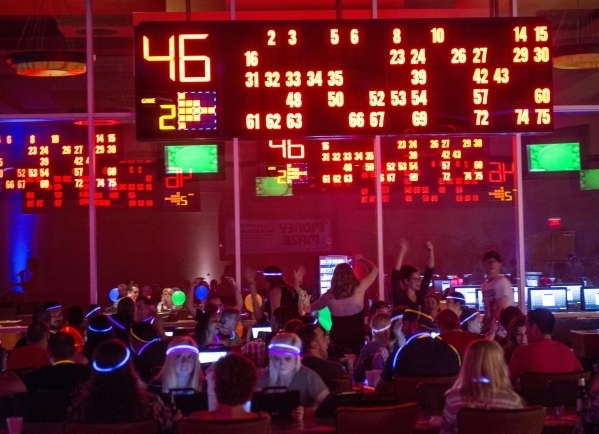 This isn't your grandmother's bingo: Red Rock Resort has upped the ante on the normally low-key game by infusing it with rock music, shots of liquor and a dance club atmosphere.
Called Rock Shot Bingo, Station Casinos first tried it out at Green Valley Ranch Resort, 2300 Paseo Verde Parkway. Now, it's come to Red Rock Resort, 11011 W. Charleston Blvd.
Monica Lewis of Summerlin said she comes to Red Rock Resort weekly and tried Rock Shot Bingo.
"I love it — the shots, the DJ — and we're all at the same level, playing the same game, so that seems the most fair to me. And when you win, it could be a bottle of Grey Goose or Patron tequila."
Susan Riffle, also a Summerlin resident, said, "It's a wonderful environment, very classy and nice. It's less expensive than slots because you're constantly putting money in slots. They eat your money. But you come in here, and it's just 25 bucks. And the DJ's cute."
Bingo room manager Jimmy Pedulla estimated that Rock Shot Bingo sees 100 to 250 attendees per session.
"It's another way to introduce young people to the game," he said. "People can win a lot of money with bingo. We start out with progressives at $125,000. This makes it fun and gets them used to the game."
View visited Rock Shot Bingo at Red Rock Resort on Aug. 27. When the magic hour approached, the lights in the 600-plus-seat bingo room were dimmed, flickering tea lights inside balloons were set out, and laser lights drew squiggles on the walls and the ceiling. The music was elevated to a pounding level, with Rod Stewart's "Da Ya Think I'm Sexy" followed by Madonna telling people to get "Into the Groove," which streamed into Michael Jackson's "Thriller."
People poured in, about 125 total. They got their glow sticks and portable bingo players and moved to the beat as they found a seat. One girl whipped multiple glow sticks in the air as she danced.
The emcee encouraged everyone to sit at the same table because "even if you don't win, someone at your table might, and that means you all get free shots. Don't sit alone. This is all about having fun."
His instructions were met with whoops and cheers.
"Basically, we've taken your bingo and kicked it up a couple notches," said Bryan Chan, Rock Shot Bingo emcee, who also can be seen at the Chippendales' show. "The crowd is relaxed. They're here to have fun. Some people plan their whole week around this."
How it is different than Chippendales for him?
"Well, here, we keep our clothes on," he quipped.
Some people weaved the glow sticks into headbands, while others made eyeglasses out of them. Still others had multiple ones in Olympic-style rings hanging off them. One table of women never sat in their seats but remained dancing the entire time, glow sticks bobbing to the beat.
When bingo numbers were called, they could barely be heard above the music. It didn't really matter, as the machines auto-populated with whatever square was called.
When someone got a bingo, the cocktail waitress appeared like magic with a round of shots for that table. Prizes were given away. One woman won pool passes after she executed a perfect split on the table.
Not all of the session went without a hitch. A few of the portable machines crashed mid-party, and an alert attendant swooped in with freshly charged ones. Everyone was so busy dancing, they barely noticed the hiccup. But then, the disc jockey had everyone on their feet to do the "Cha Cha Slide" en masse. It was followed by a hip version of "Macarena," which led to "YMCA."
Brianna Middlefield of Southern Highlands was there with her husband, JP. She said Rock Shot Bingo spoiled her for regular bingo.
"This is more exciting, more fun," she said before lifting her hands up as she chair danced.
Rock Shot Bingo is scheduled for 9 p.m. Nov. 12 and Dec. 10 at Green Valley Ranch Resort in Henderson. Registration beings at 8 p.m. It's scheduled for Oct. 22, Nov. 19 and Dec. 17 at Red Rock Resort. Each session costs $25 and includes two free drinks and 10 electronic games with a total of 30 cards per guest.
Another version of Rock Shot Bingo called Daubing After Dark offers the same prizes and has party music but no shots and no disc jockey. Daubing After Dark is slated for 11 p.m. Fridays and Saturdays.
Visit greenvalleyranch.sclv.com or redrock.sclv.com, or either casino's bingo room.
— To reach Summerlin Area View reporter Jan Hogan, email jhogan@viewnews.com or call 702-387-2949.