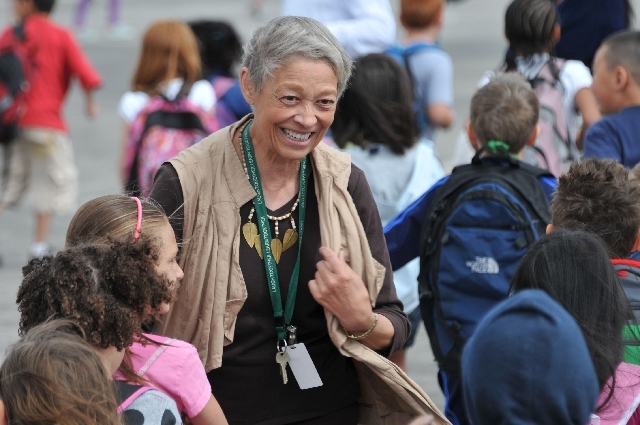 Ries Elementary School is losing one of its greatest resources next school year. First-grade teacher Joy Bartlett is retiring after 50 years as an educator.
"It's going to be a big loss," said principal Mario Quinonez. "… Her wisdom is definitely going to be missed."
Parents are already missing her, too.
Quinonez said Bartlett is the most requested teacher he has had and that many are disappointed their kindergarten students will not get to learn from her next school year.
Bartlett, 70, is the daughter of two teachers. She was born in Charleston, W.Va, and grew up in Minnesota. Her mom was the first black teacher in the Minneapolis public school district, she said.
Bartlett majored in education at West Virginia State University in Institute, W.Va., and did her graduate work at the University of Minnesota in Minneapolis. She taught for 39 years in Minneapolis in various grade levels and also was a professor at Augsburg College in Minneapolis. She moved to Las Vegas and into her Southern Highlands home in 2004 after losing her husband, Jeff, to cancer. Her brother was living in Las Vegas and urged her to move.
She taught at Herron Elementary School in North Las Vegas during the 2004-05 school year and transferred to Ries, 9805 S. Lindell Road, during her second year. Bartlett said she always favored early childhood education.
"It's just like heaven being back with these first-graders," she said. "… Starting them off correctly in the younger years is most important. … This has never been a job; this has been a passion. I've never felt like I was going to work."
Bartlett also mentored new teachers in Minneapolis and taught on TV during the early days of educational programming. She has always been interested in new technology, a trait she said she learned from her mother.
"She was so futuristic, which is something I think is so important for every teacher," Bartlett said. "I remember helping her set up her classroom. She said, 'Make sure you put out some books about space.' … To get them interested about science and space travel, we can't plant the seed early enough."
Bartlett said she loves technology and keeps up with advances in the classroom. She has a website for parents and has connected with some of her former students –– some now in their 50s –– on Facebook.
"You can't give me enough technology," Bartlett said. "I love it all."
Quinonez said a lot of older teachers shy away from technology.
"She's really kept up with the time," he said. "Mrs. Bartlett embraces it. She uses the Smart Board. She's on board with texting, all that."
Of all the subjects, Bartlett said her passion is for reading.
"Having a student who didn't know "A" from "Q" in first grade and having them say, 'I can read this,' to have that feeling –– I don't want to leave it. … It has truly kept me feeling so young, jumping around with these children, crawling around on the floor with them when they're reading."
Bartlett said it is "breaking (her) heart" to retire, but she thinks it is time. And 50 years has a certain ring to it, she said.
She said she has not given a lot of thought to retirement or future plans but said she would like to stay involved with children and possibly travel. Bartlett and her husband had discussed traveling after retirement.
Quinonez also said he is disappointed. He said he learned a lot from Bartlett.
"If I'm ever having a rough day, whether it be with a parent, students or politics, that's one class I could always go to and see what's right in teaching," he said. "… I would bounce ideas off her. Several times in my first year, I would call her in and just ask her what she thought. She gave some really good advice. There's nobody else on the staff I can probably do that with."
Contact View education reporter Jeff Mosier at jmosier@viewnews.com or 702-224-5524.