RJ's Nevada Poll shows Clinton and Trump are in statistical tie
October 1, 2016 - 10:42 pm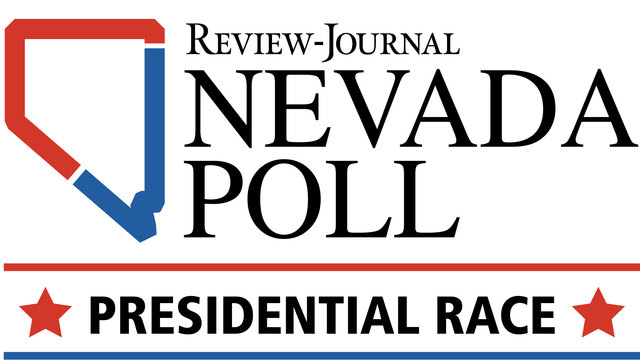 Nevada remains a battleground state in the presidential election, according to a new poll commissioned by the Las Vegas Review-Journal.
The first Nevada Poll of 2016 shows Silver State voters are closely divided three weeks before the start of early voting and less than six weeks from Election Day.
Forty-five percent of likely Nevada voters support Democrat Hillary Clinton and 44 percent support Republican Donald Trump, the poll released Saturday shows. Five percent support Libertarian Gary Johnson, 5 percent are undecided and 1 percent said they would support a different choice.
The poll, conducted by Bendixen & Amandi International, has a margin of error of plus or minus 3.5 percentage points. Because Clinton's 1-point lead is within the margin of error, Clinton and Trump effectively are in a statistical tie in Nevada, putting the state's six electoral votes in play.
"The question as we come down over the course of the last six weeks is: 'Who's going to be able to close?'" said Anthony Williams, special projects director of the polling firm.
The poll surveyed 800 likely voters in Nevada in interviews conducted Sept. 27-29 — immediately after the first televised presidential debate — in English and Spanish.
Both candidates have been familiar to Americans for decades.
Clinton came onto the national stage in 1992, when her husband, Bill Clinton, was elected president. After eight years as first lady, she went on to represent New York in the U.S. Senate and serve as secretary of state in the Obama administration.
Trump, a real estate magnate, billionaire and reality TV star, casts himself as an anti-establishment candidate who is qualified for the presidency based on his business experience.
Clinton's campaign had no response to the poll.
In a statement, Charles Muñoz, Nevada state director for Trump's campaign, said: "This poll indicates the same thing every other recent poll has — that Nevada is a battleground state and we are competing hard for every vote. Hillary Clinton has pulled out all the stops, flooding the airwaves with negative ads attacking Mr. Trump, and displayed her contempt for hardworking Americans – criticizing Bernie Sanders' supporters as 'children of the Great Recession' who are 'living in their parents' basement' and labeling half of Nevada voters as either 'deplorable' or 'desperate.'"
Muñoz said the campaign believes voters will choose "Donald Trump's positive message of greater economic prosperity and jobs, and a safer and more secure America."
Clinton and Trump are extraordinarily well-known candidates, and voters are making up their minds quickly.
"You really are seeing support for the two candidates harden," Williams said.
That leaves an ever-shrinking slice of voters to target. And time is running short to do that, whether by attracting undecided voters or luring Johnson supporters.
"We're almost beyond the point of convincing anyone to change their mind, and we're pretty soon getting to the point where it's all about turnout," he said.
That makes each side's ground game a key factor.
That could well work in Clinton's favor; her support base is in the state's population hub in Southern Nevada.
In Clark County, 53 percent of voters polled had a favorable opinion of her. In the rest of Nevada, 39 percent had a favorable opinion.
In Trump's case, 38 percent of Clark County voters polled had a favorable opinion of him. In the rest of the state, 48 percent of voters had a favorable opinion of him. That gives Trump's campaign more land mass to cover to reach out to his base.
If Clinton maximizes turnout in Clark County and Trump's campaign is unable to turn out voters, she's likely to carry Nevada.
One undecided voter is Jami Connolly, a 32-year-old homemaker in North Las Vegas.
"There's a lot I don't like about both of them," she said. "I feel like neither one of them are really good candidates."
She said she doesn't believe Trump is qualified but also doesn't believe Clinton has been forthright, calling her email issue "highly questionable."
Brandon Shirey, a 23-year-old Republican voter in Carson City, said he's "currently leaning more toward Donald Trump."
A machinist, Shirey said Trump's focus on jobs and boosting manufacturing in the U.S. is appealing.
Shirey said Trump's tendency to "speak out" is a weakness, but "at the same time, he's been telling people what they want to hear."
Janell Ingles, 41, who lives in Summerlin, said she's backing Clinton. Originally, she backed Bernie Sanders before the Vermont U.S. senator lost his bid for the Democratic nomination.
She said no candidate is perfect, adding that it was still an obvious choice.
"There's no way that we'd ever vote for him. Clinton has her issues, but she's definitely more presidential material than he is," she said.
She added: "I don't think I've seen an election year this crazy in my entire adulthood."
President Barack Obama carried Nevada by nearly 7 points in his 2012 re-election bid. Obama won the state by about 13 points in 2008.
The voters polled were selected in a two-step process that started with a general voter pool that included newly registered voters and registered voters with a history of participation in voting in the past three election cycles. Potential participants were asked directly whether they're likely to vote. Only those who indicated they're likely to vote were included.
Bendixen & Amandi International, based in Miami, has done projects for clients including The Washington Post, Clinton's 2008 presidential campaign and Obama's 2008 and 2012 campaigns.
Contact Ben Botkin at bbotkin@reviewjournal.com or 702-387-2904. Follow @BenBotkin1 on Twitter.
2016 Nevada Poll by the Las Vegas Review-Journal by Las Vegas Review-Journal on Scribd
METHODOLOGY
Sample: 800 likely voters in Nevada
Dates of interviews: September 27-September 29, 2016
Languages of interviews: English, Spanish
Margin of error: +/- 3.5 percentage points
Source: Bendixen & Amandi International
RELATED
Nevada Poll shows Joe Heck and Catherine Cortez Masto are in close race for U.S. Sen. Harry Reid's seat
Nevada pot ballot measure too close to call
Nevada Poll: Likely voters back expanded background checks for firearms
Nevada Poll: Voters strongly support Questions 3 and 4