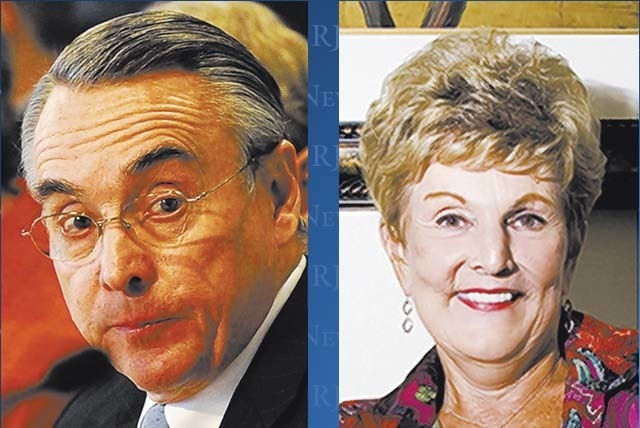 In case you missed it, Las Vegas businessman Jim Rogers launched into a wild tirade on Facebook over the weekend against the Nevada Board of Regents for selecting businessman Don Snyder on Friday as the interim UNLV president.
Rogers, the owner of Sunbelt Communications with television stations in Las Vegas and Reno as well as the former interim chancellor for the Nevada System of Higher Education, had much to say in two separate posts.
Personally, I think Snyder is a perfectly fine selection for an interim at UNLV. He'll keep the ship sailing until a permanent arrives, plus he's well-connected to the giving community in Nevada. UNLV won't skip a beat in that department.
Former UNLV president Carol Harter was also a stellar candidate. She'd been great, too. But the Regents picked Snyder. Rogers wanted Harter. (On an ironic note, Harter would probably still be UNLV president if Rogers had not pushed her out several years back.)
Ahhh, ain't Nevada fun?
Anyway, Harter not getting the nod lit the fuse for Rogers, who can still go off like a Roman candle when he thinks he's right. Don't take my word for it. See for yourself:
Rogers Post #1: "I watched in utter disbelief as one Las Vegas businessman after another spoke at the Regents' Meeting to support Don Snyder's ascendancy to the UNLV Presidency. Not one of those business leaders has any idea about the governance of higher education. What a staged embarrassment of the system's way of handling its business.
"But that fiasco aside, the Regents had better adopt a new script for choosing leaders of the System's eight institutions. The Regents have proved themselves in this one action to be totally without the skill and knowledge to govern.
"For a donor looking for a place to put money to improve Nevada's higher education system, I recommend the Nevada State College and/or The Black Mountain Institute. My family is contributing property valued at $6M to Nevada State College and $10M in cash to the Black Mountain Institute. We have done so but have created safeguards with these institutions that will prohibit the Regents from interfering with these projects.
"If there was ever any doubt about our fear of the Regents' ability to govern, this single amateurish action in appointing Don Snyder as UNLV's President has confirmed my belief of the Board's incompetence.
"The latest message from the Board of Regents to academia across this country is 'We don't know what we're doing'."
Rogers Post #2: "To Kevin Page, Chairman Board of Regents and Daniel Klaich, Chancellor:
"One rule I learned early on is that you may not owe anyone with whom you deal much, but the one unconditional obligation you have is to tell the truth. And both of you failed miserably in telling the truth about the way you chose Don Snyder to be acting president. I'd love to have both of you under oath to confirm that my suspicions were always correct; and that is that you had cut the deal with Don before Carol Harter expressed interest and before you had ever talked with her. This is high school politics at its worst.
"But not only is this amateurish, you have permanently damaged and insulted a great lady, an academician, and a person full of loyalty and dedication to this university by choosing Don Snyder. With all of his talents, and I admit that he has many, Don's resume is a blank sheet when compared to Carol Harter's education, experience as a true academic leader, writer, philosopher and intellectual. You also sent a message to every faculty member at UNLV that intellectual endeavor is of no importance unless it produces a dollar. That hasn't been the purpose of education worldwide since the 5th century. Every college president across this country must be howling at the thought that a man with a B. A. from Wyoming is now the academic leader at UNLV.
"You owe Carol an apology and you owe the entire faculty of UNLV an apology.
"Shame on you both."