Rubio makes presidential campaign stop at Las Vegas pawn shop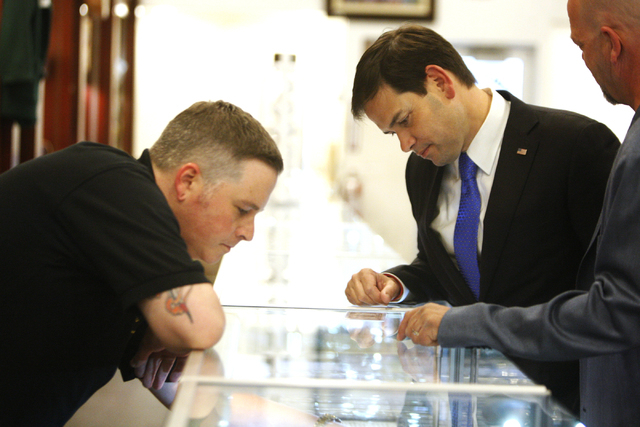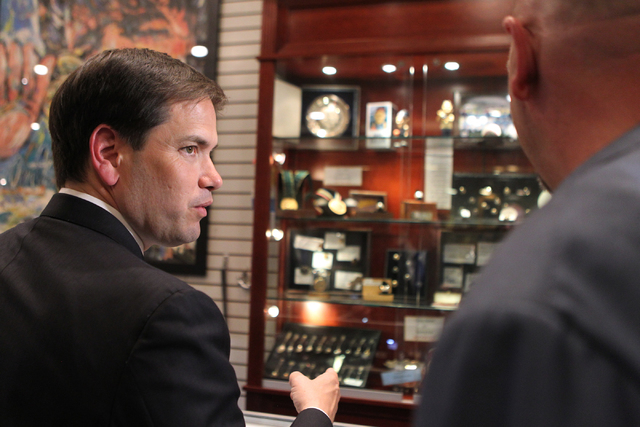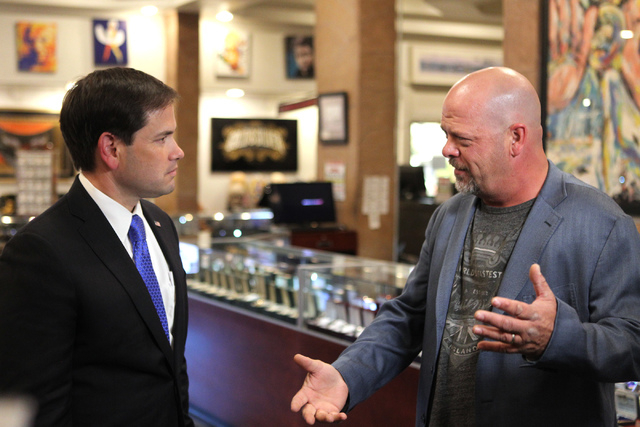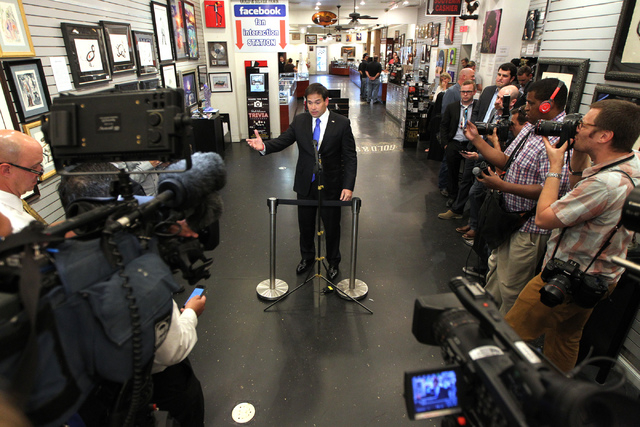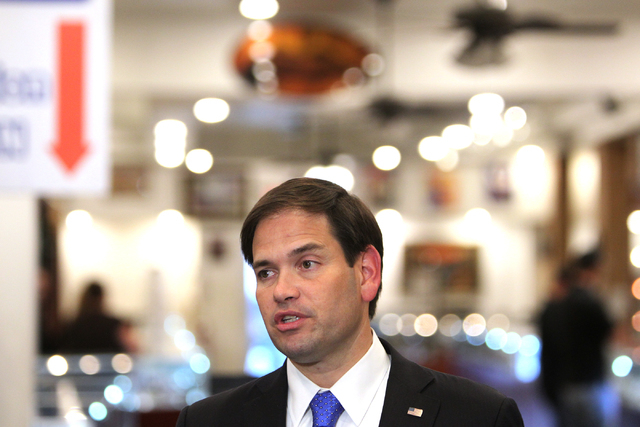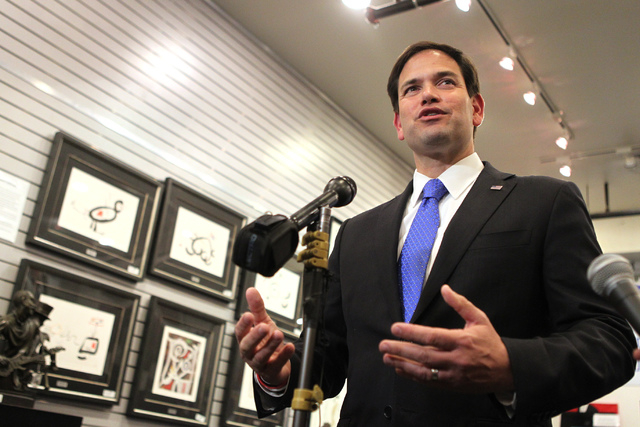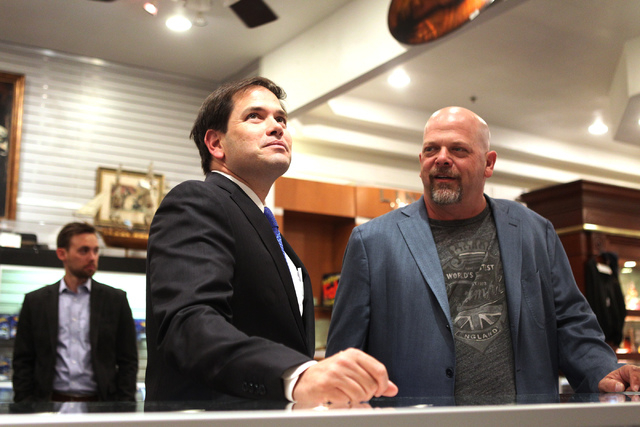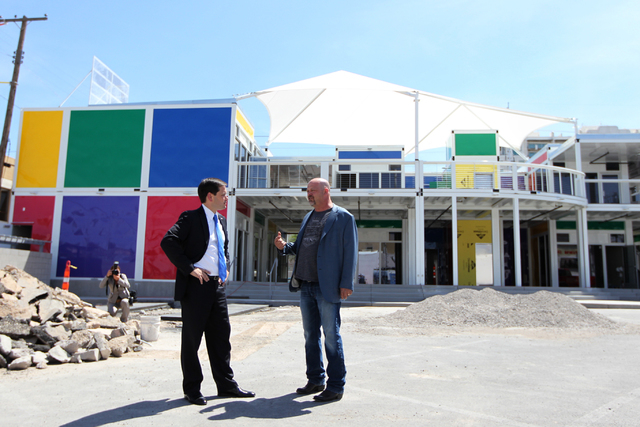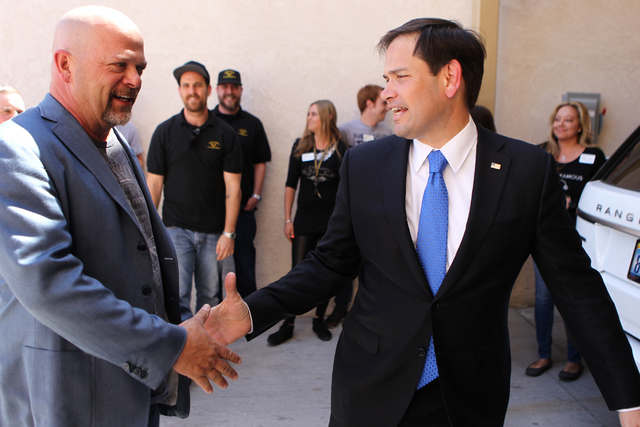 Republican presidential candidate Marco Rubio paid his first campaign visit to Nevada on Thursday, presenting a 20-minute press conference outside downtown Las Vegas' famed Gold and Silver Pawn Shop that was short on Nevada issues and long on criticism of Democratic policies.
The parking lots and sidewalks around the shooting location for History Channel's long-running "Pawn Stars" series weren't much busier than usual in anticipation of the visit, which was closed to the public and came only hours ahead of a planned fundraiser to celebrate Rubio's 44th birthday at the home of "Pawn Stars" star Rick Harrison.
Rubio, who spent part of his childhood in Southern Nevada, touched on at least one state-specific topic in his last pre-campaign visit to Las Vegas: highlighting his opposition to online gaming during a book signing in February.
The Florida U.S. senator stuck similarly close to national issues this time around, calling for a piecemeal approach to immigration reform and the repeal of Obamacare before fielding a question on storing nuclear waste at Yucca Mountain.
Early this month, Rubio came out in favor of opening a long-proposed nuclear repository at the site 100 miles northwest of Las Vegas — a project opposed by both his Nevada colleagues in the U.S. Senate and Lt. Gov. Mark Hutchison, Rubio's campaign chairman for Nevada.
He doubled down on that position Thursday.
"I'll repeat what I said in South Carolina," Rubio said. "This country needs to address this (nuclear waste) issue.
"(Yucca Mountain) is the only choice. … This is the one place where the money has been spent."
Nevada, home to a 27 percent Hispanic population and holder of one of the West's first presidential caucuses, is expected to be a vital early proving ground for Rubio and seven other announced Republican presidential candidates.
That might be especially true for Rubio, the son of Cuban emigres who enjoys strong support among Hispanics, but has cooled on comprehensive immigration reform efforts he once championed.
Rubio said providing a path to citizenship for illegal immigrants — perhaps not unlike the proposal touted by Democratic presidential front-runner Hillary Clinton — "may be where we wind up" in efforts to reform federal immigration law, but said no such reforms would grow out of one big bill.
"The only way forward is to prove to people that illegal immigration is under control," he added.
Nevada is again expected to be an important swing state in the 2016 presidential race, a contest Rubio suggested would reward candidates who were willing to go beyond a "philosophical debate" on education and the national deficit.
The Democratic National Committee, playing off the pawn shop theme, attacked Rubio's latest Las Vegas visit as little more than a venue for "polishing worn-out GOP ideas and selling them back to voters like new."
Nevada Democratic Party spokesman Zach Hudson criticized Rubio's continued support for opening Yucca Mountain, adding that should he win the Republican nomination, Nevadans would reject the senator's "pro-Wall Street, anti-middle class policies."
Rubio plans to attend a tech startup roundtable at the Switch Innevation Center near South Decatur Boulevard and the 215 Beltway on Friday morning. He'll round out his first Nevada campaign tour later that day with a visit with GOP activists in Reno. Neither event is open to the public.
Contact James DeHaven at jdehaven@reviewjournal.com or 702-477-3839. Findw him on Twitter: @JamesDeHaven