Rumsfeld lays down rules in Las Vegas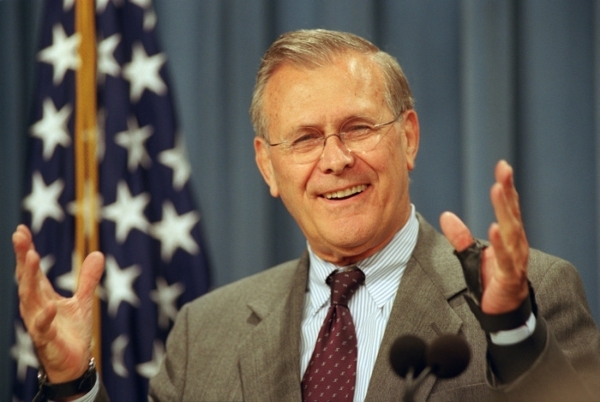 Former Secretary of Defense Donald Rumsfeld said the Iranian nuclear deal would increase funding for global terrorism, defended capitalism from attacks by both Democrats and Republicans and said America shouldn't try nation building in other lands.
Rumsfeld, speaking to the Economic Club of Las Vegas on Friday at Caesars Palace, also promoted his new book, "Rumsfeld's Rules," a collection of observations and quotes about management in government he's been curating since at least the Gerald Ford administration, where he served as chief of staff.
Although Rumsfeld acknowledged he hadn't reviewed the nuclear deal worked out with Iran, he said he'd reviewed some of the media coverage of it. Based on that review, he said the lifting of sanctions would free up billions of dollars for terrorism around the world, given Iran's role as a leading state sponsor of terrorism. Meanwhile, he said, the standard for inspections of Iranian nuclear sites aren'€™t tight enough to avoid cheating by Tehran.
"I hope I'€™m wrong," Rumsfeld said, sounding very much as if he believed he was not.
Rumsfeld went out of his way to mount a defense of capitalism, saying he'd been disappointed by attacks on former Massachusetts Gov. Mitt Romney's work at Bain Capital. Some of those attacks, Rumsfeld acknowledged, came from Romney'€™s fellow Republicans. (Indeed, a film critical of Romney and Bain was heavily promoted by ex-House Speaker Newt Gingrich at one stage in the 2012 campaign.)
But capitalism has produced products, services and drugs that make American life better, said Rumsfeld, who has been the CEO of two Fortune 500 companies during his career in the private sector. In fact, he advised business leaders at the Economic Club meeting to devote some time in their careers to government service.
"The strength of our country is in the private sector," Rumsfeld said.
But at least one failure of government is its attempts at nation building elsewhere, Rumsfeld said. As he argued in his previous book, "Known and Unknown," Americans should be rightly skeptical of their ability to spread democracy abroad because some nations just aren'€™t ready for it.
"I don't think our country is good at nation building in other countries," he said.
That may seem ironic, given the efforts of the Bush administration to build a democratic government in Iraq. But Rumsfeld said his understanding of the Defense Department'€™s mission during the Iraq War was to topple Saddam Hussein and install a government that would treat Iraq'€™s various ethnic and religious subgroups with respect, would not develop weapons of mass destruction and would not invade neighbors.
A review of Rumsfeld'€™s book alongside some of the other top members of former President George W. Bush'€™s administration shows that Rumsfeld has been consistently skeptical of, and even disinterested in, running a post-war Iraq along the lines of a Jeffersonian democracy. (Then again, Mother Jones magazine has collected some quotes that seem to contradict Rumsfeld'€™s current view.)
On Friday, Rumsfeld said it was "unrealistic" to expect every other nation to follow the American model. Besides, he added candidly, America hardly got things right herself: The country allowed slavery until the Civil War and women couldn't vote until 1920.
Other nations have their own history, culture, values and circumstances, and America ought to let them grow and progress in their own way, Rumsfeld said. However, he added that free societies with democratic governments were always better for people than authoritarian, controlled economies. (He cited the relative peace and prosperity of South Korea versus the poverty and lack of economic progress in North Korea as one example.)
Asked about ISIS, which some believe was created by the post-invasion policies of the Bush administration in Iraq, Rumsfeld noted the first thing the group did was declare the Iraq-Syria border to be obsolete. "The goal of the caliphate is to abolish the nation-state concept," he said.
But he offered little advice as to how to counter the threat from Islamic terrorism. When an enemy is willing to commit suicide, or to send women and children to do so, traditional methods of deterrence don'€™t work, he noted.
The Economic Club of Las Vegas, founded in 2013, has regular meetings with high-profile guest speakers. On Sept. 15, the club will have a dinner with retired Gen. Wesley Clark as its speaker.