Runner tells of skin cancer dangers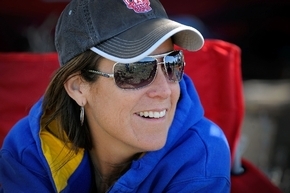 An experienced long-distance runner, Stacey Escalante has learned the importance of pacing yourself.
Set off too swiftly, and even at middle-distance the race can feel overwhelming. But with the proper training and pace, a race of just about any distance is achievable despite formidable obstacles.
Overcoming obstacles is another thing Escalante has learned plenty about.
The former television news reporter was training for her first marathon in 2005 when she discovered a red mark about the size of a pencil eraser on her hip. She initially thought nothing of it, but after three months family members persuaded her to see a physician. That visit to the doctor saved her life.
At 34, the mother of two was diagnosed with stage 3 melanoma, a deadly form of skin cancer. In the months that followed, she underwent two surgeries with chemotherapy and radiation treatments.
Her mindset was typical of most multitaskers: As a working mom, she was too busy to see the doctor. She ran regularly and appeared in the picture of health.
"I was annoyed because I had to spend half my day at the doctor and had to get a babysitter for the kids," she recalls.
"My family went through so much grief because I waited so long to go to the doctor. … A red bump is a red flag, and I ignored it."
When she heard the words, "stage 3 melanoma," her world changed forever. One surgery removed a large cancer from her hip; another removed 17 lymph nodes.
Her first question to her doctor was, "When can I run again?"
Even after more than eight years she still experiences side effects from the cancer and treatment in the form of neuropathic pain and swelling in the legs. But she remains cancer-free.
And she's still running.
Far from taking to the sidelines of life, she returned to the long road, building up her stamina and setting an example for others afflicted with the disease. To date she has finished seven marathons and has participated in a 200-mile relay race.
"It's my therapy," she says.
Escalante also embarked on another marathon, this one to raise awareness of the importance of protection against skin cancer.
Like many of us, she was raised believing that a deep tan was a sign of health. She regularly went to tanning salons.
Escalante believes the frequent use of tanning beds contributed to her skin cancer, and a variety of medical research suggests she is right.
A single mother who runs her own media consulting firm, Escalante volunteers for the American Cancer Society's Cancer Action Network, which seeks to raise awareness of the disease and make change at the policy and legislative level.
An energetic and impassioned speaker on the subject, she spent many months working to see Nevada's Legislature pass a bill that prohibits tanning salons from allowing anyone under 18 from using their facilities.
Last week, she reached another goal when she appeared at the National Press Club in Washington, D.C., to tell her dramatic personal story of her diagnosis, treatment and recovery.
After flying to Washington, she participated in a news conference at the press club that generated skin cancer-awareness articles internationally.
She laughs at the irony of finally going national — not as a reporter, but as an advocate for taking life-saving protective and detection measures against skin cancer.
One story featuring Escalante aired on "NBC Nightly News," another surfaced in Australia.
"The experience was neat because there were a lot of people in the audience at the press club nodding their heads," she says.
Wherever she goes from here, she says spreading the word about education, protection and detection will remain part of her life's journey.
"I feel like I'm on this path," Escalante says. "It's a goal I've had. I'd like to spend my career traveling and getting the message out about skin cancer." Being able to give back and live with such a purpose would be "a huge blessing."
From the look of things, this marathoner is well on her way.
John L. Smith's column appears Sunday, Tuesday, Wednesday, Thursday and Friday. E-mail him at jsmith@reviewjournal.com or call 702-383-0295.