Rural preservation society keeps middle-city neighborhood thriving
November 13, 2014 - 1:00 am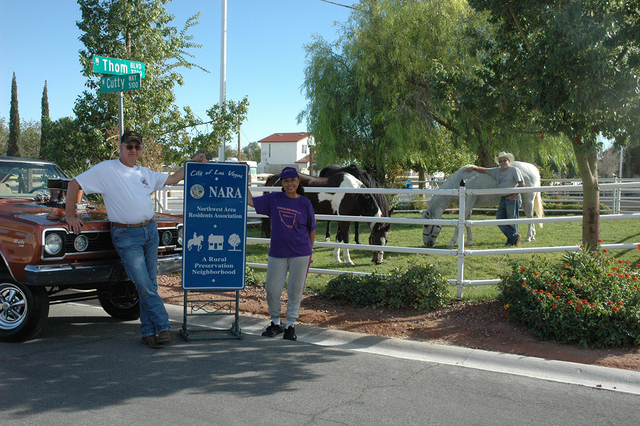 After hearing about an apartment building planned in what is now the Rancho Gowan Business Park, a group of neighbors banded together approximately 20 years ago to preserve their rural community and keep it thriving with open space, livestock and a blooming garden.
Under the direction of resident Dr. Linda Young and with guidance from former Las Vegas City Councilman Matt Callister, the Northwest Area Residents Association (NARA) formed to represent homes bordered by a triangle formed by Craig Road to the north, Rancho Drive to the west and Decatur Boulevard to the east.
"We want people to have a voice through the association," said Harvey Starrett, president of the group. "Everyone, including myself, bought a house in that area for a reason, and we intend to keep it that way."
The group's mission is to preserve the rural community lifestyle, provide controlled neighborhood growth and enhance the safety, health and well-being of the community, Starrett said.
The association defines a rural preservation neighborhood as: an area that consists of 10 or more residential dwelling units; the outer boundary of each lot used for residential purposes is no more than 330 feet from the outer boundary of any other lot used for residential purposes; there are no more than two residential dwelling units per acre; and residents are allowed to raise or keep animals noncommercially.
Unlike a homeowners association, the neighborhood association is volunteer-based, and people are encouraged but not required to pay $12 a year to become official members. The money helps with the association's administrative costs.
Paying members will be added to a newsletter with updates on what is happening in their community. Residents or associates can also pay $50 for five years.
The group takes it upon itself to monitor the development and use of property and work with elected and appointed city and government officials and employees to accomplish its goals.
Members claim to have a good relationship with the City Council and the Planning Commission, which enables them to give their opinions on building proposals.
As of February, there were 725 homes represented by the association, including six homeowners associations and five gated communities, according to Lex Anderson, the association's historian.
Throughout its years of existence, the association has tackled various issues and has won some fights and lost others.
Most recently, members supported Chuck Frommer, owner of John Mull's Meats & Deer Processing, 3730 Thom Blvd., who was having problems with his business license to operate his restaurant, Road Kill Grill. Frommer has since been able to keep his restaurant running.
Then, a few weeks ago, the group lost the fight against the placement of a marijuana dispensary set to be built near Jones Boulevard and Craig Road.
"We're not against development; we just want development that conforms to the lifestyle of the community," said member Mark Edgel. "This is a pretty stable community; it's not highly transient. One thing we all have in common is we love our space, and we enjoy the country-style living."
Among other notable accomplishments, Anderson said the association helped decrease the number and stories of homes along the west boundary of the Sweetwater two gated community. He also noted that the group helped with the promotion and building of Patriot Park.
In order to become a member, participants must either live or own real estate within the boundaries of the association.
Meetings are open to the public and scheduled at 7 p.m. on the third Tuesday of the month at Parson Elementary School, 4100 Thom Blvd.
"A lot of people have worked hard all their life to move into a residential area like this," Anderson said. "Diversity does not mean bringing everything to its lowest common denominator. It means having options, and NARA offers options."
For more information, visit narainc.org.
Contact North View reporter Sandy Lopez at slopez@viewnews.com or 702-383-4686. Find her on Twitter: @JournalismSandy.