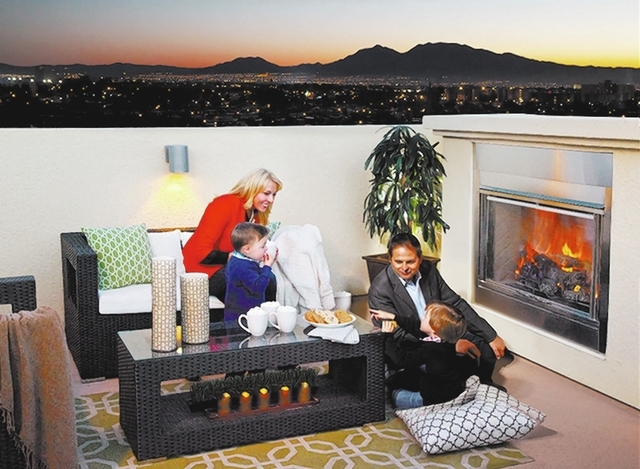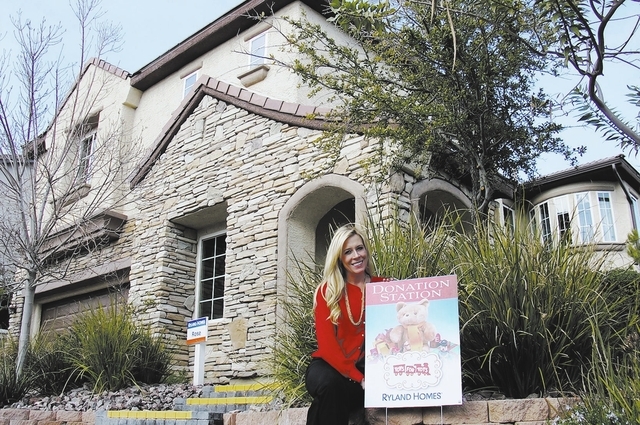 Ryland Homes is a local and national sponsor of the Marine Toys For Tots Foundation holiday toy drive. Every Ryland sales office in Southern Nevada is a Toys For Tots collection site and will be accepting donations through Dec. 15.
To encourage participation, Ryland Homes will host a Toys For Tots donation celebration from 9:30 a.m. to 5 p.m. today at all of its communities in Southern Nevada.
During the celebration, Ryland will offer light holiday refreshments and an opportunity to win a $250 gift card to everyone that donates a new and unwrapped gift.
"We are also honored to have a few Marines on site at our Verada View community today," said Dana Rogers, president of Ryland Homes' Nevada division."
"Toys For Tots is an incredible program that brightens the lives of thousands of children locally and millions across the country," Rogers said. "If you are able to purchase an extra toy this holiday season, bring it to any of our nine sales offices in Las Vegas and Henderson and we will deliver it to the Marines for a local child."
This is the second year Ryland Homes has been a local and national sponsor of the Marine Toys For Tots holiday drive. Last year the organization collected $4 million in donations and more than 350,000 toys, which provided millions of children with new toys during the holidays.
"This is a great program and one in which we are especially proud to participate," said Charlie Muffley, sales agent at Ryland's Monticello neighborhood in northwest Las Vegas. "We sometimes take life for granted and don't think about families who may be struggling when we have our own daily challenges. Toys For Tots doesn't just bring joy to children, it helps their parents provide a wonderful holiday for the whole family."
To find a Ryland Homes Toys For Tots drop-off location, visit www.rylandvegas.com. The builder has nine neighborhoods open throughout Las Vegas and Henderson. Addresses, office hours and contact information for each office are listed on the site.
"And we've got a lot more to give our homebuyers as well this holiday season," Muffley said. "Through the end of December, every new Ryland homebuyer can receive a free gourmet kitchen and stainless steel GE (General Electric) appliance package. That is up to a $15,000 value and perfect for the cook in your family."
During Ryland's Home In Time For The Holidays promotion, new homebuyers can receive a gourmet kitchen that includes a separate oven and five-burner cooktop stove, microwave and dishwasher.
"Your new kitchen will be beautiful and luxurious," Muffley said.
Muffley's Monticello neighborhood is in the Americana-themed Providence master plan. Four floor plans are available, ranging from 1,939 to 2,308 square feet. The two-story homes include as many as five bedrooms and as many as five baths with two-car garages. All are available with Ryland's signature rooftop deck.
Monticello residents can enjoy mountain vistas, along with their own community pool, park area and tot lot.
"Knickerbocker Park is also right outside the neighborhood," Muffley said. The 15-acre park includes age-specific play areas for 2- to 5-year-olds and 5- to 12-year-olds, a swing set, dog park with small and large dog areas, splash pad, youth baseball field, a multiuse events field, jogging path with exercise stations and picnic areas.
Monticello is one of many Ryland communities across the valleys that offer its signature rooftop deck.
"They have become one of our most sought-after features," Muffley said. "They are really unique and often can be outfitted with an outdoor fireplace or outdoor kitchen. Most also offer panoramic views of the city, mountains and famed Las Vegas Strip."
Six Ryland Homes neighborhoods offer the rooftop deck as an option or included feature.
"Our signature rooftop decks are just one exciting reasons to visit a Ryland Homes community this holiday season," Muffley said. "Whether you want to find a new home for your family or help another family during the holidays, stop by one of our sales offices to find out more."
Monticello's sales office is at 6727 Sumatra St. To visit, take U.S. Highway 95 north and exit Las Vegas Beltway, heading west. Take the Beltway to Hualapai Way and exit Hualapai heading north. Head west on Dorrell Lane and south on North Shaumber Road to La Vereda Avenue. Turn right on La Vereda and left on Sumatra Street to the community. For more information, call 702-816-2143.
Ryland Homes is selling new homes throughout Southern Nevada. Sales offices are open from 9:30 a.m. to 5 p.m. Sunday through Thursday and noon to 5 p.m. Friday.
For information and directions to any Ryland Homes community in Southern Nevada, visit www.rylandvegas.com.