Ryland offers financial assistance programs
February 22, 2014 - 5:00 am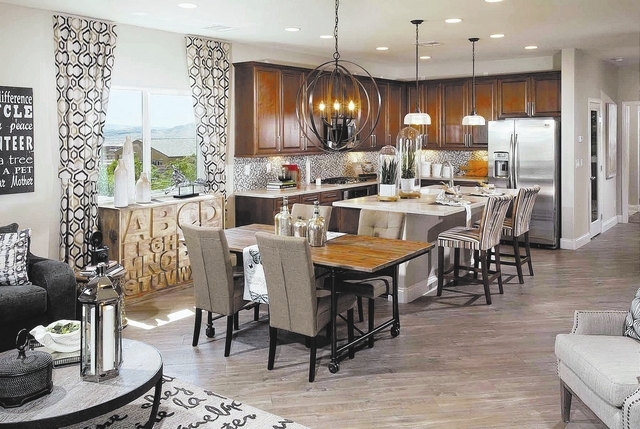 From low rates with its own RMC Mortgage to helping homebuyers find state and federal assistance, Ryland Homes is helping Southern Nevadans get homes.
"Ryland Homes has hundreds of options for new homes in Southern Nevada, but do you know what to do after you have picked the perfect one?" said Charlie Muffley, sales agent at Ryland's Centennial Crossings neighborhood in North Las Vegas. "Our RMC Mortgage division can help you navigate the sometimes complicated process of applying for a home loan and find additional state and federal options for financing, down payment and closing cost assistance."
At Centennial Crossings, Ryland offers the Nevada Bond program in addition to financing options through RMC Mortgage. The Nevada Bond program is offered by the Nevada Housing Division and can provide first-time homebuyers the ability to finance their down payment and closing costs when using an Federal Housing Administration loans.
Centennial Crossings, one of Ryland's new neighborhoods near Aliante, is offering two-story homes with options including Ryland's signature rooftop deck.
"With prices starting well under $200,000, you can become a homeowner for about the same you are spending every month on rent," Muffley said.
Another Ryland neighborhood offering special financing options is Maravilla Vistas in Mountain's Edge.
"Maravilla Vistas is the only Ryland Homes community that qualifies for down payment assistance through the Nevada Rural Housing Authority," sales agent Mara Glaser said.
Maravilla Vistas homebuyers can apply for a free cash down payment grant that is equal to 4 percent of the loan amount, she said.
Maravilla Vistas offers two- and three-story homes ranging from 1,939 square feet to 2,454 square feet. All three-story homes in the neighborhood are built with rooftop decks as a standard feature and most are available with outdoor fireplaces. In addition to rooftop decks and outdoor fireplaces, all of the floor plans at Maravilla Vistas include a loft and a kitchen island. After opening a year ago, Maravilla Vistas has released its final phase and is selling homes on the neighborhood's last available street.
In addition to offering loan programs from the Veteran's Administration and FHA, RMC Mortgage offers down payment assistance at Verada View in Providence through the LIFT program, a cooperative effort between Neighborworks America and the Wells Fargo Foundation that provides down payment assistance to qualified buyers.
Verada View is a gated neighborhood that offers two- and three-story homes. All three-story homes at Verada View include rooftop decks and two-story homes offer them as options. Verada View's nine floor plans range from 1,926 to 2,420 square feet with as many as three bedrooms, four baths and two-car garages.
Verada View is near the 15-acre Knickerbocker Park that includes play areas for children, dog park with small and large dog areas, splash pad, youth baseball field, a multiuse events field, jogging path with exercise stations and picnic areas. A community pool will be ready for use in this summer and will be across the street from Knickerbocker Park.
Ryland Homes' prices starting at $172,990. Sales offices are open from 9:30 a.m. to 5 p.m. Saturday through Thursday and noon to 5 p.m. Fridays. For information, visit rylandvegas.com.