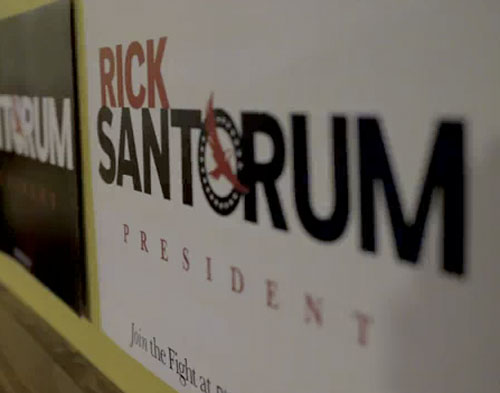 GOP presidential candidate Rick Santorum is going up with his first TV ad in Nevada.
The 30-second spot will air during tonight's Republican presidential debate broadcast on CNN, according to the campaign.
Santorum, a former U.S. senator from Pennsylvania, hasn't campaigned much in Nevada beyond a Las Vegas debate last October and a stop around Reno last year.
Airing a campaign commercial in the Silver State shows he's still hoping to emerge as the conservative alternative to Mitt Romney, the favorite in Nevada.
Both Romney and Rep. Ron Paul of Texas have been airing TV ads in Nevada this week in the run-up to the state's Feb. 4 GOP presidential caucuses. Newt Gingrich and a super PAC supporting him also are putting together campaign commercials to promote the former House speaker on the air in Nevada.
Santorum, who was declared the winner of the Iowa caucuses just behind Romney, fell back in the GOP field as Gingrich rose to become the biggest conservative threat to Romney.
Now, Romney and Gingrich are competing head to head to win the Jan. 31 Florida primary. If Gingrich doesn't win Florida, Santorum sees a chance to rise again.
Santorum's TV ad plays up his conservative credentials. It shows images of him as a family man and a string of quotes from famous conservatives and newspapers praising him.
"I adore Rick Santorum's conviction," says one quote from Mike Huckabee, former Arkansas governor who ran for the GOP presidential nomination in 2008. Rick Santorum has been "consistent protecting the sanctity of life," says Sarah Palin, the GOP vice presidential runningmate in 2008 to Sen. John McCain.
"We score Santorum's economic agenda bolder than Romney's," accordng to a quote from the Wall Street Journal.
If Santorum's campaign does survive until the GOP caucus in Nevada, he'll face an uphill battle to win over Republicans here who barely know him.
Romney and Paul have organized their supporters for years to turn out on Feb. 4. Any conservative alternative would have to rely mostly on momentum coming out of Florida.