School tailored toward students with special circumstances
December 2, 2013 - 10:49 am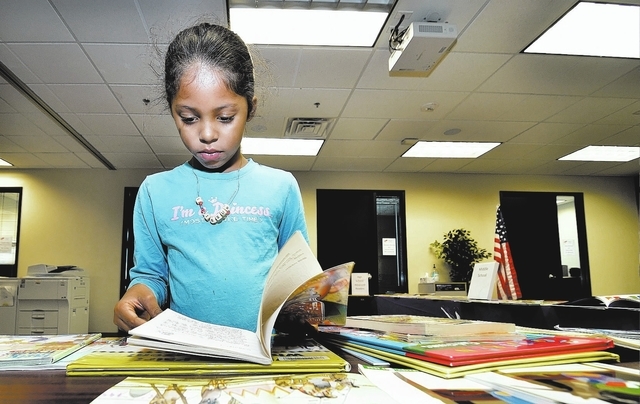 Traditional classroom settings are not made for everyone. Some children have busy schedules, while others do better in an isolated environment.
For that reason, Nevada Virtual Academy, a full-time online public charter school, provides students in grades K through 12 with flexible learning schedules by state-credentialed teachers.
Unlike traditional classroom settings, Traci Trevino, local development manager at Nevada Virtual Academy, said the accredited school focuses on a more individualized approach.
"We're a public charter school, which means that students have the flexibility and the option to attend school from home instead of having to report to a brick-and-mortar building every day," Trevino said.
Students attend school full-time to complete a combination of online and offline coursework. On average, students spend between 20 percent and 30 percent of their time learning online, according to data provided by Nevada Virtual Academy, 8965 S. Eastern Ave.
Teachers provide PowerPoint presentations and webinar lectures to help educate their students. Students can also call, email or chat with teachers if they have further questions.
In addition to the coursework, students have the opportunity to meet with instructors in person and work with textbooks, videos and worksheets.
Kendra Coffey, high school counselor at Nevada Virtual Academy, said she provides students with an individualized learning plan to help keep them on track.
"This school is not for everyone," Coffey said. "It takes time to navigate our system. It's also up to the students to make their own goals. Students have to be very self-motivated."
The curriculum covers core subject areas, electives in high school and offers art, music and world languages, according to a Nevada Virtual Academy fact sheet.
Fred Kuenzi, whose daughter is enrolled in the program, likes the school but has concerns about the switch to the common core curriculum.
"I'm nervous about the common core transition," Kuenzi said. "My daughter wants to go to Liberty University, and some of the common core classes will not transfer."
His daughter also had communication issues with teachers.
"For the most part, I like it, but sometimes I don't like that the teachers don't respond to me quickly," said Christine, a seventh-grader.
Coffey added that the main struggles that students have are being motivated to study.
"We have higher expectations here," Coffey said. "If students don't comply (with our academic standards), they could be withdrawn from the school."
High school students have the option to take honors and advanced placement courses. In addition, Coffey said students could take dual credits, which would equate to three college credits and half a high school credit.
Trevino said that although some parents have concerns about the lack of socialization, the academy offers community service projects, clubs, student government, dances, school-sponsored trips to museums, parks, zoos and other activities.
Jacquolyn Lowery, who has a 2-year-old son, became interested in the program after her friend told her about it.
"I want my son to have a one-on-one education," Lowery said. "As a preschool teacher, I know how important it is for parents to educate their children. They learn faster in an environment that has less distractions."
Kimberly Elisarraras enrolled her daughter at the school in August.
"There are a few reasons why I did it," Elisarraras said. "My daughter has severe food allergies, she's an advanced learner and the classroom she was in was overcrowded. She's learning a lot more at this school."
Her daughter Neena, a first-grader, is still adjusting to the change.
"I miss my real school," she said. "I miss my teachers and my classmates."
The school is available to any student who resides in Nevada. Students who can benefit from the program are advanced learners, students from military families, professional athletes, actors and performers and struggling students.
The school can also offer children relief from bullying and can help those who have physical restrictions.
Coffey said parents act as learning coaches for their children from grades K to 8 to keep the students on track with their work. Once the student goes on to high school, he is expected to start managing his own time while parents take on a more supportive role.
"Parents really like it because they have an opportunity to get involved with their children's education," Trevino said. "They also have more control over what the students are doing."
Trevino said some students have gone on to Ivy League schools, become writers and professional actors and athletes.
Open enrollment is available for grades K to 9 for the spring semester, which is set to start Jan. 6. The deadline to register is Jan. 30. For more information, visit k12.com/nvva or call 866-912-3350.
Contact Sunrise/Whitney View reporter Sandy Lopez at slopez@viewnews.com or 702-383-4686.