Schroder, March retain council seats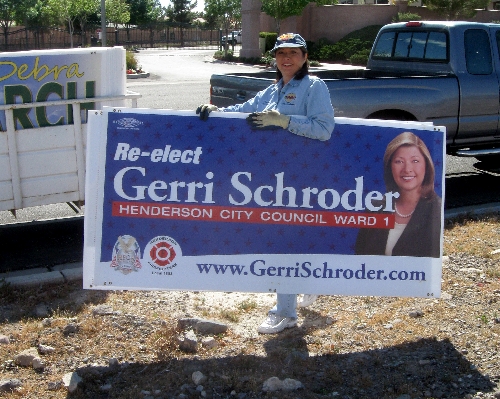 After the April 5 municipal primary elections, two Henderson City Council incumbents retained their seats and two candidates for Ward 4 will face off in the general election in June.
City officials said 15,263 people out of 131,899 registered voted in the election. Residents vote for all City Council seats, regardless of which ward they live in.
In the race for Ward 1, Councilwoman Gerri Schroder received 7,916 votes, or 54.18 percent, to retain her seat. Candidates who receive 50 percent of the votes in the primary election win the race outright.
"I was pretty optimistic and confident I had the support in my ward," Schroder said. "Because it's at-large, you just never know with the rest of community."
Schroder ran against Thomas Wagner, who received 4,678 votes, or 32.02 percent; Edward Hamilton, who received 863 votes, or 5.91 percent; Ray Mollinado, who received 673 votes, or 4.61 percent; and Samuel Cohoon, who received 481 votes, or 3.29 percent.
"I think we ran a good campaign," Wagner said. "Running four years ago and losing at such a close margin, I guess I was used to the emotional roller coaster elections could bring. The people voted, and I wasn't their candidate."
Schroder and Wagner squared off against each other with various mailers.
Schroder believes Wagner's mailer, which questioned her ability to manage finances because she and her husband are facing foreclosure on their home, had an adverse effect on his campaign.
"It was very hard to see my personal life in the paper," Schroder said. "I believe the attack was not looked at in a good light. It was obvious he didn't have a sense of what's going on in America. People are hurting right now. There are so many going through loan modifications."
Schroder said she doesn't mind if people disagree with her decisions, but the personal attacks were unnecessary.
"You can't go out there and think you can win a race by just attacking your opponent," Schroder said.
Wagner said the ad didn't have an adverse effect.
"If you did your homework," Wagner said, "the ad came out two days before early voting closed. On election day, our numbers increased a little. The piece didn't really hurt or help the campaign."
Ward 2 Councilwoman Debra March also retained her seat and obtained 8,074 votes, or 54.10 percent.
She defeated challengers John Simmons, who received 4,884 votes, or 32.73 percent, and Kevinn Donovan, who received 1,966 votes, or 13.17 percent.
"It certainly was not the results I was looking for," Simmons said. "But I learned a lot from campaigning. I was able to connect with some terrific people."
The race for Henderson Municipal Court Department 3 judge also ended with incumbent Diana Hampton, who received 10,063 votes, or 71.34 percent, to retain her seat.
She ran against William Waters, who received 4,043 votes, or 28.66 percent.
The one election that remains is the race for City Council Ward 4. Henderson planning commissioner Sam Bateman, who received 4,439 votes, or 30.49 percent, and former Henderson police chief Mike Mayberry, who received 3,927 votes, or 26.97 percent, will face each other in the June 7 general election.
The two took on John Brislin, who received 2,316 votes, or 15.91 percent; Joseph Simmons, who received 1,775 votes, or 12.19 percent; Ron Hubel, who received 1,732 votes, or 11.89 percent; and Bobby Rastifard, who received 372 votes, or 2.55 percent.
"I think I had a decent showing," Joseph Simmons said.
Mayberry and Bateman will continue to campaign.
"I am happy to be in the general (election)," Mayberry said.
Bateman said his campaign came a long way from where it started.
"We didn't have a lot of name recognition to start with," Bateman said. "We had to work hard to put my name out there."
Bateman and Mayberry clashed during the primaries when Bateman placed an ad that said Mayberry was scamming the public employee retirement system by collecting an annual pension of $130,000 on top of $30,000 in disability.
"I never saw that one coming," Mayberry said. "I never thought someone would stoop so low. I never thought Bateman would go so negative so fast."
Mayberry thought the ad mischaracterized him and a heart condition that forced him to retire, hurting his campaign.
"You can't fake a heart condition," Mayberry said.
Mayberry, who was about 500 votes behind Bateman, said he thinks the ad had a negative effect.
Bateman said the people had a right to know.
"You have a guy who ran in the 2009 election and said he was having the time of his life in retirement and that he wasn't disabled," Bateman said. "He continues to collect disability but claims not to be disabled."
Historically, the majority of elections usually are decided by the primaries.
According to the city clerk's office, in 21 races in the past 10 years, 12 were decided in the primaries, five candidates ran unopposed, and four have gone to the general election, including the BatemanMayberry race.
Contact Henderson and Anthem View reporter Michael Lyle at mlyle@viewnews.com or 387-5201.