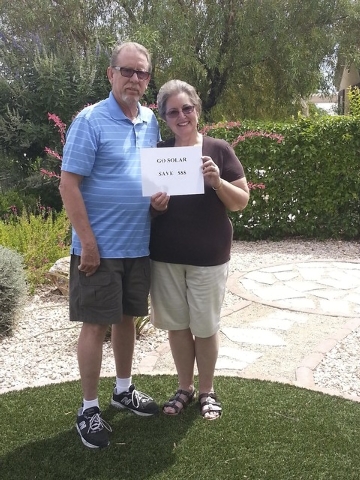 As the summer heat sizzles this Independence Day weekend, one Southern Nevada couple is declaring their own independence from the high prices of electricity. Jim and Dixie Bazzell installed an American Patriot Solar energy system at their southwest Las Vegas home.
Jim Bazzell said he decided to install the solar energy system after watching the industry progress over the past several years. "I know what the benefits (of solar energy) are," Bazzell said. "A friend of mine installed solar at his home eight or nine years ago and there have been great improvements in panel design since then. I chose to wait until now because I knew there would be improvements.
"Solar systems are very cost-effective now," he said. "Especially with the federal dollar for dollar incentive of 30 percent back on your taxes."
Bazell's system was installed by American Patriot Solar's installation company, U.S. Renewable Energy Development, also a Las Vegas-based company. It installed a 20-panel, 5.3 kilowatt solar energy system on one of Bazzell's two Siena residences.
Bazzell's approximately 2,000-square-foot home was already fully insulated with a solar fan in the attic, but he said it wasn't enough to lower his electricity bills significantly.
"Prior to installing this solar system, my average monthly power bill was between $75 and $90 per month. Around this time of year it was around $250 per month," he said. "This month will be my first full month with the solar system and I expect to pay approximately $10.80 going forward, which is the monthly net metering fee from the power company."
Bazzell said installing his new solar system was easy, and worked with American Patriot Solar and the Siena homeowner's association to complete and file all appropriate permits.
"I have worked with my HOA on other properties in Siena, so I volunteered to handle that part," he said. "Every HOA is different, but basically you need to verify whether your panels are being installed with a contractor that has a contractor's license and whether you have the appropriate city or county permits. Those permits are all taken care of by American Patriot Solar, so it was really easy for me."
Bazzell said his background in general contracting and engineering did not get him any special treatment from his HOA.
"Federal law says your HOA can't deny you putting in solar panels on your home," he said.
Bazzell said the total cost for his solar energy system was approximately $21,200. With the federal tax incentive of 30 percent, the system's final cost was approximately $14,840. He expects his solar system to pay for itself in approximately eight to nine years.
"When you pencil in the savings you receive every month, it will take about that long to recoup the costs when you factor in the federal tax incentive," he said.
As solar energy systems become more technologically advanced and easier to implement, Bazzell predicts the federal government will increase its requirements on local energy companies to use alternative sources like solar.
"At a certain time, the federal government will require energy companies to be at least 20 percent green," he said. "I have become a partner with them to not only power my own home, but provide them with the additional power I generate that I don't use."
"In the long run, my wife and I aren't out a dime and our home is worth more because it generates its own power," he said. "It's also a small but purposeful step to help take the pressure off the environment and reduce our carbon footprint for our grandchildren. If it helps with climate change, is cost effective and will save us money in the long run, why wouldn't we go solar?"
Bazzell said his system was installed and ready to use in less than a month.
"I'm a pretty demanding person and both American Patriot and U.S. Renewable Energy fulfilled every expectation I had," he said. "They are easy to work with, knowledgeable and can work within your own personal budget and financial situation."
American Patriot Solar systems are installed by its installation company, US Renewable Energy Development (license No. 0075882).
To schedule a free in-home consultation and analysis of your solar energy opportunities, call American Patriot Solar at 702-227-9205 or visit www.apsolar.com.
All customers who schedule an in-home solar energy consultation will be entered in a monthly drawing for a five day/four night cruise for two to Mexico, the Bahamas or the western Caribbean, and to local dining certificates.