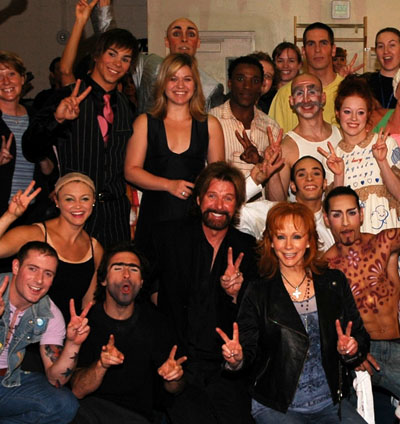 NBA Star Jermaine O'Neal of the Indiana Pacers, on the VIP balcony at The Bank Nightclub at Bellagio on Saturday…..
At Tryst (Wynn) on Saturday: Taye Diggs, Vivica A. Fox, Keyshia Cole and Floyd Mayweather Jr.…
At LAX Nightclub (Luxor) on Saturday: Audrina Patridge of "The Hills," celebrating her birthday with friends and family after dining ar Company American Bistro. Also at LAX: Ben McKenzie, formerly of "The O.C." and Jason Terry of the Dallas Mavericks…

At Pure Nightclub (Caesars Palace) on Saturday: Toby Keith, comedic actors Seth Green and Jay Mewes and English soccer player Matthew Oakley of Leicester City…

Reginald "Fieldy" Arvizu of the band Korn, dining at Social House (Treasure Island)…
At Simon at Palms Place on Saturday: Toby Keith, Seth Green, and former Miss Nevada USA Katie Rees….
At "Love" (Mirage) on Saturday: Reba McEntire, accompanied by a group of friends which included Kelly Clarkson and Kix Brooks from Brooks & Dunn.

At Cher's show (Caesars Palace) on Saturday, Carrie Underwood, Clive Davis, Dick Clark, and David Spade. …
Michael Jackson, watching "The Chronicles of Narnia: Prince Caspian" with his three children at Brenden Theatres (Palms) on Friday. … Justin Timberlake, ordering the $195 Kobe steak at Striphouse (Mandalay Bay) with friends on Friday. Later, he was spotted at Mix Lounge (Mandalay Bay) with Underwood and Rascal Flatts. … At Privé (Planet Hollywood Resort) on Friday: Actor and hip hop artist Ludacris, Motley Crue drummer Tommy Lee and Train bassist Johnny Colt, encouraging club-goers to "go green" as they filmed an episode of Planet Green's "Battleground Earth." David Hasselhoff arrived at midnight with a brunette and climbed onto one of the speakers and performed an impromptu rendition of "Jump Into My Car." Also at Privé, Dee Snider's son, "Rock The Cradle" star Jesse Blaze. … Country star Kenny Chesney, spotted with his girlfriend and family Friday dining at Nobu (Hard Rock Hotel). Later, at Charlie Palmer Steak (Mandalay Bay), he joined Underwood, Kelly Pickler and Flatts singing Jackson Browne, Elton John and Billy Joel songs. … Snoop Dogg, ordering fried chicken and waffles with fried eggs at Planet Dailies restaurant (Planet Hollywood Resort) on Saturday. Earlier, Snoop Dogg and his family filmed their reality show at Primm, with his two boys racing each other in Herbst motorsports trucks on the off road track … Toby Keith, partying with friends at Studio 54 (MGM Grand) on Friday. … Singer-songwriter Jewel, dining at Social House (Treasure Island) on Friday. Film icon Tony Curtis, joining friends at Company American Bistro (Luxor) on Friday. … Music mogul/producer Clive Davis and local producer Joey Battig, chatting near the Wynn villas Friday night. … Tommy DeVito of the original Four Seasons, visiting the cast at the musical "HATS!," (Harrahs) to see former client Dolly Coulter perform. … At Jet (Mirage): Ventriloquist Terry Fator, wowing deejays with his Garth Brooks and Brooks & Dunn impressions Saturday at the radio roundup of the Academy of Country Music's awards at the MGM Grand.