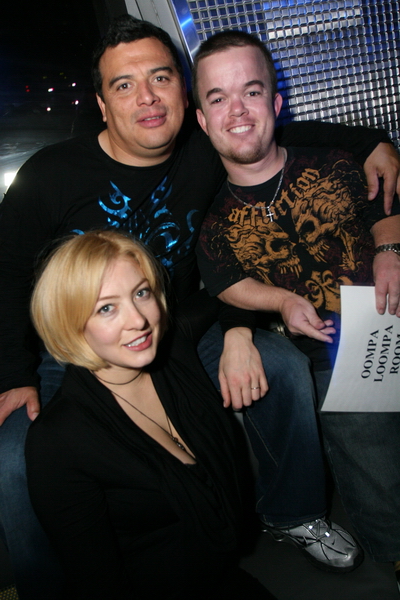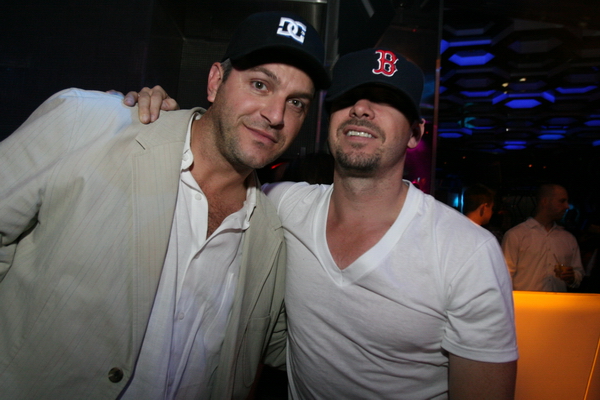 Lisa Ling, former co-host of ABC's "The View," Oprah Winfrey show correspondent and National Geographic Channel's "Explorer," shopping Monday at the Hard Rock Retail store.
Actor Ralph Fiennes, purchasing the Terra boot this past weekend at the Donald J Pliner store (Forum Shops at Caesars).
Actor Danny Masterson, stopping by Body English nightclub Sunday at the Hard Rock Hotel.
Actor/comedian Drew Carey, spotted Sunday at the gaming tables inside the Hard Rock Hotel.

Sir Elton John, showing up at the Brenden Theatres at the Palms on Sunday for an afternoon showing of George Clooney's movie, "Michael Clayton."
Actress Joan Collins, attending Sunday's performance of Cirque du Soleil's, "Love," at The Mirage.
Hollywood couple Sarah Michelle Gellar and Freddie Prinze Jr., celebrating a friend's birthday Saturday at Tao Las Vegas. The group dined at Tao Asian Bistro before heading upstairs to a VIP section inside Tao nightclub. Actress Mila Kunis joined the group upstairs. Also at Tao nightclub: "The Price is Right" host Drew Carey.
Former "Dancing with the Stars" contestant Stacy Keibler, celebrating her 28th birthday Sunday at LAX nightclub (Luxor). Also at LAX: MTV reality show stars Brody Jenner and Frankie Delgado ("The Hills"), model Lauren Benoit, identical twins Kelly and Sabrina Aldridge, who star in MTV reality show, "8th & Ocean," and MTV veejay Quddus …
Actress Sarah Lancaster, from NBC show, "Chuck," checking out Pure nightclub Saturday inside Caesars Palace.
Comedian Carlos Mencia, checking out Moon nightclub Saturday for the second night in a row inside the Palms. Also at Moon: former New Kids on the Block singer Donnie Wahlberg.
Former Playboy Playmate Nikki Ziering and rapper Biz Markie, attending Saturday's party at Poetry nightclub (Forum Shops at Caesars).
Actor Johnny Whitworth, stopping by Pure nightclub (Caesars Palace) with friends Saturday before heading over to LAX nightclub (Luxor). Whitworth starred in the cult movie classic, "Empire Records," with Renee Zellweger and Liv Tyler. He also has a re-occurring role in CBS' hit show, "CSI: Miami."
Newlyweds Pamela Anderson and Rick Salomon, celebrating the birthday of her longtime security guard, Errol, on Saturday at Blush Boutique Lounge inside Wynn Las Vegas. Anderson was seen dancing on top of one of the speaker boxes.
Academy Award winner Terri Nunn, lead singer for the group Berlin, in the "Spamalot" orchestra pit Friday as a guest of Beth Lano, longtime local musician and radio deejay. "I called it 'Take A Rock Star To Work Night,'" said Lano, who works for The Firm Public Relations as a senior PR specialist. Nunn, who's hit "Take My Breath Away" won an Oscar, was in town for Berlin's show at the Red Rock Resort. Lano said she's known Nunn for a decade and made the invitation after they had dinner at Sushi Roku (Forum Shops at Caesars) and attended Elton John's "Red Piano" show Thursday.
Former "Baywatch" star Carmen Electra hosted Friday's grand-opening party at Poetry nightclub inside the Forum Shops at Caesars. Electra, accompanied by "High School Muscial" star Bart Johnson, was presented with two dozen roses and a Victorian shadow portrait made in her likeness. Electra's framed shadow portrait was also added to a wall inside Poetry. The venue plans on adding each celebrity who visits the nightclub. In a unique request, artist Rick Bliss offered Electra $1 million to donate to a charity of her choice if she would allow him to paint her nude body and imprint her on canvas. No word on Electra's response to the offer.
Guitarist Billy Duffy of rock group The Cult, checking out Body English nightclub Friday inside the Hard Rock Hotel.