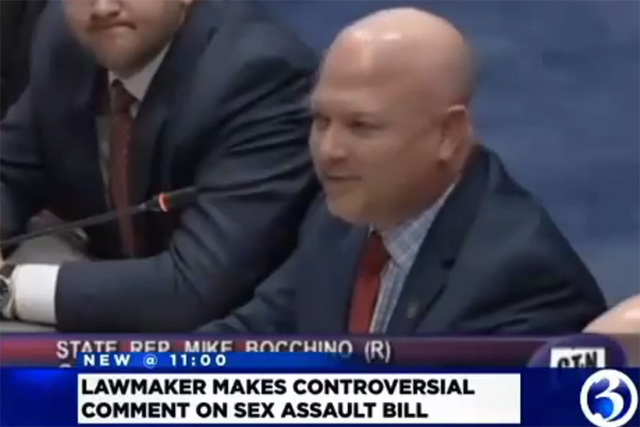 The state lawmaker under fire for making a controversial comment while discussing a sex assault bill has responded to the criticism.
Greenwich Republican State Rep. Mike Bocchino was discussing a bill regarding sex assault when he made a controversial remark on Tuesday.
The comment causing controversy came up during his testimony, where Bocchino said, "At the end of the day, if there are no witnesses, at least if there are it is a great party."
Bocchino did vote in favor of the bill, but was raising some concerns at a hearing on Tuesday.
The bill requires both parties to say "yes" before becoming intimate with a partner.
Some lawmakers said the comments made by Bocchino were out of bounds, but others said it was taken out of context.
In a statement, Bocchino said the comment was taken out of context and was used in a negative manner against him.
"In commenting on this important bill, I stated that I was not comfortable with the definition of 'affirmative consent' that was being used because it left room for misinterpretation. Some of my colleagues, both Republicans and Democrats, had shared similar reservations during the committee discussion," he said.
"In a sarcastic remark I referenced a situation where more than two people might be present at an intimate encounter where the point of consent was reached as some kind of 'party.' It was an unfortunate phrase to use because it was misconstrued by some who apparently wanted to undermine my support for this important legislation," Bocchino continued.
He said he wanted to make it clear that this legislation is the best that lawmakers can put forward, and that he was not trying to make light of it in any way.
"I am sorry that some may have taken my comments that way," he said.