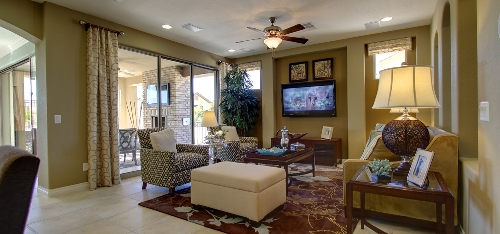 So far, 2013 looks like a promising year for the real estate industry, according to many market analysts. With the housing market expected to rebound, it is becoming clear that now is the time to buy a home before prices increase.
Shea Homes at Ardiente, an age-qualified adult lifestyle community in North Las Vegas, has already enjoyed some of the benefits of the housing market rebound, including a record-breaking 126 percent growth in sales from 2011 to 2012, according to Kyle Tibbitts, Ardiente community manager.
With many market reports noting the declining trend of real estate in Las Vegas during the past six years, housing experts are predicting the Las Vegas market will continue to recover this year, with home prices and the consumer demand for Las Vegas homes projected to increase throughout the year.
Shea Homes at Ardiente features SheaXero – No Electric Bill Homes that helps to eliminate monthly electricity bills.
Tibbitts said it saves homeowners as much as $3,000 a year, through the home's floor plan, construction, solar power and 14 energy-efficient features, including Whirlpool Energy Star appliances, Trane energy-efficient heating and cooling systems, low-E3 vinyl windows, cathedralized attic insulation and blown-in insulation.
SheaXero can offset energy consumption based on a typical household of two, Tibbitts said.
He said Ardiente isn't charging extra for solar systems for a limited time.
"Our SheaXero homes' energy-efficient features, combined with the timing of the housing market rebound, provide a great opportunity to purchase a home at Shea Homes at Ardiente," Tibbitts said. "The cost saved with these SheaXero homes offer members a chance to get more for their money and have the freedom from expensive electric bills. For boomers, that peace of mind when entering retirement is priceless."
At the hub of the gated community is a private 20,000-square-foot clubhouse featuring two resort-style pools, a fitness center, group exercise studio and access to miles of walking trails.
In addition to the SheaXero series, Shea Homes at Ardiente offers the Vacation Series with flexible spaces and optional upgrades.
Other options available at Shea Homes at Ardiente include the Riviera, Monte Carlo and the Portofino collections.
For more information on Shea Homes at Ardiente, with SheaXero homes from the $160,000s and Vacation Series homes from the $140,000s, visit www.SheaArdiente.com or call 877-291-6375. For more information on SheaXero, visit www.SheaXero.com.