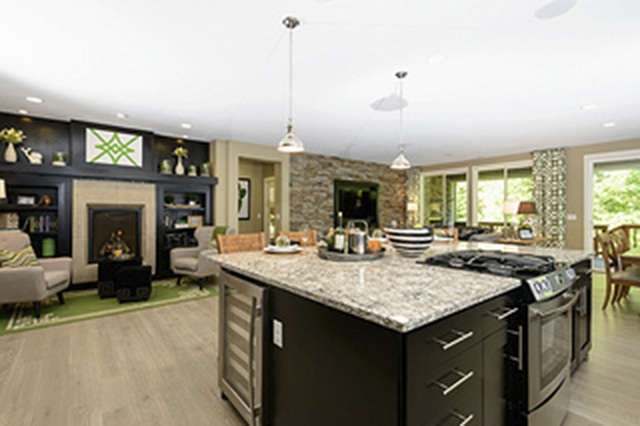 New Shea3D models have been unveiled at Shea Homes at Ardiente. This new technology gives homeowners the power to design their homes based on what matters most to them.
The new, patent-pending approach lets homeowners incorporate one of three interchangeable main living spaces in any Shea3D home model. The entertainment-centric space offers an expansive, continuous living area for casual or formal entertaining. The kitchen-centric space comes equipped with a kitchen suited for gourmet cooking and family dining. The outdoor-centric space promotes a complete indoor-outdoor living experience with wide windows, natural lighting and expansive views. All three lifestyle-driven options can be seamlessly integrated into any of the Shea3D models offered at Shea Homes at Ardiente — making them "YourPlans" instead of "floor plans."
"With our eco-friendly SheaXero — No Electric Bill Homes, we are able to offer homeowners incredible energy efficiencies and cost savings," said Kyle Tibbitts, Ardiente's community manager. "Now, thanks to Shea3D, they can take home design personalization to an entirely new level."
Construction has started on the Refresh model, the first Shea3D home at Ardiente. The Refresh draws inspiration from an executive chef's perspective. Every tool, spice, pot and glass has a space. And with Shea3D's flexibility, the Refresh is designed for customization. The builder is holding Dusty Shoes Tours of the new model home March 1.
SheaXero homes generate as much energy as they use through energy-efficient features and SolarCity power system to eliminate electric bills. The homes come standard with 14 energy-saving features that include Whirlpool Energy Star appliances, Trane energy-efficient heating and cooling systems, low-e3 vinyl windows, blown-in cellulose insulation and more.
Shea Home at Ardiente includes a 20,000-square-foot club with two resort-style pools, state-of-the-art fitness center, lighted tennis courts, bocce courts, chipping and putting greens, billiards room, game room and business center. Residents can take part in community clubs ranging from baking, bunco and dominoes to pickleball, poker and golf.
Shea Homes at Ardiente is at 5840 Summit Greens in North Las Vegas. For more information, call 877-298-4272 or visit trilogylife.com.