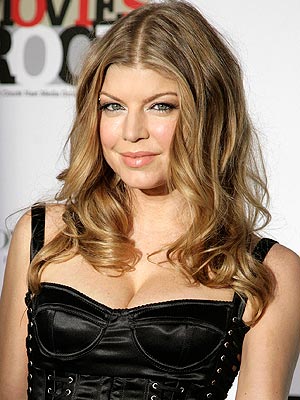 It's beginning to look a lot like New Year's.
With 24 days to go until 2010's arrival, plans are under way for two network New Year's Eve celebrations.
Fox plans a return to the Strip with its "Billboard's New Year's Eve Live." And this weekend at CityCenter's new Aria, Fergie steps back into ABC's "New Year's Rockin' Eve" spotlight, taping party sequences to be shown during the Dec. 31-Jan. 1 broadcast. (Although it's doubtful Fergie can top last year's triumphant two-places-at-once-through-the-miracle-of-television double play: performing live on the Strip while appearing "live" on tape during "New Year's Rockin' Eve.")
'Lockdown' locks up: The Clark County Detention Center's more than ready for its close-up, now that production's wrapped on TruTV's "Las Vegas Lockdown," which is expected to make its cable bow next month.
It's a new TV look for the detention center, which continues as a location for TruTV's "Inside American Jail" series, according to administrative Lt. Rick Hamilton.
"It's more of a day in the life of a corrections officer," Hamilton says, rather than the inmate perspective shown on "American Jail" — which continues production here alongside Fox's "Cops," another TV staple, both of which are "pretty much here all the time," he explains.
Although "it takes a lot of preparation" to weave a TV production into the detention center's day-to-day operations, "the experience was good," Hamilton says. "People have been very professional."
Such TV series help to educate viewers, he notes — in part because, "unless you've been arrested, that perspective is totally different."
Besides, Las Vegas provides the kind of colorful characters — and crimes — that keep "Cops" coming back for more.
"Fortunately for them, they're able to get a lot of material here," Hamilton notes, citing "interesting arrestees" that prove "we get everything in Vegas. They go to other towns, and it's too run-of-the-mill."
Wheel and 'Deal': The clock's ticking down on "Let's Make a Deal" for 2009, with shows planned this week and next at the Tropicana Pavilion. Two-a-day tapings continue Thursday through Sunday, with audience call times at 11 a.m. and 2 p.m. For free tickets, call the Trop at (800) 706-8767 or go online to www.cbs.com/daytime/lets_make_a_deal and click on "Online Ticketing."
Reality bites: The CW's upcoming reality series "Fly Girls" — which follows a quintet of Virgin America flight attendants — landed in Las Vegas last week to shoot footage for an upcoming episode.
Among the stops: The Palazzo's Morels restaurant and, inevitably, McCarran Airport. (The latter also makes a brief big-screen cameo in "Up in the Air," which lands in local theaters Friday; the movie filmed here for two days in mid-May.)
Another upcoming reality series, "Hard Rockin' America," is expected to shoot on the Strip, reports writer-director David DeLay.
Las Vegas emerged as a location because the production "needed to kick off our show in a big way, and nothing, in my opinion, is bigger than Las Vegas," DeLay says in an e-mail. "It transcends all cultures and boundaries and is a place where people can go and be themselves and not be out of place."
And History's hit "Pawn Stars" continues second-season production at Gold & Silver Pawn, reports Brent Montgomery of Leftfield Pictures, the show's production company. Leftfield's planning additional Las Vegas-based reality series; as always, stay tuned to Shooting Stars for details.