Shopaholics use habit for good by donating clothing to Las Vegas-based charity Olive Crest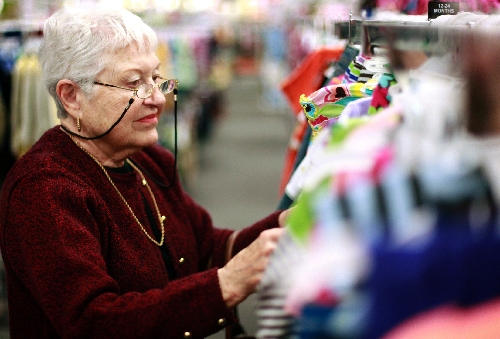 Call them shopaholics, yes, but shopaholics with a cause.
Summerlin-area residents Helen Rawdin, Susan Sheldon and Kay Shaker are always on the lookout for the next sale at Kohl's. The retirees go as a team, scoop up multiples of the same items and meet at the check out counter.
Most of their buys are in the children's clothing department. Once a year, the three women take their haul to Olive Crest, 4435 S. Jones Blvd., which has a foster care program and other programs that help families in need. It distributes the clothes and items to children in the various programs.
"It makes me feel good to know we're doing something for these children," Rawdin said.
The trio has been doing this for five years. They shop together throughout the year, making as many as 10 forays, catching the sales.
They always shop at Kohl's, as they like the selection and variety. It's not unusual for Shaker to head to the infant section by herself.
"I love shopping for the babies," she said.
On some trips, the bill is around $100. Other times, it goes as high as $300. Afterward, the three go to lunch and square up on what they bought, each paying a third.
There's the thrill of the chase — Kohl's has the best sales, they all agreed — combined with knowing they're getting the best bang for their buck. Then there's knowing they're making life just a little bit brighter for a child.
"I always try to bring toothbrushes, too," said Sheldon of the donation drop-off.
The trio takes its clothes and miscellaneous items to Olive Crest in the spring, to distinguish the donation from Christmas. All the items are new, still sporting hang tags. This March , they made a trip with 350 items.
"We filled Sue's Ford Explorer," Rawdin said. "She (Shaker) was in the back seat, just about covered in boxes … Sue couldn't see out the back window."
Rawdin said when she buys clothes for her grandchildren, she'll pick up two of the same outfit, just in different sizes. Her grandchild gets whichever one fits better and the other becomes part of the donated items.
It's not all about the fun of shopping. Each spring, the ladies descend on Sheldon's garage, where the clothes are folded and placed in Kohl's gift boxes and labeled on the outside — jeans, girls size 10 , and boy's pajamas, size 12.
They buy for all sizes.
The women try to combine some items. Shoes, for example, are sent with socks.
The last task is sorting the boxes by size. When everything gets to the final distribution point, all it takes is a glance to know what's inside.
It takes days — about 40 hours of work — to get everything sorted, said Erin Frank, Olive Crest executive assistant .
"We can't thank these women enough for their time, support and generosity," said Jennifer Bevacqua, Olive Crest regional program director. "They are truly making a difference for our children. If we had more people like them, just imagine the impact."
Anyone who would like to donate to Olive Crest is asked to call 221-6224. For more information about its programs, visit olivecrest.org.
Contact Summerlin and Summerlin South View reporter Jan Hogan at jhogan@viewnews.com or 387-2949.
How you can help
To find out how to donate items to Olive Crest, call 221-6224. Some of the organization's immediate needs are: Feminine hygiene products, nonperishable food items, clothing, pajamas, undergarments and shoes for children 3 or older. Only new items will be accepted. Olive Crest also accepts donations of baby food, formula, diapers, wipes and bottles, gift cards and movie theater and bowling alley passes. For more information about Olive Crest's programs, visit olivecrest.org.