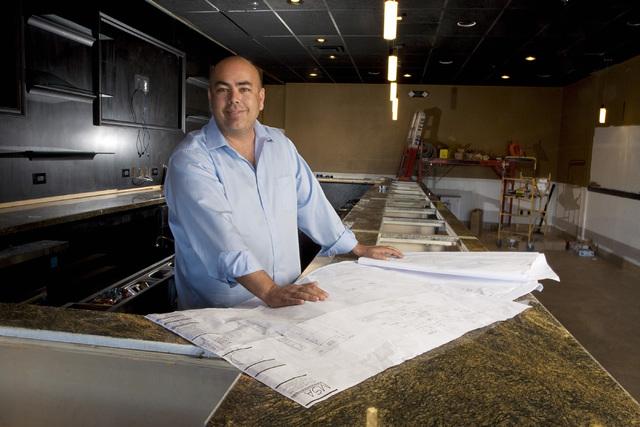 Ted Mamola has had his restaurant Embers open for a little more than two years at Boca Park. But during that time, he already was working on opening another business, The Lion's Tail Tavern in Village Square.
He planned a Feb. 1 opening at the shopping center, 9400 W. Sahara Ave. The name comes from a popular bourbon drink served at Embers. Mamola said the time was right for him to make the move and that Embers was established and had a good following, having served as many as 300 meals a day.
He said the market was on the verge of an upswing.
"Ideally, you would wait for the economy to get better, but I believe in this city quite a lot," Mamola said. "So, I don't think we're far from turning a corner and seeing another growth period in this city. And that center (Village Square) is going in the right direction. That's a great area right now, and there might not be anything available in two years."
The two venues offer different dining experiences. Embers is a full-scale establishment with 3,800 square feet, including the patio. The tavern is roughly 1,600 square feet and is licensed to accommodate 60. Mamola prefers to call it a cocktail venue.
The businesses are down the street from one another, with Embers at 740 S. Rampart Blvd. Mamola said the Village Square location is key. The bar shares a wall with Bachi Burger, and the two businesses have an agreement. Even though The Lion's Tail Tavern doesn't have a kitchen, it will offer items fromBachi Burger's menu.
"It was a real easy decision," Mamola said. "We share a wall … We can help their business, and they can do great things for us."
Mamola's background includes being a commercial real estate broker, so he realized the benefit of Village Square's location. But he said he had to fight for the slot, a task that took a year.
"They were emphatic, 'No bar,' " he said. "I must have called 30 times … eventually they said, 'Well, are you in the business?', and I said, 'Yeah,' and I told them about Embers."
A face-to-face meeting with Colby Durnin, CEO of Sentinel Development, the operational arm of Village Square, and dinner at Embers led to signing the deal.
"That's actually becoming a great center," Mamola said of Village Square. "The new restaurants that have gone in there — 808 (Tapas), Settebello. The theater has been there a long time, Viva Mercado's is across from us, and Bachi Burger — those are all great draws. I think it's a power center in the neighborhood."
The same could describe Boca Park. Still, getting Embers off the ground meant 75-hour work weeks. Mamola said he intentionally took a spot at Boca Park surrounded by other eateries to take advantage of the synergy.
"Places like The Cheesecake Factory certainly bring people to where we are," he said. "Getting a share of that business … getting people to come here and try us instead is not as easy as you'd expect. People are comfortable with the stuff they're familiar with, so we need to be here quite a long time for them to get familiar with us."
Originally, Embers was intended to be a lounge with a bar and limited food. The plan changed, and it morphed into a restaurant offering high-end cuisine.
May Acker, a hostess, said she loves to work as a waitress for the Sunday brunch crowd.
"From the time I started here, it felt like home," she said of Embers. "It's like 'Cheers,' actually. You're part of a big family."
She said customers feel that vibe, too. Patrons will bring her a little gift when they return from vacation.
"We greet them with hugs, not just hellos," Acker said.
The Lion's Tail Tavern is set to be open 24/7.
Contact Summerlin/Summerlin South View reporter Jan Hogan at jhogan@viewnews.com or 702-387-2949.