Skyworks Aerial Systems wins business plan contest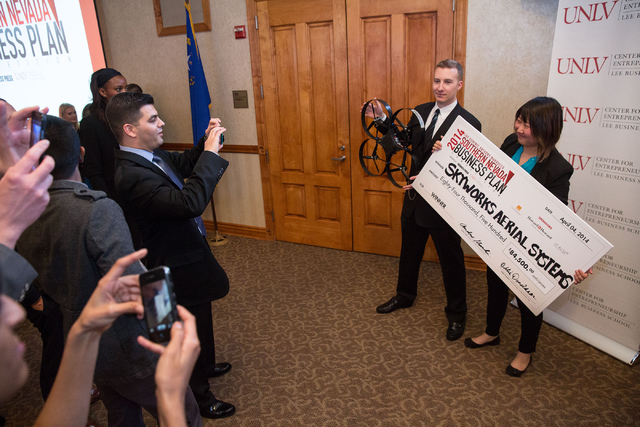 Skyworks Aerial Systems took home $80,000 in cash and prizes April 4, as winners of the 2014 Dominic Anthony Marrocco Southern Nevada Business Plan Competition.
The five final teams gave one-minute elevator pitches Friday at UNLV to an audience and judges, including the competition's namesake.
"It's a huge help to launch the company," said Randy Yadao, who handles finance and accounting for Skyworks, a drone meant to navigate indoor spaces such as nuclear reactors and buildings compromised by fire or other disasters.
"Anywhere dirty, dangerous or dull," said CEO Greg Friesmuth, who founded the company with fellow student Jinger Zeng.
The vehicle has four propellers, a computer control and uses sensors to align itself. The design is completely custom and wasn't based on a kit. Friesmuth used 3-D printing to model the mount and frame and used the school's composites lab to create carbon fiber composites.
Other entries were Govern Social, a social network that connects politicians and their constituents; ProStem Solutions Inc., which collects dental stem cells that can be used to grow tissue in the case of injury or illness; Smart Start mentoring to help Chinese students acclimate to life in America; and Webrained social quizzes and website development.
Robert Jordan, who oversees business development and marketing for Skyworks, called the win "a benefit for the entire state of Nevada."
"We really appreciate this award," he said.
Friesmuth said the company had several partnerships in the works, including one with UNLV.
Skyworks has landed preorders and intends to sell educational kits for $8,000 to $10,000. The team said Clark County School District has expressed interest.
Skyworks will market to universities nationwide, commercial customers, and other states that received the Federal Aviation Administration designation for commercial drone testing. In December, the FAA chose six authorized sites for testing, including the state of Nevada and locations in Alaska, New York, North Dakota, Texas and Virginia.
Those locations will conduct research to help shape commercial drone regulations.
Friesmuth said the Las Vegas-manufactured vehicles could also be helpful to organizations such as the Las Vegas Valley Water District.
Contact reporter Kristy Totten at ktotten@reviewjournal.com or 702-477-3809. Follow @kristy_tea on Twitter.