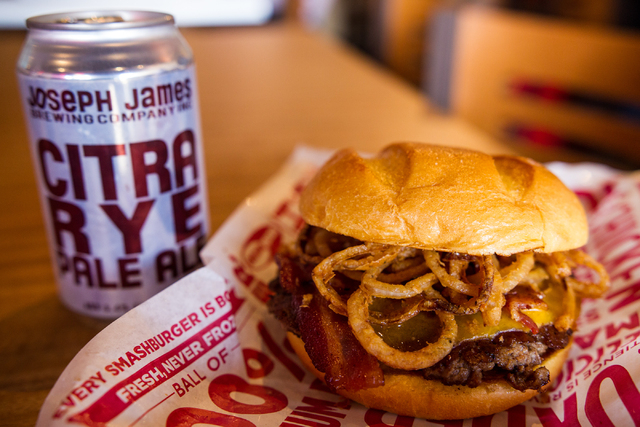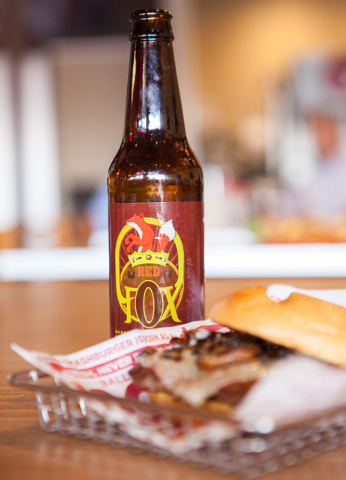 Smashburger sells a lot of burgers; that much should be obvious, considering that the chain, founded in 2007, has 230 outlets across the country. What probably isn't so obvious is that Smashburger also sells a fair amount of beer, and has from the beginning.
Tom Ryan, founder and managing partner of the Denver-based chain that's about to open its ninth outlet in Southern Nevada, said beer is associated with about 20 percent of the company's food sales checks nationwide.
"We were born with two things," Ryan said. "We were born with beer, and we were born with localized food."
"Localized food" refers to the fact that every city where Smashburgers are located has a signature burger — around 40 so far. In Las Vegas that's the Sin City Burger, which is topped with a fried egg, applewood-smoked bacon, American cheese, grilled onions, haystack onions and Smash sauce (here's a secret: Ryan said that's a mixture of mayonnaise, mustard, pickle relish and lemon juice). Since Las Vegas doesn't have a signature cuisine — like, say, Cuban in Miami, or barbecue in Dallas — Ryan said the Sin City instead is designed to reflect the Las Vegas lifestyle: It's a little over-the-top, and "it can be for breakfast, it can be for dinner. …"
Smashburger is a fast-casual — as opposed to fast-food — chain with counter service and burgers that are cooked to order, "smashed" on an old-fashioned flat-top grill.
But back to the beer. Something else Smashburger is doing nationwide is rolling out beer pairings in conjunction with local craft breweries. That started in Denver with the New Belgium Brewing Co. of Fort Collins, Colo., known for the popular Fat Tire.
So far, the pairings are available in more than a dozen cities.
"It's amazing how many different kinds of beer we paired with a common product," Ryan said.
In Las Vegas, Smashburger is collaborating with Joseph James Brewing Co. and will launch the pairings Oct. 3. Ryan said suggestions for each city's partnership have come from craft brewers in other cities.
"One thing that's important to me is how collaborative the industry is," he said.
Matthew R. Lisowski, Joseph James Brewing Co.'s director of operations, said his company opened its doors in 2008.
"I think it is a wonderful opportunity for a partnership," Lisowski said. "I like that it's artisanal food with artisanal beer — handcrafted with a lot of thought and detail. I think for that reason it works well."
Ryan was in town a few weeks ago to work out the pairings with Lisowski as well as Joseph James head brewer Matthew Marino and sales rep Kayla Callahan. The company's four burger styles, two chicken sandwiches and vegetarian burger were sampled along with six Joseph James beers.
First up was the Classic Smash, which represents 20 to 25 percent of the company's sales. Ryan calls it a "California-style burger with lots of produce," such as lettuce, tomato, pickles and onion.
The tasters sipped and chewed. There was lots of discussion, and when a consensus was lacking Marino was the arbiter. The verdict: Craft American Lager, a "training-wheels beer" that was a suitable accompaniment to a basic burger.
The Truffle Mushroom Swiss Burger posed a little more of a challenge because the flavors were more assertive; as the samples were served, the scent of truffle oil wafted around the table, and it could be clearly tasted in the burger's mayonnaise.
"The umami flavors are fabulous," Ryan said.
For that one it would be the Red Fox Russian Imperial Stout; the Smashburger pairing menu says the "roasted malt in this brew is balanced with a subtle hint of coffee bitterness and chocolate which contrasts the savory nature of the truffle mayo."
As the group settled on the Weize Guy Hefeweizen for the Sin City Burger, Ryan said, "it pulls out the flavor of the mustard."
See where they were going with this?
"The harmonious flavors is what no one looks for," Ryan said.
Citra Rye Pale Ale was paired with both the BBQ, Bacon &Cheddar Burger and the Spicy Veggie Black Bean Burger, Fox Tail Gluten Free Pale Ale with the Classic Chicken and Hop Box Imperial IPA with the Avocado Club Chicken.
Joseph James beers also are available at local stores including Whole Foods Market, Total Wine &More, Fresh &Easy Neighborhood Markets and Khoury's Fine Wines and Spirits and several local bars.
"We're unique because we don't have a retail establishment you can visit," Lisowski said. "I think this will definitely be an opportunity to aid in the marketing and awareness of our product."
Ryan, who holds a doctorate in flavor and fragrance chemistry and a master's degree in lipid toxicology (and created such iconic foods as Pizza Hut's Stuffed Crust Pizza and McDonald's McGriddles), said craft beers are increasingly popular, especially with a younger demographic.
"Craft beer is the new wine," he said, because of the focus and serious study it's drawing.
And he waxed somewhat poetic, as might be expected of a hard-core food scientist.
"Smashburger was created for the next generation," he said. "What better than to have these pieces of magic together?"
Contact reporter Heidi Knapp Rinella at hrinella@reviewjournal.com or 702-383-0474.