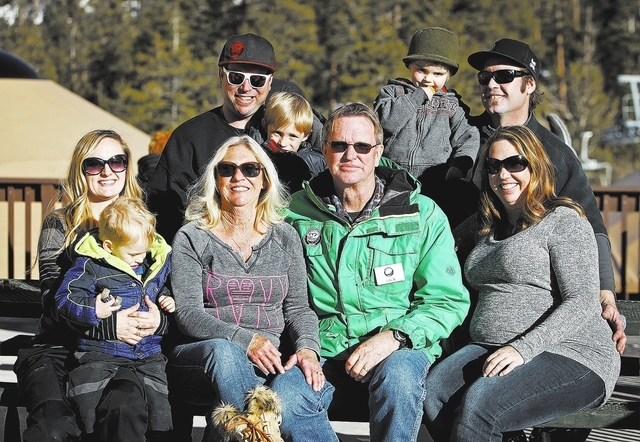 Drought has seen workers at the Las Vegas Ski & Snowboard Resort manufacture plenty of man-made snow to keep skiers busy over the past few years.
No one at the family-managed resort has ever worked so hard to churn out a love story.
Two generations of the Bean family have met and fallen in love with their significant others on the mountain.
Resort building and facilities manager Brian Schenck literally ran into his future wife on the slopes. Both were traveling at a high velocity. Only Heather Bean managed to break an arm.
The encounter was every bit as romantic as one might expect.
"We met up here in '95," Heather said. "We were really good friends before (the crash) but didn't start dating until then.
"He borrowed my brand new snowboard afterward — said I wouldn't be needing it."
Heather, a former ticket booth manager now pregnant with the couple's second child, said her fondest memory on the mountain is her wedding, which featured an altar decorated with hearts carved into the snowdrifts by her brother Josh and father Jack.
Brian hesitated only slightly before agreeing. It turns out his other favorite memory involves a possibly apocryphal, certainly un-printable episode on a Sno-Cat.
"(Heather) actually took my job application when I first applied; she didn't really notice me," he said. "I was the only employee who dared to date the boss' daughter, so we had that hurdle cleared.
"We'd been working up here together for a while, but it took a couple of (ski) runs after the crash to bring us closer together."
Slope maintenance manager Josh Bean took his wife Stephanie out on a grooming run for their first date.
Stephanie, now a schoolteacher and mother of two, remembers finding herself on a chairlift with Josh at 3 a.m., clad only in high heels and a dress.
It's no surprise that her fondest memories as a couple tend toward toastier climes: their honeymoon in Jamaica; early dates that saw Josh sweating over a homemade dinner in a cozy, snowbound lodge.
"(Josh) is a really good cook," she said. "That's what he did for, like, the first three dates, which is sort of unique, but it's hard to go out on the town when you have to be up before everybody to groom the runs."
Resort ski operations manager Jack Bean's son and daughter in-law have a pallet of charming, mostly family friendly recollections of love and marriage on the mountain.
But his and Monetta's story came first.
The pair met on the mountain during the 1971 ski season, one that saw Monetta working in the the ski shop while Jack tended to the slopes.
They spent the first of their more than 40 years together in a $50-per-month cabin above the treeline and now live a half-hour away from the resort at the southern end of Kyle Canyon.
The elder Beans still spend every winter at the slopes and every Thanksgiving and Christmas with their kids and grandkids.
Jack doesn't think of himself as a romantic, according to Monetta, but he is a sucker for Valentine's Day, the night he gave her his high school class ring to help break the ice on a first date.
Valentine's Day also marks the anniversary of Heather and Brian's first date, as well as Josh and Stephanie's first kiss.
The newest generation of Beans aren't yet old enough to push a snow shovel, but given the family's track record, they may soon find love easier to dig up at the resort than fresh powder.
"The men in this family pretend they're not romantics, but they are," Monetta said. "They're big softies. … It's a good thing. I couldn't ask for a better son and daughter in-law."
Contact Centennial and North Las Vegas View reporter James DeHaven at jdehaven@viewnews.com or 702-477-3839.
View readers from all over the Las Vegas Valley responded to the call to share their love stories in time for Valentine's Day.
Reporters interviewed a woman who met her future husband as he was slipping her daughter french fries at a restaurant, actors who met in a production of "Fiddler on the Roof" and got engaged on stage, octogenarians who perform together in a local dance troupe, a couple who met when she found his lost cat and more.
To read additional stories and watch a video featuring Henderson residents Liz and Dave Dameron and other local couples, visit reviewjournal.com/life/love-stories.